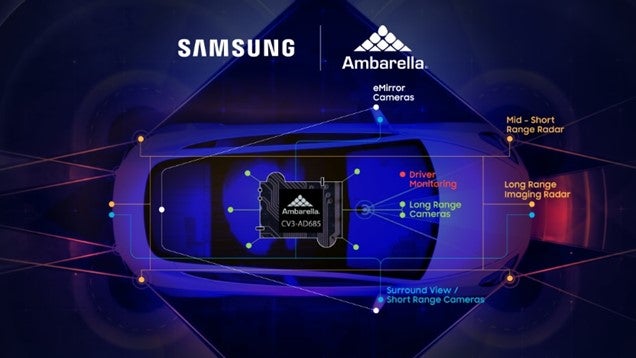 South Korea's Samsung Electronics Company announced this week it has signed an agreement to manufacture advanced automotive semiconductors for Ambarella, as US chip design company based in Santa Clara, California.
Samsung, the world's largest memory chip maker, said its Foundry unit will provide 5-nanometer (nm) processor technology to Ambarella for its recently announced CV3-AD685 automotive AI central domain controller.
The US company – which Samsung describes as an "edge AI semiconductor company" – will use Samsung's 5 nm single-chip solution for its Advanced Driver Assistance Systems.
Samsung said the CV3-AD685 is the first production version of Ambarella's CV3-AD family of automotive AI central domain controllers, which will be supplied to a number of Tier-1 automotive suppliers which have already announced they will offer solutions using the CV3-AD system-on-chip (SoC) product family. Samsung said its 5nm process technology is "optimised for automotive-grade semiconductors, with extremely tight process controls and advanced IP for exceptional reliability and outstanding traceability".
Samsung said in a statement "this collaboration will help transform the next generation of autonomous driving vehicle safety systems by bringing new levels of AI processing performance, power and reliability", adding that its 5nm process vastly enhances Ambarella's artificial intelligence capabilities.
Ambarella's president and CEO Fermi Wang said in a statement "Ambarella and Samsung Foundry have a rich history of collaboration and we are excited to bring their world-class 5nm technology to our new CV3-AD685 SoCs," "Samsung's proven automotive process technology allows us to bring new levels of AI acceleration, systems integration and power efficiency to ADAS and L2+ through to L4 autonomous vehicles".
Samsung has stepped up its efforts to expand its foundry, or contract chip manufacturing, business in recent years by targeting new clients in the fast-growing automotive chip market. It said it will continue to enhance its competitiveness by introducing advanced chipmaking technology.
Samsung is estimated to be a distant second in the global chip foundry market with a 13% market share, far behind first-placed Taiwan's Semiconductor Manufacturing Company (TSMC) which is estimated to control around 60% of the global market.