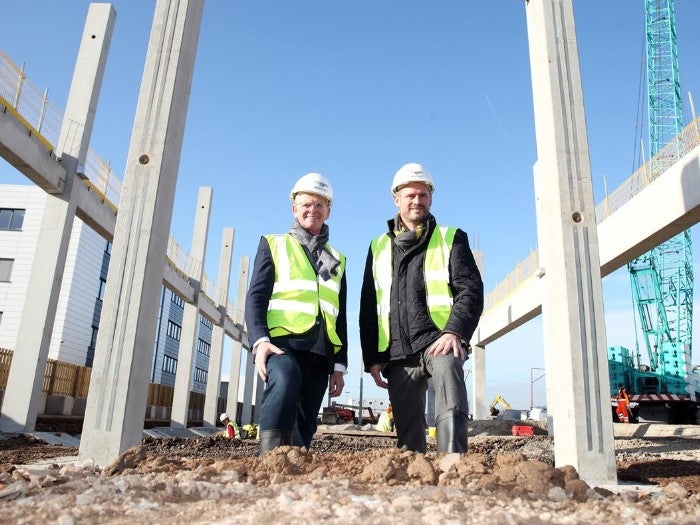 Volkswagen Group owned Bentley Motors has broken ground for the construction of a new 'Launch Quality Centre and Engineering Technical Centre'.
The new facility at Bentley's headquarters in Crewe, England, is described as integral to the brand's preparations for future battery electric vehicle (BEV) production. Bentley says it will 'set a new benchmark in next generation, digital, flexible and high-value manufacturing operations'.
Taking a first step, the new buildings will include a replica BEV assembly line as preparation for the introduction of Bentley's first BEV in 2026. It also includes a software integration centre, prototype workshop, metrology testing and a dedicated area focusing on future materials development.
Costing GBP35m to construct, the centre forms part of a GBP2.5bn, ten-year investment programme in future products and at the Pyms Lane factory in Crewe, where all Bentley models are made.
Transforming Crewe into a 'Dream Factory' is key to Bentley's 'Beyond100' strategy, which is planned to see the company reinvent its entire product range to support an electrified future, while achieving carbon neutral status by 2030.
The new Launch Quality Centre will take up two floors, each covering 4,000 square metres. The in-house Metrology team will be located on the ground floor, responsible for measuring every part of a Bentley to the highest standards of precision; the team's role is fundamental to the quality, performance and longevity of every luxury car that comes off the production line. The second floor will be home to virtually a complete production proving ground, comprising a laboratory for future materials testing and a mini assembly line to test future BEV assembly.
The Engineering Technical Centre will also be located across two floors, covering a total of 13,000 square metres. The centre will house a prototype workshop for models of the future, materials development and a software integration centre. Key to the facility's harmonious integration is a structured, comprehensive application of skills in training, testing and launch preparation for all software and electrical, digital high-voltage systems.
All of these departments will be relocated from their current homes in the A1 building, which is the oldest existing building at the Pyms Lane site and which will be transformed to BEV assembly in time for production to commence in 2026. In total, the Launch Quality Centre and Engineering Technical Centre will be home to approximately 300 Bentley colleagues and is planned for completion by the end of 2023.
The creation of a 'Dream Factory,' is part of Bentley's forward-thinking Beyond100 strategy, the boldest plan of its kind in the sector. Key to this ambitious programme is the Five-in-Five plan, which commits the British brand to launching a new electric model each year, before 2030.
Peter Bosch, Member of the Board for Manufacturing, commented: "Breaking ground on the new Launch Quality Centre and Engineering Technical Centre is another major milestone on our journey towards an electrified, carbon-neutral future.
"The automotive industry is in the middle of a digital revolution, with cars becoming true digital devices, and this presents a significant opportunity for Bentley as we aim for a benchmark position in next generation, high-value manufacturing that supports our evolving Dream Factory and re-emphasises our commitment to both our Beyond100 strategy and our long-term future at the site."