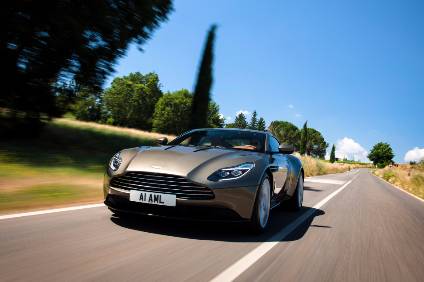 In a regulatory filing, Aston Martin has confirmed it is planning to float on the London Stock Exchange this year. The IPO could see the company valued at GBP5bn and provide a major source of capital for new product development and capacity expansion.
The IPO would involve a sale of some shares by its main owners, Kuwaiti and Italian private equity groups, with at least 25% of the stock to be floated.
Aston Martin said it had filed a registration document with Britain's Financial Conduct Authority and the company hopes to complete the flotation this year.
It said a prospectus including full details of the offer would be published on or around 20 September.
In its filing the company said the directors aim to achieve strong growth and enhance Aston Martin Lagonda's cash flow generation 'by pursuing a strategy focused on continually renewing its product offerings and expansion in new and existing markets'.
It also said the directors believe that products such as the DBX will allow Aston Martin Lagonda to address new markets and diversify, and as a result, increase revenue.
It also highlighted the plan re-introduce the historic Lagonda marque, which will be the first all-electric luxury automotive brand. The Lagonda product range will target the SUV and sedan markets, focusing on the ultra-luxury segment.
The company expects Aston Martin Lagonda's core range to be enhanced by the addition of approximately two special edition models per year, which will showcase Aston Martin Lagonda's technical excellence and 'perpetuate brand uniqueness,exclusivity and desirability (through limited supply, distinctive design and high performance)'. It said the collaboration with Red Bull Racing Advanced Technologies to deliver the Aston Martin Valkyrie 'represents innovative design and performance for a road car, drawing upon Red Bull's technical knowledge as an F1TM team'.
Aston Martin also believes it s under-represented in important emerging markets and sees them as a growth opportunity. 'Aston Martin Lagonda is actively seeking to gain a stronger presence in emerging markets, such as in the Asia Pacific region, that have experienced growth in HNWIs (High Net Worth Individuals) and in which Aston Martin Lagonda is currently under-represented,' it said.
Aston Martin expects to produce approximately between 6,200 units and 6,400 units in the year ending 31 December 2018. It said it expects to produce approximately 64% to 65% of the volume in  the second half of the year with the additional units 'attributed to a strong order book of approximately 3,900 units, resulting from an uplift in demand following the recent launches of Vantage and DBS Superleggera'.
To support this increase in demand, during the second half of 2018, Aston Martin Lagonda expects that the Gaydon facility 'will operate above its typical optimised production capacity, through the implementation of an additional manufacturing shift'.
In the medium term, Aston Martin's objectives were set out:
Aston Martin Lagonda expects to produce approximately between 7,100 units and 7,300 units in the year ending 31 December 2019, and to produce approximately between 9,600 units and 9,800 units in the year ending 31 December 2020.
Aston Martin Lagonda's medium term objective is to increase production to approximately 14,000 units annually.
Aston Martin says it is developing a full product portfolio comprised of seven core models, aimed at addressing the full spectrum of customers within that market. The current product offering includes three core models and addresses the sports, GT and super GT segments. The upcoming launch of the DBX, Aston Martin Lagonda's first SUV, together with the introduction of a Lagonda branded SUV and sedan and the expected development of a mid-engine supercar will complete Aston Martin Lagonda's product portfolio, it says.
In 2017, Aston Martin generated full-year EBITDA of GBP230.8m on revenues of GBP876m. The company, employing more than 2,700 people, is predominantly owned by private equity groups Adeem, Tejara and Investindustrial, while Daimler AG of Germany holds a 4.9% non-voting stake.
See also: Aston Martin Lagonda future models