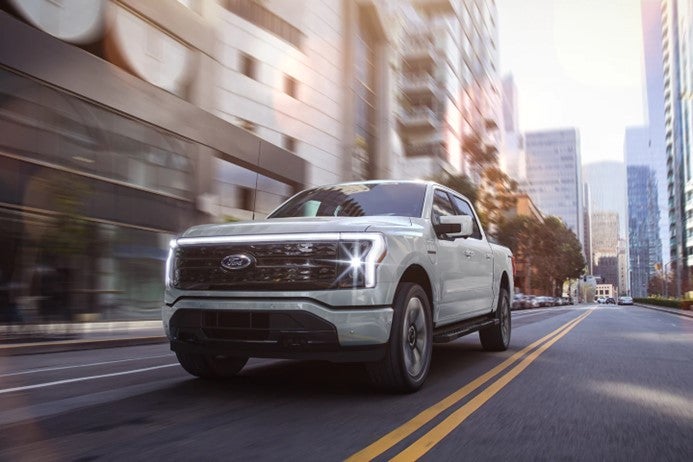 Light vehicle sales in the US picked up in the month of February according to data published LMC Automotive (a GlobalData company).
Light vehicle sales in the US were up by 9.5% year-on-year (YoY) in February according to preliminary estimates, to 1.14 million units. While this was still below pre-pandemic levels, it was a robust result by the standards of recent months. February's YoY growth outstripped the performances of the previous two months, although the market's weak state a year ago has assisted with these YoY gains.
General Motors was the bestselling OEM for the seventh consecutive month, although its market share was notably trimmed compared to recent history.
Despite posting a YoY loss and continuing to struggle with inventory shortages, Toyota Group reclaimed second place, having fallen behind Ford Group in January. The gap between GM and Toyota Group was around 27k units, whereas GM was around 43k units ahead of Ford Group in January.
Ford was the number one brand in February, outselling Toyota by approximately 10k units, but Toyota was comfortably ahead of Chevrolet – with a margin of 17k units – having slipped behind Chevrolet into third place in January. The Ford F-150 was once again the bestselling light vehicle in February, around 6k units ahead of the Toyota RAV4.
GlobalData said that given the headwinds of 'sky-high average transaction prices, lingering inventory shortages for some OEMs, and economic uncertainty', February's results surpassed expectations and can be considered an encouraging outcome.
The February selling rate was estimated to be 15.0 million units/year, down from 16.0 million units/year in January. However, LMC said January's rate appears to have been distorted by changing seasonality and the unique conditions in the market whereby a lack of supply is still constraining sales in some cases. Taking a longer-term view, February's selling rate was better than all but two months in 2022 – January and October. At 15.5 million units/year, the average selling rate over the first two months of 2023 compares favourably with the average of 14.4 million units/year in the same period of 2022, and supports LMC's view that the market should see some expansion this year.
The daily selling rate is estimated at 47,700 units/day, up from 43,900 units/day in January. According to preliminary estimates, retail sales totalled around 928,000 units, while fleet accounted for approximately 217,000 units, representing around 19.0% of the total market, the highest share since March 2020.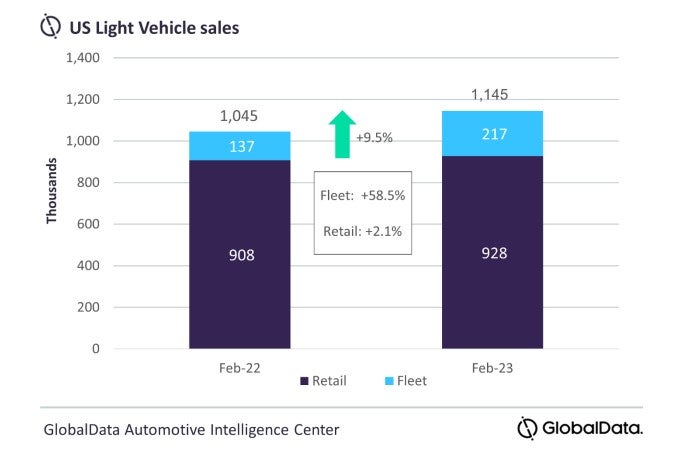 David Oakley, Manager, Americas Sales Forecasts, LMC Automotive (a GlobalData company), said: "February was one of the more upbeat months for the US auto market in recent times, although this should be taken in the context of the lower volumes we have seen since the onset of the chip shortage and other supply-side issues. One encouraging sign from February's results was that the recovery appeared to become more broad-based, with brands that had been extremely subdued showing some evidence of returning to more normal levels, as inventory climbs. On the other hand, it should be noted that fleet sales continue to support the market even as retail sales are weak by historical standards, with February's results showing barely any growth over last year's lows.
"Still, after more than two years in which fleet sales were well below historical averages, there should remain plenty of demand from this channel, and this supports our view that the market will grow overall YoY in 2023".
February's transaction price data is expected to show record highs for that month of the year, as the mix of vehicles being sold, along with the ongoing imbalance between supply and demand, pushes up prices. Although interest rate hikes are becoming smaller, the fact that they are still rising at all puts additional pressure on those looking to finance a vehicle purchase. For now, the impact of this factor appears relatively limited, given that supply is still a constraint on sales, but it is certainly something worth monitoring as the year progresses.
GM tops out, Ford surges
After several months in which GM had been the OEM to grow the most in YoY terms, that title was taken by Ford Group in February, as its sales expanded by 24.0% YoY, compared to 14.0% for GM. VW Group also saw a larger YoY gain than GM in percentage terms, at 20.7%. While to a large extent this reflects the fact that GM was already starting to recover from its worst inventory shortages a year ago, while Ford was struggling to a greater degree, GM's market share did slip to 16.2% in February, compared to 17.6% in January. RNM performed better than it has in recent times, as Nissan seemed to show signs of revival, with the brand's best market share for 11 months.
Of the major OEMs, Stellantis saw the biggest YoY decline, at 10.8%.
Compact Non-Premium SUV was once again the number one segment in February, with an 18.7% market share, up by 1.2 pp, YoY. As was the case in January, Midsize Non-Premium SUV came in second, on 16.4%, a YoY decline of 0.6 pp. Large Pickups saw a somewhat weaker month, with a share of 13.7%, down by 0.3 pp YoY. Pickups were still able to outsell Cars in February, but only by a relatively thin margin of around 8k units.
2023 US sales forecast nudged up
A stronger than expected showing in February and continued strength in fleet volume recovery has nudged up the outlook for US Light Vehicle sales to 15.0 million units, an increase 9% from 2022 and 50,000 units higher than last month. The economy is also stronger than expected at the start of the year, as consumers remain resilient in their spending and the labor market continue to be steady. This could push the timing of a mild recession to later in 2023.
Vehicle inventory growth is on watch, as days' supply grew to 40 days in January and inventory levels were up 60% from January 2022. However, levels are still nearly 50% below what they were pre-pandemic. Disruption in North America production for 2023 is forecast to be 960,000 units, down from the 1.9 million units in 2022. Recent cuts at Ford and GM also suggest that inventory will be managed closely to demand and there is less risk of a significant overbuild if sales growth does not hold up.
Jeff Schuster, Automotive Group Head and Executive Vice President, GlobalData, added: "Risk may be tipping to the upside if the fleet recovery pace continues, and the retail market holds. However, 2023 has a lot of runway left and affordability is the roadblock keeping some consumers on the sideline even as inventory rebuilds."