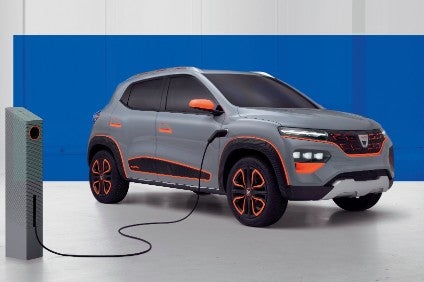 Formerly the darling of Groupe Renault , Dacia has become the troubled teenager in the family. A sales collapse in the months before the COVID-19 crisis was entirely avoidable, a reversal of fortune which commenced in January caused by no low-C02 engines and not one new model for five years. The parent firm needs to remedy this, pronto.
Renault convinced itself that treating Dacia as a seller of old wares at cheap prices was fine, forgetting that not many people want yesterday's fashions no matter how inexpensive they might be. And so good a job did Renault do at brand building that the cars have not been bargain basement offerings for years now anyway. All those juicy profits therefore rapidly, avoidably, vanishing.
Logan , Sandero, Duster, Lodgy, Dokker: each is in need of replacing, some more urgently than others but none looks anywhere near fresh. How and why did it all go wrong? The example of FCA is instructive. To the amazement of no-one, continuing to offer senescent Fiats is a brilliant strategy only if your goal is to give up market share and the ability to make money out of small to medium sized vehicles. It is almost as if Groupe Renault used this as a textbook in how to run Dacia.
As with the likes of the Fiat 500 and Panda , Dacias were once very competitive offerings. Now, they're just old so lots of once loyal owners are forced to find a new brand.
Enough of the past and the present mess: what can be done to fix things for the Romanian marque? As per those millions of people who own or have owned a 500 or Panda – it's not rocket science, just launch a new model. Or two, or more.
The fact that Dacia deliveries across the European region fell 31% in January as the general market declined by 7.5% says it all about how urgently fresh designs are needed. Last year, the brand sold 581,583 cars and SUVs in EU and EFTA markets, which was a 10% annual gain and more than enough to make it a bigger name than even Hyundai (563,018). It must be maddening for those within Dacia who will have pleaded for the development of new cars and SUVs two, three and more years ago to be seeing the predictable results of those requests having been denied.
A genuinely new Duster is what Dacia should be offering to the market in Europe. It is also what buyers in Brazil and Russia would want: all love the current Renault-badged version but are growing tired of waiting for a replacement. Renault can claim what it likes about what took place in 2017 but it wasn't a new car, it was a major facelift and the Duster is now a decade old. The updated model went on sale across Europe from November 2017 and it has become increasingly difficult to hide the old-school feel of the thing.
While the door skins and windows were not changed two and a half years ago, there was a fresh tailgate, the windscreen was pushed forwards by 10mm and the interior comprehensively revamped. Also, this became the first Dacia to offer curtain airbags. The Renault-branded version of the refreshed Duster was also revealed in November 2017. Aside from the large diamond logo at the front, there is a bespoke grille.
A new 1.6-litre turbocharged petrol engine with 130 hp or 150hp was announced at the Paris motor show in October 2018, becoming available for customer deliveries a few months later at least in 4×2 form. Cars with 4×4 drive did not become available until mid-2019.
Renault India gave the Duster another minor facelift in July 2019. Later that month, Groupe Renault announced SKD assembly of the Logan and Duster in Nigeria at a plant owned by Coscharis Group . Also in July 2019, the Dacia Duster for European countries gained a new engine. Called TCe 100, this 100 PS and 160 Nm three-cylinder petrol turbo replaced the naturally aspirated four-cylinder SCe 115.
The HJD series Duster probably won't be replaced until 2022. There will likely be a plug-in hybrid variant too.
What Groupe Renault called a Dacia 'Urban City Car' was announced as part of a financial results presentation in February. Other than the claim that it would be available in '2021-2022', no other details were shared. A picture of a generic vehicle covered by a cloth featured on a slide in a section for future EVs.
The model name isn't yet known but it could be 'Spring Electric'. That was what a concept announced in March was called. Clearly based on the Renault City K-ZE, it should be imported from China, although it could instead be assembled in Romania (Renault was contacted for this report but would not say where the small EV will be made). The range is quoted as 'over 200 km' (WLTP).
As the original, non-electric version – Renault Kwid – dates to 2015, Dacia's EV might not be in production for too long.
The Spring Electric won't be a big seller, although it will be essential in bringing down Dacia's range-wide C02 average – something that needs to happen if the EC still intends to hand out massive fines to any OEM in breach of the 95 g/km rule which is due to be enforced next April.
A potential major contributor and a vehicle which is far more important than the little EV is the successor to the Sandero.
The third generation of this hatchback and crossover range is expected to be based on the Alliance 's CMF-A architecture, as introduced by India's Renault Kwid.
New generations of the Sandero, Sandero Stepway and Logan should be announced soon and be in production at Pitesti by year end. Not that the current cars will disappear: only ten months ago, the Brazilian-built Renault Sandero and Logan had another facelift so each will likely stick around for another two-three years. If Renault delays the new Sandero then Dacia will have a hell of a hard time climbing out of the hole it is in.
The future of two other Dacias, the Lodgy and Dokker, is uncertain: there are no guarantees that either or both will be directly replaced. As with other vehicles, they are also marketed as Renaults in certain countries outside Europe (the Dokker is called Kangoo in Argentina for example). The Renault-Nissan Alliance's Oragadam plant in India began building the Lodgy in 2014 but it was axed after five years due to poor sales. The main manufacturing site is in Morocco though, and that's also the case for the Dokker.
Reports for many other manufacturers' future models are grouped in the OEM product strategy summaries section of just-auto.com.
Future platform intelligence
More detail on past, current and forthcoming models can be found in PLDB, the future vehicles database which is part of GlobalData's Automotive Intelligence Center.
The first brands to be featured as part of the Groupe Renault and Nissan Motor series were Alpine and Renault. Next comes Samsung (RSM : Renault Samsung Motors ), to be followed by reports on Lada, Mitsubishi , Infiniti , Datsun, Venucia and Nissan.