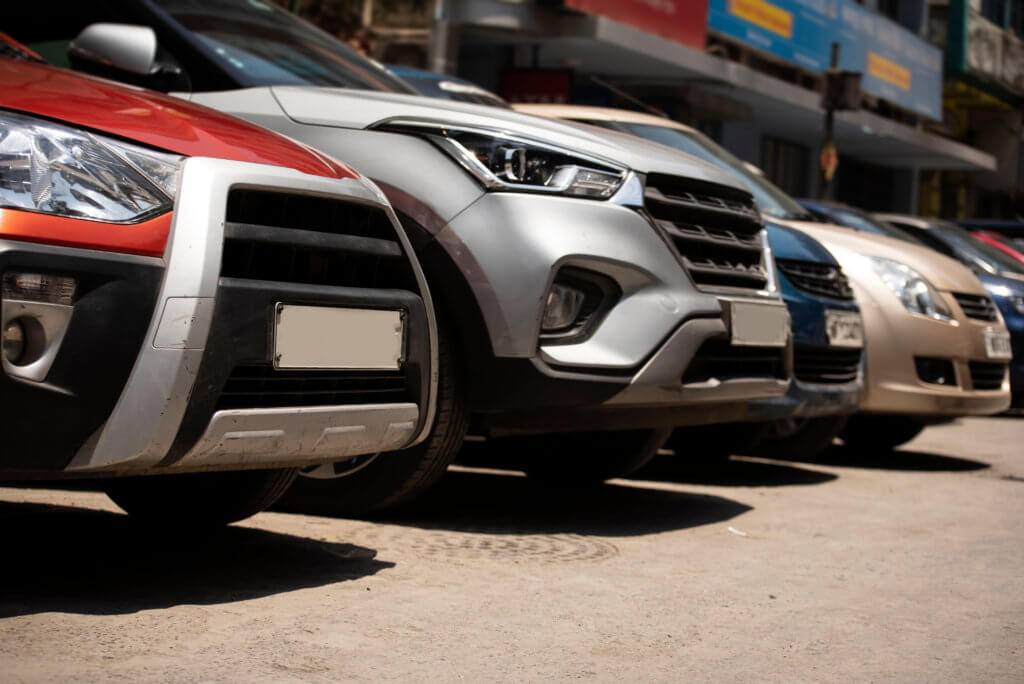 India's LV market continued to surprise on the upside. Wholesales in July gained by 6% month-on-month (MoM) to 403k units. The year-on-year (YoY) growth, however, was lower at 2% due to last year's high base.
Passenger Vehicle (PV) volumes increased by 6% over the previous month to 343k units (+4% YoY), while demand for Light Commercial Vehicles (LCVs) with GVW up to 6T rose by 5% from June to 60k units (-4% YoY).
Retail sales in July fell to 327k units, from 337k units in June and 340k units in May, according to the Federation of Automobile Dealers Associations (FADA).
FADA also highlighted that the inventory for PVs has surpassed the 50-day mark and currently hovers between 50-55 days, suggesting an inventory build-up in anticipation of the upcoming festive season.
Cumulative LV wholesales for the January-July period were at 2.72 million units, up by 8% YoY. This volume comprised 2.31 million PVs (+9% YoY) and 410k LCVs (zero growth). That has brought the YTD average selling rate to 4.63 million units/year, exceeding last year's total LV sales of 4.39 million units.
Behind the stellar sales performance so far this year were the increased supply of new vehicles (thanks to improvement in semiconductor supplies) and strong SUV sales. As major automakers are expanding their SUV lineups to smaller models, consumers who would have bought Sub-Compact Cars (costlier, higher-spec variants) are increasingly choosing small SUVs. Popular smaller SUV models include the recently launched Maruti Suzuki Fronx and Jimilliony, as well as the Hyundai Creta, Tata's Nexon and Punch. SUVs are now offsetting losses from weaker sales of Mini and Sub-Compact cars.
As demand remains so strong, the number of backlogged orders is not falling even after the chip shortages eased and OEMs ramped up production.
It is reported that estimated backlogged orders still total around 750k units, equivalent to 2-3 months of PV sales in the country. Market leader Suzuki Group was yet to deliver more than 340k booked vehicles as of end-August. Other OEMs with high pending orders include Hyundai, Mahindra, and Toyota.
We decided to revise the Indian sales forecast upward through the long term. The changes in the near-term forecasts are small; the 2023 forecast is now 4.65 million units (+6% YoY), compared to the previous 4.63 million units. However, the 2030 outlook was raised by 6% to 6.16 million units, from the previous 5.82 million units.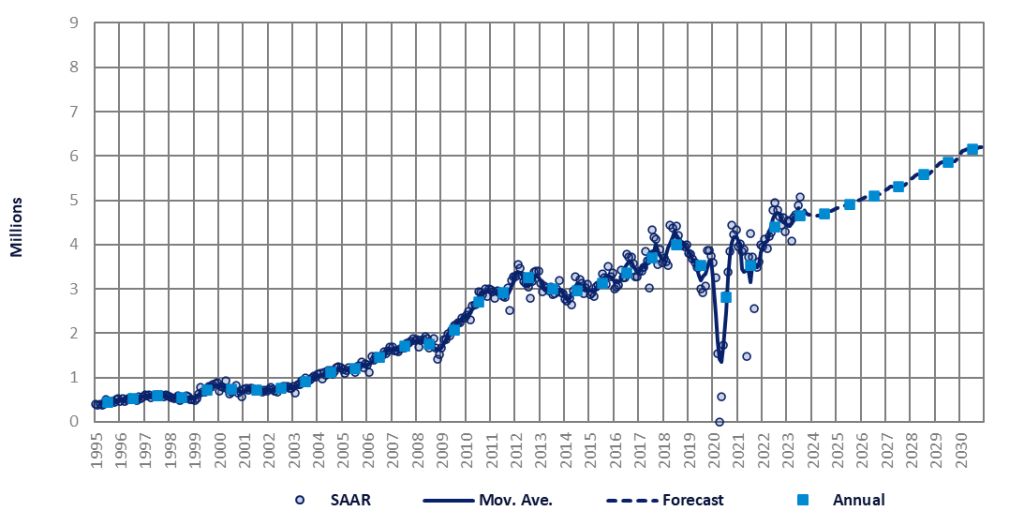 Firstly, several major OEMs are betting on steady growth in demand and plan to increase their investments in India.
We also think that the structural shift in the market, such as from Cars to SUVs and ICEs to EVs, will continue to boost replacement demand. While demand from first-time vehicle buyers (i.e. moving up from two-wheelers) has been slow, Indian people's aspiration to become a vehicle owner has never diminished, which should support sales over the long term as well.
In the overall economy, India is attracting renewed interest from global investors, amid rising tensions between China and the West. An expected surge in investment bodes well for job and income growth.
Even after the upward revisions, however, our sales forecast remains cautious and is well below OEMs' sales targets. In the near term, high auto financing costs and a possible rebound in inflation could constrain consumer spending.
Over the medium to long-term, a cloudy global outlook (in particular, China's slowdown), rising geopolitical tensions in the world, and the impact of intensifying global warming (such as floods and drought) present major risks to the Indian economy and auto market.