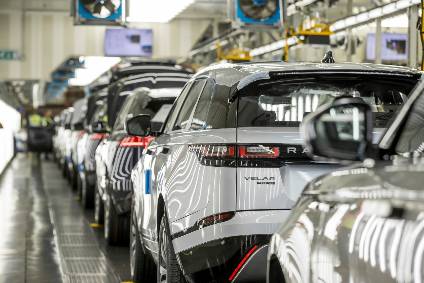 The global light vehicle market is continuing to grow as supply shortages related to the semiconductor crisis continue to ease, according to the latest GlobalData market analysis.
GlobalData's estimates put the global light vehicle (LV) annualised selling rate at 86 million units/year in April, up from March's figure of 84 million units/year. Numerous markets have benefitted from an easing of supply constraints, with overall YoY growth of 25%.
US raw sales recorded month-on-month (MoM) growth to 1.4 million units, as the market benefitted from a strong end to April and increased vehicle availability. China estimates indicate a similar sentiment with the same selling rate as in March, at 26.3 million units/year. Both Western and Eastern Europe experienced positive YoY sales growth, helped by easing supply constraints and increased deliveries.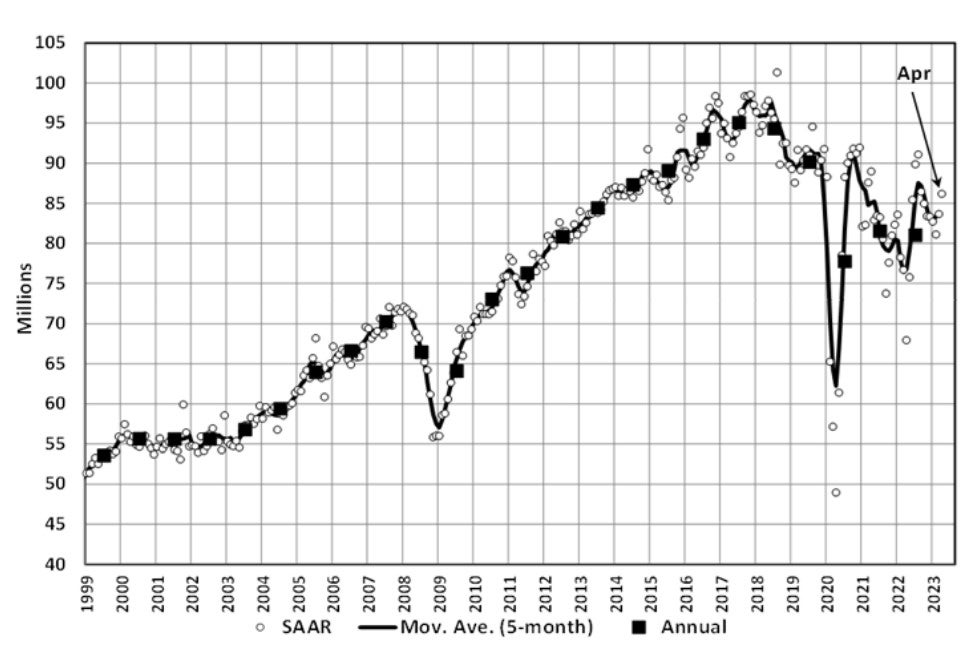 Supply shortages easing to lift the market
The global light vehicle market is forecast by GlobalData to grow by 6% this year to 86 million units, but that still leaves it significantly below pre-pandemic levels. In the next few months, support to the market comes from manufacturers becoming able to meet backlogged orders and replenish depleted stocks as supply shortages ease further. Thereafter, attention turns to demand weakness.
After the pandemic of 2020, the supply of chips or semiconductors has been the biggest single cause of global light vehicle output disruption over the past year.
GlobalData senior analyst Justin Cox says the situation with supply side shortages is easing globally, but cautions that the crisis has not been fully resolved.
"The scale of the 'chip' impact has been falling, principally due to better supply chain management as well as an improvement in resources at semiconductor suppliers for auto-focused chips," he says. "But nevertheless, the chip crisis has been so severe that we don't think it will be fully resolved this year."
Regionally, GD analysis suggests that the North America and European regions have been hit hardest by supply-side disruption. In addition, the situation in Europe has been further hit by the economic impacts caused by conflict in Ukraine. "That is expected to remain an enduring drag on the region," Cox says, "with Central and Eastern Europe growth prospects hampered in particular.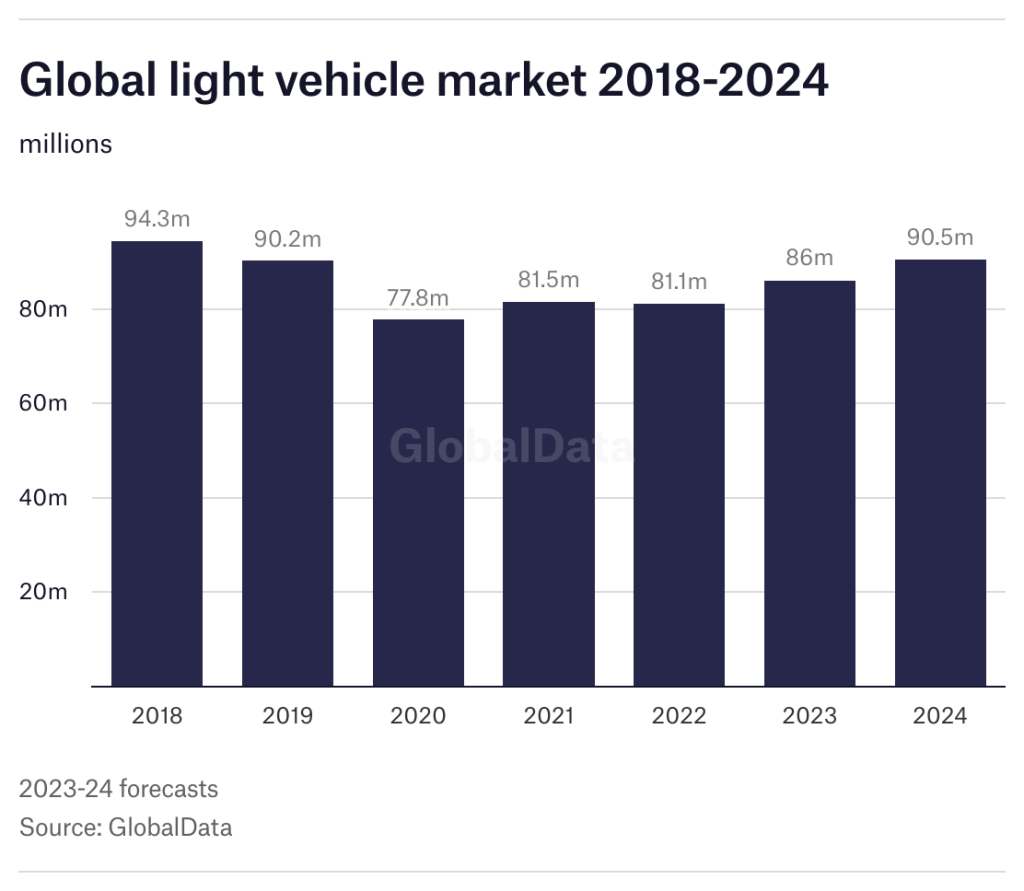 A summary of the latest market developments in the world's regions follows.
North America
US LV sales continued to grow in April as sales increased 10.5% YoY to 1.4 million units. The selling rate accelerated to 16.2 million units/year in April, from 14.8 million units/year in March. A strong close to the month and clear improvements in vehicle availability to meet pent-up demand has meant a MoM decline in inventory stock by 46k units. Average transaction price in April rose to $46,266, after declining since December 2022, while incentives were virtually unchanged MoM at US$1,678.
Canadian LV sales fell in April by 5.2% YoY to 141k units (-9k units MoM). This decline could be associated with the current economic uncertainty, as the selling rate reduced to 1.39 million units/year in April from 1.6 million units/year in March. Mexican LV sales increased by 17.2% YoY to 97.2k units in April, while the selling rate for 2023 rose slightly to just under 1.4 million units/year, from 1.3 million units/year in March.
Europe
The West European selling rate in April was unchanged from March at 12.3 units/year; however, vehicle registrations totalled 992k units, 16.2% YoY growth, specifically helped by the easing of supply constraints and a pickup in delivery rates.
The East European selling rate rose to 3.8 million units/year in April from a revised 3.6 million units/year in March. Sales were almost 43% higher than in 2022, at 300k units. This was helped by Russian LV sales at 68k units (+103.5% YoY) because of stronger purchasing activity and customer interest relative to a weak 2022. The Ukraine War, however, continues to undermine the region's market activity.
China
Advance data indicates that the Chinese market kept pace in April. The April selling rate was 26.3 million units/year, unchanged from a revised March figure. In YoY terms, sales (i.e., wholesales) expanded by 85% in April, as sales a year ago were abnormally weak due to the Shanghai lockdown. NEVs remained the key market driver, with their sales expanding by 113% YoY in April and 43% YTD. At the Shanghai Auto Show last month, over 80% of the new models on display were NEVs.
Some provincial governments and dealers have extended tax incentives and discounts beyond their original end dates of March or April, as dealers still have many vehicles that are not compliant with the upcoming State VI-B emission standard. From 1st July, production, import and sales of vehicles that do not meet the new standard will be banned. As such, the price war is likely to continue and squeeze OEMs' earnings, although massive price reductions and incentives have failed to boost sales significantly so far.
Other Asia
In Japan, sales jumped in May, as the supply of semiconductors improved. The April selling rate reached an exceptionally strong 5.3 million units/year, up 23% from a solid March. That compares to the Q1 average of 4.6 million units/year. In April, several major companies raised wages substantially which, along with moderating inflation and the fading fear for the pandemic, lifted consumer confidence. Despite strong sales, the delivery times for most popular models remain long, ranging from a few months to a few years.
In Korea, the selling rate slowed to 1.7 million units/year in April, down 7% from a strong March. While supply issues have dissipated and local production is running at normal levels, demand has started to lose some steam due to high interest rates and a slowing economy. The Korean brands performed relatively well, but imports recorded a decline because of higher financing rates. The popular German brands also reported supply shortages. In May and June, sales are expected to pick up ahead of the expiry of the temporary excise tax reduction at the end of June.
South America
Brazilian LV sales are estimated to have increased by 10.8% YoY in April, to 152k units. The selling rate slightly declined in April from March, to 2.0 million units/year. Inventory levels increased again in April, but at a much lower rate compared to previous months as stocks reached 206k units, compared to 204k units in March 2023. Days' supply was unchanged MoM in April at 38 days, which could indicate weakening demand as production was disrupted by stoppages in March and April.
In Argentina, LV sales are estimated to have increased in April, to 32.4k units, up by 9.8% YoY. The selling rate remained flat from March into April at 422k units/year. This is the second consecutive month in which the selling rate has exceeded the 400k units/year mark, as the market appears to remain resilient against economic headwinds.