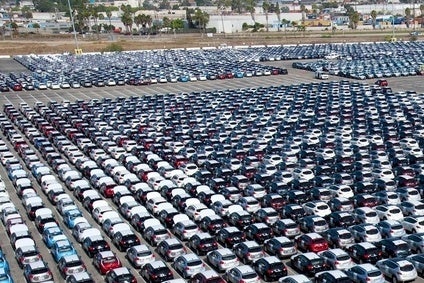 December's Global Light Vehicle (LV) selling rate fell for the fourth consecutive month to 82.7 million units/year, despite flat YoY raw monthly registrations. The total sales figure for 2022, 81 million vehicles, came in slightly below that of 2021 (-0.6%) due to heightened market disruptions.
After a pent-up demand fuelled growth spurt earlier in the year, China's vehicle market experienced a sluggish end to 2022 with December raw sales down almost 12% YoY, largely attributed to increased disruption and uncertainty with the abrupt ending to the zero-Covid policy.
North America and Europe both showed positive YoY growth for December, although both remained shy of their 2021 performances (-7% and -11% respectively).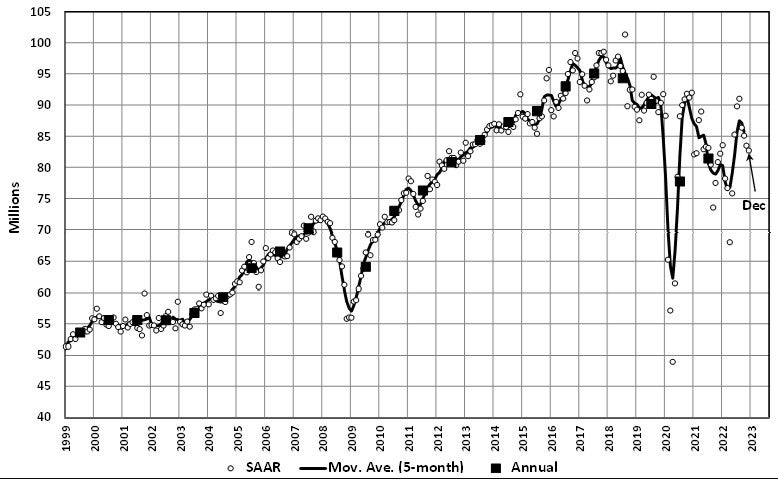 Overall, the month of December rounds off a disappointing year for the global light vehicle market. Sales at 81 million units are essentially flat (-0.6%) on 2021 and 10% under 2019's level (just over 90 million).
The global light vehicle market remains strongly supply constrained by limited semiconductor deliveries. While most OEMs in Europe and North America are now signalling some weakening in underlying demand, they will likely continue to experience significant supply shortages in the first half of 2023.
However, even as supply shortages gradually ease and OEMs are able to meet backed up orders, attention is now swinging to worsening demand prospects. The economic backdrop is unfavourably weak and sluggish demand will become an increasing sector headwind through 2023. Higher interest rates, looser labour markets and weakening consumer confidence will all be driving factors behind fragile demand in North America and Western Europe. Europe will also continue to have the drag provided by higher energy prices and immediate geopolitical concerns in the shape of the conflict in Ukraine.
In China, attention turns to the consequences of Beijing's decision to reverse the zero-Covid policy. The full public health implications have yet to unwind and there is major uncertainty about the likely scale of new infections and also subsequent economic impacts.
GlobalData forecasts the global light vehicle market in 2023 at 85.5 million units, some 6% ahead of 2022's disappointing level. It will be another challenging year for the industry in terms of the market landscape.
A summary of December market developments in the world's regions follows.
North America
US LV sales grew by 7.4% YoY in December, to 1.3 million units. The YoY comparison was positive due to 2021 sales being weak, with the selling rate also falling to 13.5 million units/year, from 14.2 million units/year in November. Average transaction prices also continued to climb, hitting another record high of US$47,362. US annual sales are estimated at 13.7 million units, down by 8% YoY and the lowest since 2011.
Canadian LV sales are estimated to have increased by 7.0% YoY, to 107k units. The selling rate is thought to have slowed to 1.5 million units/year, from a downwardly revised 1.6 million units/year in November. Total annual sales were just 1.5 million units, down by 8% YoY, and the lowest since 2009. In Mexico, sales were up by 20% YoY in December to 120k units. For the calendar year, sales grew by a healthy 8% YoY, to 1.1 million units.
Europe
The West European selling rate recorded the strongest performance of the year in December at 14.7 million units/year, up from 13.8 million units/year in November. In raw monthly terms, December was up 13% YoY, with 1.1 million units registered. While this was the second highest registration result of 2022, the market was down 6% YoY and was the lowest annual result seen during either the pandemic or the financial crisis.
The East European selling rate remained at 3.0 million units/year for December, despite raw monthly registrations increasing well versus November. The ongoing conflict in Ukraine has continued to suppress sales in this region with the annual total down 27% YoY, led chiefly by Russian sales falling almost 60% YoY.
China
The Chinese market finished 2022 on a sluggish note, amid uncertainty caused by the sudden end of the zero-COVID policy. According to preliminary data, December's selling rate was 24.3 million units/year, down about 2% from a weak November. In YoY terms, sales (i.e., wholesales) declined by nearly 12% in December. In full-year 2022, total LV sales increased by over 4% to 26.6 million units, the second consecutive year of expansion – but that was still far lower than 2017's record high of 28.6 million.
China Passenger Car Association reports that retail sales of Passenger Vehicles (PV) increased slightly YoY in December, as consumers rushed to buy vehicles before the temporary purchase tax cut on ICE models expired at the end of 2022. EV subsidies were also abolished in December (while the temporary purchase tax exemption for NEVs has been extended until the end of 2023). In 2022, NEVs accounted for about 24% of total LV sales, with their wholesales increasing by 49% YoY in December and 96% in full-year 2022.
Other Asia
The Japanese market ended 2022 on a solid note. The December selling rate was 4.6 million units/year which, while a good result, was hindered by supply shortages. Overall, 2022 sales reached only 4.2 million units, down 5.2% from 2021. This was the lowest annual sales since 1977 and the fourth consecutive year of contraction. In 2022, India surpassed Japan, becoming the world's third largest auto market.
In Korea, the December selling rate was a sluggish 1.6 million units/year, down 8.4% from a solid November. Consumers decided to delay their purchases to 2023, due the extension of the temporary excise tax cut on PVs to 30th June 2023 and the abolishment of the mandatory public bond purchase (a kind of tax) for smaller PVs, starting from 1st January 2023. In full-year 2022, sales declined by 2% to 1.7 million units, hampered by the global supply-chain crisis.
South America
Brazilian LV sales increased by 4.0% YoY in December to 202k units, the highest monthly sales of 2022. While the selling rate declined to 2.2 million units/year, this is the second highest rate this year, only below November's selling rate. Additionally, inventory declined by 10.2k units, down for the first time since May, though this may simply be a sign of strong sales. For the full 2022 calendar year, sales totaled 1.96 million units, down by 1% YoY.
In Argentina, sales are estimated to have grown by 13.5% YoY in December, to 18.3k units. The selling rate declined to 404k units/year in December; however, November's selling rate was exceptional. Overall, 2022 sales totaled 380k units, up 8% YoY. This result places Argentina as the third largest market in the region, behind Chile.

More on market trends and forecasts at GlobalData's dedicated research platform, the Automotive Intelligence Center