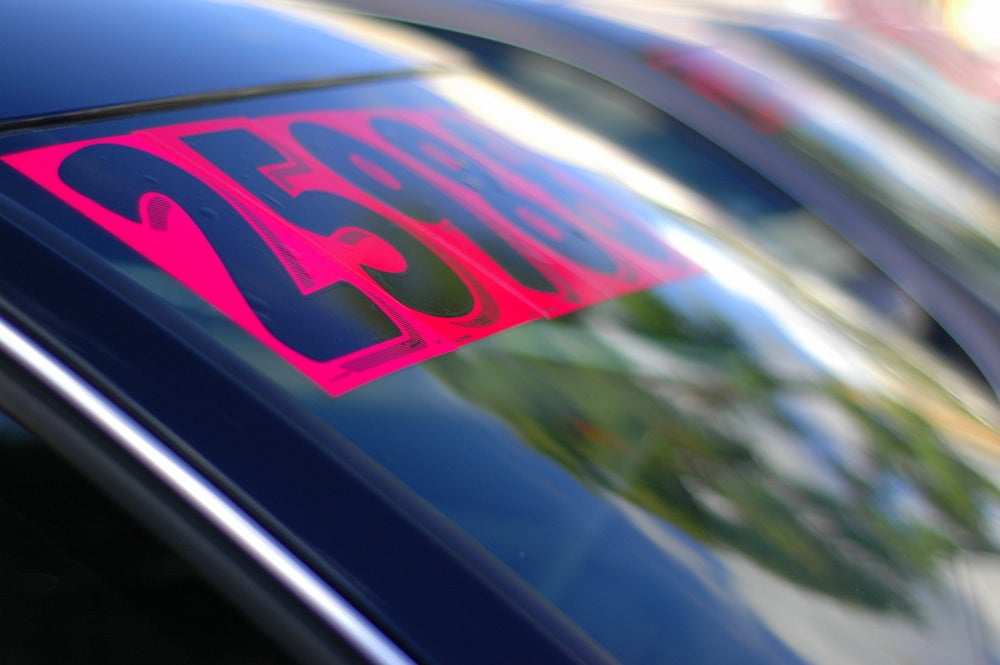 Summary
The Global Light Vehicle (LV) selling rate rose for the sixth consecutive month in August, reaching 99million units/year, from a revised figure of 97 million units/year in July. With 7.3 million units sold in August, the market has grown 9.6% YoY, with 57 million units sold year-to-date (YTD). This YTD figure has also surpassed the YTD Aug 2022 total by 10.3%.
The USA, Western and Eastern European countries all registered double digit YoY growth, partly due to 2022 being a weak base and partly because of an alleviation in supply-side issues. Chinese sales grew 5.2%, driven by a booming export sector. However, the domestic PV market in China fell slightly because of subdued consumer confidence.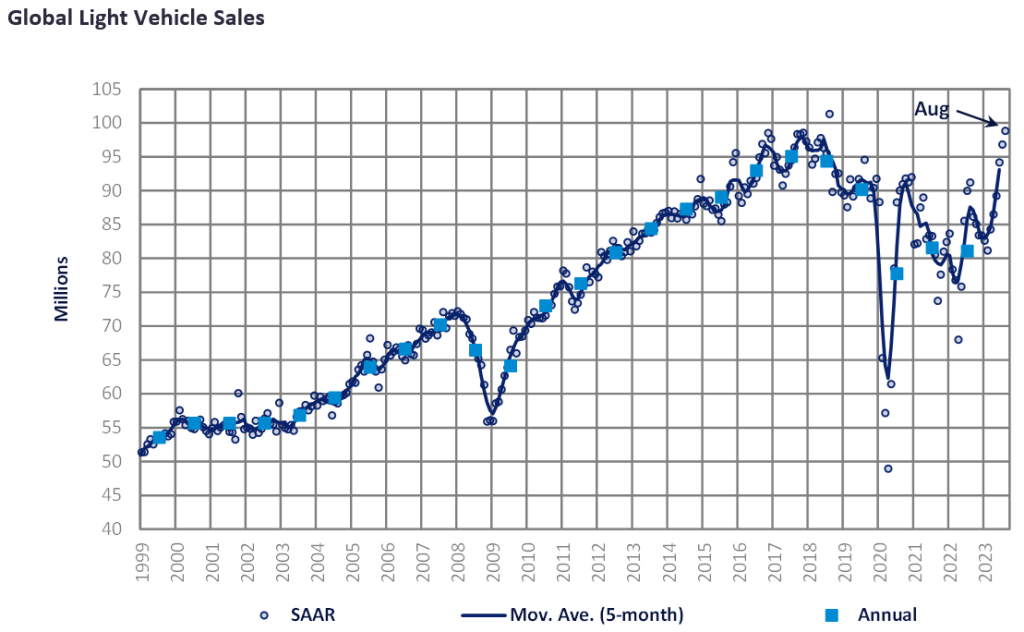 Commentary
North America
The US LV market continued its strong run of sales in August, as vehicle sales increased by 17.1% YoY, reaching 1.3 million units. While sales increased MoM by 26.5k units, the selling rate declined significantly from July, as the rate dropped to 15.1 million units/year in August, down from 15.8 million units/year reported in July. Consumers may have held off on purchases to see if better discounts would be available around the Labor Day holiday in early September. Transaction prices remain elevated, as prices increased by US$498 month-on-month (MoM) to US$45,935 in August, while incentives were virtually unchanged MoM at US$1,903.
In August, Canadian LV sales reached 148.6k units, increasing by 10.8% YoY. As sales increased by 4.2k units over the previous month, the selling rate slightly increased in August to 1.6 million units/year, up from 1.5 million units/year in July. LV sales in Mexico grew by 25.6% YoY to 113.9k units in August. While sales have been exceeding expectations, the selling rate slightly dropped in August to 1.35 million units/year, down from 1.4 million units recorded in July.
Europe
The West European LV selling rate grew once again in August, to 16.2 million units/year, the highest level since December 2020, in what is seasonally a weak month (+18.7% YoY). The strong performance was supported by YoY increases in all the big five countries, as the region continues to benefit from improved supply lines, allowing production to reduce lead times and fulfil backlogged orders. Year-to-date (YTD), the region has grown 17.7% YoY with total sales of 8.7 million units.
The East European LV selling rate fell to 3.5 million units/ year after a drop in the raw monthly registration figure of 290k units (+31.9% YoY). The strong YoY growth was supported by Russia selling over 70k units in August, which is 52% higher than the same period last year. While the YTD figure for the region (2.4 million units) is up 27.6% YoY, it is down 8% from pre-pandemic 2019 levels.
China
Advance data indicates that China's wholesales, which include exports, continued to surprise on the upside. The August selling rate was 35.4 million units/year, not so different from July's exceptionally strong (and upwardly revised) 36 million units/year. That brought the YTD average selling rate to 29 million units/year. In YoY terms, sales increased by 5.2% in August and 6.8% YTD.
Behind such stellar performances in the recent months are booming exports. Exports of Passenger Vehicles (PV) expanded by 43% YoY in August, boosted by increased shipments to Russia and buoyant global demand for China's NEVs. In contrast, domestic PV sales declined marginally (-0.5%) YoY, reflecting depressed consumer confidence. As the domestic market continues to stagnate, OEMs are ramping up their efforts to increase exports; meanwhile, the government has announced stimulus measures to bolster consumption.
Other Asia
The Japanese market accelerated strongly in August after weakening for three straight months, due to supply constraints and the severe heatwave across the country. The August selling rate reached a robust 5.4 million units/year, up 28% from a weak July. With supply catching up, the delivery periods have shortened for many models – although there are still significant volumes of backlogged orders. On the other hand, demand appears to be losing some steam, in the face of sticky inflation, a weak yen, and global uncertainty.
Sales in Korea picked up a bit in August, after slowing sharply in July due to the expiry of the temporary tax cut and the long period of heavy rains. The August selling rate was 1.6 million units/year, up 4.4% from a weak July. In YoY terms, sales declined by 0.7% in August, with the entire loss coming from Light Commercial Vehicles (LCVs). LCV sales fell by 24% YoY, owing to a combination of factors, such as the ageing of local truck models, rising diesel prices and financing costs, and weakening economic activities in Korea.
South America
Preliminary estimates indicate that Brazilian Light Vehicle sales increased by 1.0% YoY in August to 196.9k units. With the reduction in sales from July, the selling rate in August dropped to 2.1 million units/year, down from the 2.5 million units/year reported in July. The temporary boost that the government incentive scheme provided to the market in June and July faded in August. As demand settled down, this likely also explains the increase in inventory levels, which reached 244.6k units in August, up from 198.8k units in July.
In Argentina, Light Vehicle sales are estimated to have grown to 36.6k units in August, up by 2.4% YoY. LV sales saw a reduction on a MoM basis, and the selling rate also dropped in August to 394.6k units/year, down from the 479.0k units/year recorded in July. The market appears to have returned to pre-pandemic sales levels, but a slowdown towards the end of the year is still likely given economic and political conditions. August broke the trend of five consecutive months with selling rates of over 400k units/year.