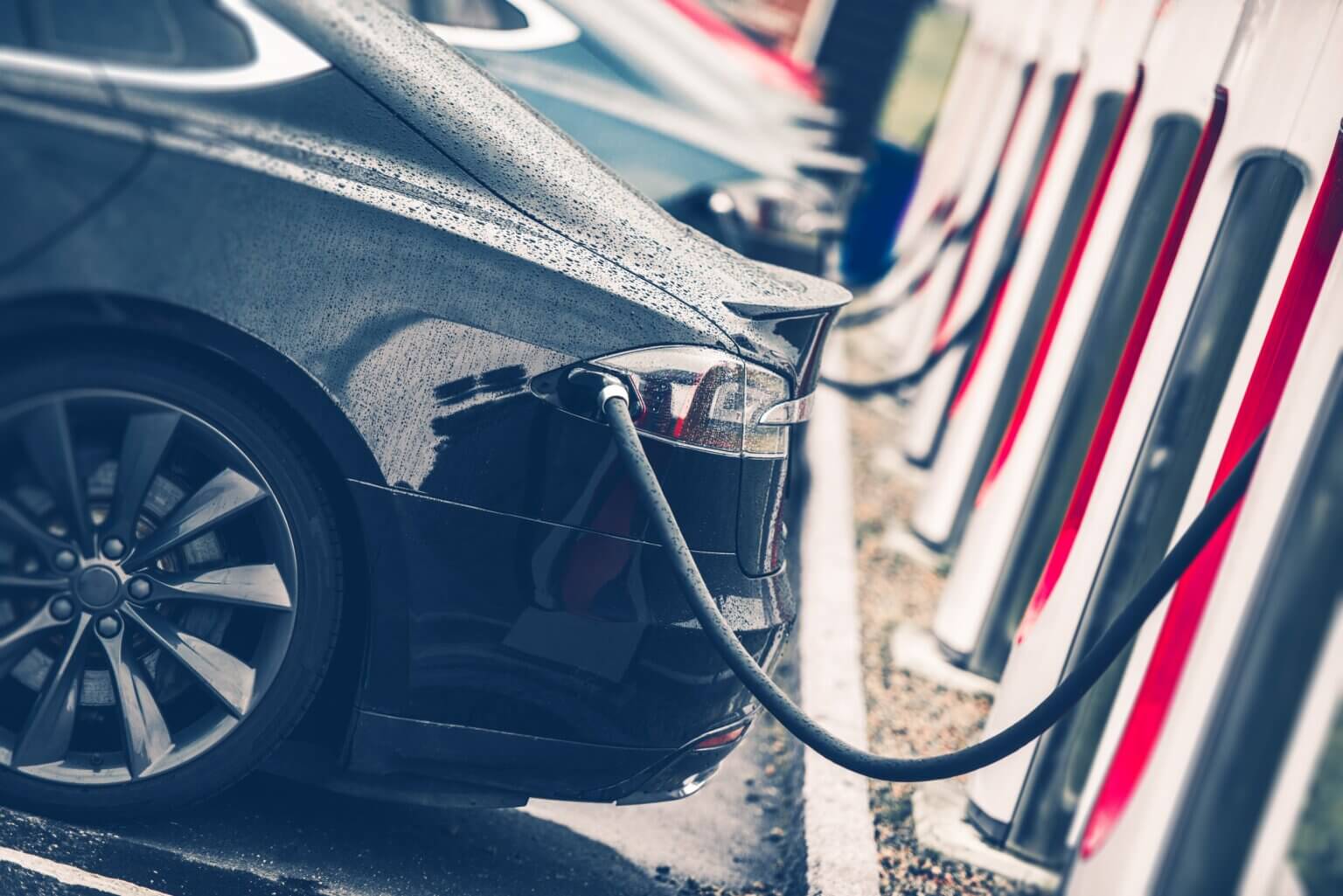 China has taken an early and substantial lead in becoming a battery electric vehicle (BEV) manufacturing superpower, producing just under two-thirds of all global BEVs in 2022. In a distant second place is Europe followed more closely by North America, accounting for 17% and 11% of global BEV build in 2022, respectively. Given these figures you would be forgiven for thinking the lead is insurmountable and the race is already over – China has won. However, the industry is still in its infancy with BEV volumes making up just 9% of all light vehicle output last year, leaving scope for the other regions to make up ground.
China has built this lead, in part, by handing out more than CNY300 billion (US$43.5 billion) in purchasing subsidies and tax breaks from 2009 to 2022 to support locally produced BEVs regardless of whether they are domestic or foreign-owned brands. The government has also offered large procurement contracts to buy products from budding BEV companies, which, in turn, has helped to keep them afloat in their early years as well as fund further R&D. For example, while the rest of the world championed lithium nickel manganese cobalt (NMC) batteries, Chinese firms were able to develop lithium iron phosphate (LFP) battery technology thanks to government support, improving energy density while offering a safer and cheaper alternative to NMC.
The result of these and other policies is that China now dominates the supply of BEVs, is a world leader in LFP battery technology and has most of the world's refinery capacity for critical battery materials, including graphite and cobalt. China ceased official NEV (New Energy Vehicle) subsidy support at the end of 2022 but has extended tax exemptions for BEVs to the end of 2023 and left the dual credit system in place – creating a market where BEV producers can raise funds by selling credits to other OEMs. Given these strong foundations, China is expected to remain in pole position and to account for 38% of all light BEVs built in 2030, with other markets predicted to make up some ground over the decade.
The EU, although slightly late to the game, has been competing in the race to develop BEVs and batteries for several years, successfully securing large investments to scale the manufacture of both. Indeed, more than US$22 billion has gone towards improving the battery value chain, with almost US$6.6 billion spent in 2022 to subsidise the sale of BEVs across EU member states. Reports suggest that tens of billions of the US$275 billion earmarked for green investment in the EU's pandemic recovery fund could also be directed to the BEV industry, although excessive red tape and bureaucracy make accessing these funds hard work.
Both Europe and North America have unveiled plans to on-shore BEV and battery production, with the emergence of BEVs seen as an integral part of a broader strategy to become climate neutral. The EU will cajole consumers and OEMs to make the BEV transition by effectively banning the sale of internal combustion engine (ICE) models that do not use e-fuels within the region from 2035. North America is pushing in the same direction, but at a slower rate, with President Biden aiming for plug-in or fuel cell vehicles to make up 50% of all sales in the US by 2035.
To this end, the Inflation Reduction Act (IRA) enacted in the US in 2022 offers around US$370 billion in clean energy subsidies, including tax breaks for plug-ins and batteries that are made in North America. This legislation is aimed at reducing the region's reliance on China but has also caused friction between the US and the EU. The main worry is that the IRA will divert future investment away from the EU. In response, the European Commission has outlined its Green Industrial Plan which, importantly, will aim to reduce the red tape around accessing available funds and improve trade through negotiations, including with the US regarding the IRA.
The creation of a localised BEV industry will also require huge sums of private-sector investment. As such, OEMs in North America announced US$36 billion in 2021 to fund the construction of dozens of new BEV and battery plants between 2019 and 2025, as well as expanding many facilities already in operation. Moreover, US$22 billion of funding was announced over the first 5 months of 2022 and a further US$45 billion since the IRA was enacted towards the development of clean vehicles and battery supply chains. It is fair to say that European OEMs have also dug deep. This has been epitomised by VW with its pledge of US$35 billion to develop around 70 BEVs over a 5-year period from 2021. In addition, it has spent US$15 billion to refurbish its German facilities (Emden, Mosel, and Hannover) and pledged a further US$11 billion to adapt those in Spain (Martorell and Pamplona) into global BEV production hubs. Other large European automakers like BMW (Debrecen, Hungary), Mercedes-Benz (Jawor, Poland) and Volvo (Košice, Slovakia) have planned construction of new BEV-only plants.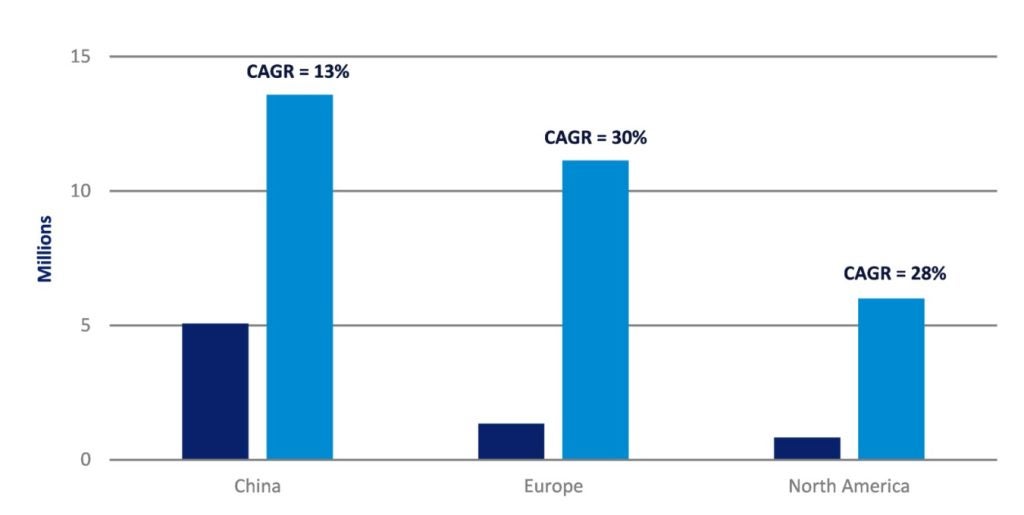 These lofty ambitions and the eyewatering sums of money underpinning them should see global BEV volumes jump to 35% of all light vehicle output in 2030, which translates into a growth rate of 21% (CAGR) from 2022 to 2030. By 2030 we expect Europe and North America to account for 31% and 17% respectively of all BEVs produced globally. Importantly for domestic OEMs, most of this output is also assumed to be from brands that are not Chinese owned, although there may be some increase in localising Chinese models.
On the other hand, we expect a similar expansion in localised battery production but for China to remain firmly in control, with a large portion of the manufacturing at factories owned by Chinese firms such as CATL and BYD. If other regions are to compete in this field and receive more added value, they will have to innovate and pioneer next-generation battery chemistries and technologies. Importantly, it is this competition that will spur worldwide innovation and drive the BEV industry, as was the case when Japanese automakers launched their challenge in the 1970s and again with Korean OEMs in the 1990s.
James Norris, Manager, Production Forecasts, GlobalData Automotive
This article was first published on GlobalData's dedicated research platform, the Automotive Intelligence Center