Volkswagen Group
---
All the very latest information about Volkswagen AG in one place. The latest Volkswagen AG business news, analysis, comment and interviews, all from our automotive industry experts at just-auto.
Latest news
---
Bridgestone brings its groundbreaking ENLITEN Technology to the roads for the first time on key partner Volkswagen's all-electric ID.3
10 July 2020
---
Volkswagen strengthens Bochum software location
10 July 2020
---
Vrchlabí plant to become first CO2-neutral Skoda production site by the end of the year
9 July 2020
---
2021 Audi A7 55 TFSI e plug-in hybrid captivates with electrified power and sleek sportback design
9 July 2020
---
The Audi Q4 Sportback e-tron concept
9 July 2020
---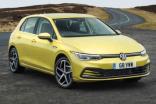 Just how good is the new Volkswagen Golf?
7 July 2020
Far from outdated even now, will we remember the seventh generation with fondness as the last 'analogue' Golf? Due to some digital gremlins and then COVID-19 wreaking havoc with the production ramp-up, the successor got off to a bumpy start. By year end though, the new Golf 8 could be Europe's best selling vehicle.
---
Skoda files the most patent applications of all Czech companies in 2019
7 July 2020
---
Porsche Leipzig gets ready for electromobility
7 July 2020
---
VW starts converting and expanding Emden plant for EVs
6 July 2020
Volkswagen said on Monday it had started to convert its Emden plant in Germany to an EV factory with the first electric cars expected off the line there from 2022.
---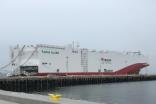 VW America welcomes first LNG powered car carrier to port
2 July 2020
Volkswagen Group of America (VWGoA) this week welcomed its first overseas liquid natural gas (LNG) transport ship to the VWGoA port in Davisville, Rhode Island.
---
Porsche invests in serva transport systems
2 July 2020
---
Porsche reports second quarter U.S. retail deliveries
2 July 2020
---
Hyundai Glovis signs car shipping deal with VW
2 July 2020
Hyundai Motor Group logistics subsidiary, Hyundai Glovis, this week announced it had won a five year contract worth US$432m to ship vehicles for Volkswagen Group.
---
Volkswagen decides against Turkish factory - reports
1 July 2020
Volkswagen reportedly has decided against building a new factory in Turkey.
---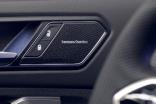 Harman Kardon supplies updated VW Tiguan premium audio
1 July 2020
The updated Tiguan SUV is the third Volkswagen car model after the new Golf and recently launched Arteon and Shooting Brake to offer optional premium audio supplied by Harman Kardon.
---
Volkswagen ends short time working in Germany
30 June 2020
The Volkswagen Passenger Cars, Volkswagen Commercial Vehicles and Volkswagen Group Components brands plan to discontinue short-time working at their German plants until further notice from 1 July, 2020.
---
Audi unveils a new look for the Q5
30 June 2020
---
Zwickau car factory to produce only electric models in future
29 June 2020
---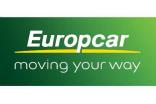 Value and future prospects drive Volkswagen interest in Europcar
25 June 2020
Volkswagen Group is said to be interested in acquiring French car rental firm Europcar. Why would VW be interested in such a buy? The answer lies in a mixture of the timing of the opportunity and an eye on long-term industrial trends.
---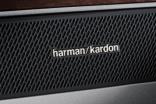 Harman Kardon again supplies premium audio to Volkswagen
25 June 2020
Harmon Kardon has won a second audio supply contract with Volkswagen Passenger Cars.
---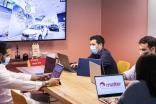 Skoda shows how COVID-19 forces sales process rethink
25 June 2020
Automakers are facing the realization that, while lockdown restrictions are beginning to lift in many countries, customers are still reluctant to risk their health by going to a dealership and potentially exposing themselves to infection. To mitigate the problem, Skoda launched a competition to uncover the best digital solution to selling cars in a post-COVID world.
---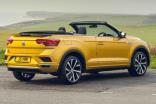 ANALYSIS - Volkswagen T-Roc Cabriolet
24 June 2020
The press launch had to be cancelled due to you-know-what and now, just as the first examples of the T-Roc Cabriolet are turning up at Volkswagen's UK dealerships, journalists are at last able to try the car. A two-door, fabric-top SUV with no four-wheel drive capability sounds like a strange thing yet in practice, it has quite a lot of appeal.
---
Volkswagen eyes Europcar - report
24 June 2020
Volkswagen AG is in talks to acquire French car rental firm Europcar Mobility Group in a deal that would allow VW to better capitalise on its fleet, Reuters sources said.
---
New Bentley Bentayga to launch Beyond100
24 June 2020
---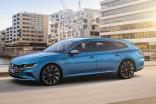 Facelifted Volkswagen Arteon gains Shooting Brake
24 June 2020
If admiration sold cars, the VW Arteon would be a massive success. Unfortunately, this big fastback has always had many more fanciers than purchasers. Might that change with the addition of an estate?
---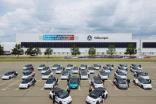 VW Saxony workers to test ID.3 EV ahead of launch
23 June 2020
Some employees at Volkswagen Sachsen will soon be testing the all-electric ID.3 for everyday usability over a period of several weeks – before delivery officially starts in early September.
---
Skoda manufactures 3 millionth engine at Mlada Boleslav
23 June 2020
Skoda has manufactured its three millionth EA211 engine at its main plant in Mlada Boleslav.
---
Audi creates new model management division, loads CEO with more responsibilities
22 June 2020
Audi has created a new division to independently manage its line of 65 models plus the Premium Platform Electric (PPE) 'project house'.
---
Audi realigns its technical development division
22 June 2020
---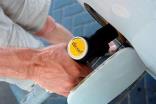 Welcome back, dieselgate - the week
19 June 2020
Dieselgate has reared its ugly ahead again, this time in the UK, getting on for five years after Volkswagen admitted cheating on US emissions testing, sparking a saga that has cost it billions in fines and other costs, such as setting up the nationwide EV recharging network Electrify America, led to tens of thousands of perfectly functional cars being parked in the desert, put executives in US jails as German prosecutors tried to achieve likewise (with less success) this side of the Atlantic and generally tarnished its reputation. But this week's news was not about VW.
...
11
...
Volkswagen Group news
---
---
---
---
---
Most popular news
---
Most popular insights
---