Tesla Motors
---
All the very latest information about Tesla Motors in one place. The latest Tesla Motors business news, analysis, comment and interviews, all from our automotive industry experts at just-auto.
Latest insights
---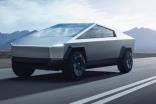 Cybertruck and other Tesla future models
11 December 2019
It's been an especially hectic 2019 for Tesla. The car making division has been working through a large bank of orders for the Model 3, the Model Y and Cybertruck have been shown as prototypes, plans revealed for vehicle and battery production in Germany, and any day now, the first vehicles are due to roll off the line at the Shanghai factory. There is even more to come in the 2020s.
---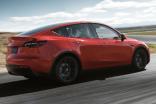 Model Y is revealed - but what will Tesla do next?
15 March 2019
Following the presentation of the long-awaited Model Y, now is the perfect time to have a look at what Tesla Incorporated might be planning next.
---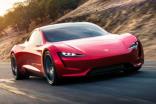 ANALYSIS - Tesla future models
12 February 2018
Tesla surprised analysts with its latest financials. Cash burn in the fourth quarter wasn't as bad as many had expected, even though the firm announced its worst quarterly figures yet, with a US$657m loss. Will the company eventually succeed in its mission to make substantial profits from electric cars?
---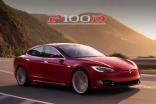 29 November 2017
Welcome to the second feature in our newest reporting series*. Our Hands-On Tech - HOT - Reports take you through the top-spec connectivity features offered by manufacturers in detail and look to benchmark the connectivity functionality based on various test criteria. This month we take a closer look at the groundbreaking system in the Tesla Model S. As the only manufacturer offering over-the-air (OTA) updates to each one of its vehicles, regardless of the date of purchase, Tesla's unique approach in the world of connected vehicle technologies sets it apart from the rest.
Latest news
---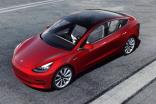 Tesla to export Chinese Model 3s to Europe
21 October 2020
Tesla is to begin exporting its Model 3 electric car to Europe from its Shanghai Gigafactory in China later this month, according to a company statement.
---
Lucid Air offer prompts second Tesla Model S price chop this week
16 October 2020
Tesla cut the price of the Model S for the second time this week, after EV startup Lucid Motors, led by former Tesla executive Peter Rawlinson, announced the base price of its upcoming Air EV would be US$69,900 (after tax credits).
---
Tesla Berlin first with new battery tech
8 October 2020
Tesla chief executive Elon Musk said the company would produce Model Y with a new structural battery design and technology at its Berlin factory next year and that could result in a "significant production risk", Reuters reported.
---
Tesla cuts Model 3 China entry price
1 October 2020
Tesla on Thursday cut the starting price of its Chinese-made Model 3 sedans by about 8% to CNY249,900 yuan (US$36,805), once Chinese subsidies for electric vehicles are taken into account, Reuters reported, citing the automaker's China website.
---
Tesla German plant faces water issue
24 September 2020
Tesla is continuing with plans to build its new factory in Germany and will build battery cells and battery packs at the site in Brandenburg, near Berlin, a spokesman told Reuters, after assurances it would not use too much water.
---
Tesla to launch Model Y production in China by November
10 September 2020
Tesla is set to launch production of the Model Y at its Shanghai Gigafactory in China as early as November 2020, according to local reports. 
---
Tesla sales in China double in Q2 2020
3 August 2020
Tesla reported a 103% year on year jump in revenues from its Chinese operations to US$1.4bn in the second quarter of 2020, to account for just over 23% of the company's global sales.
---
South Korea looks into possible Tesla Model 3 defects
29 July 2020
The South Korean government has ordered an investigation into the Tesla Model 3 for possible faulty parts, according to local reports.
---
Profit sets Tesla fair for S&P 500 entry
23 July 2020
Tesla last night (22 July) announced a second quarter profit as cost cuts and strong sales helped offset coronavirus-related factory shutdowns, sending its stock up 4.4% in after hours trading and clearing a hurdle which could lead to the electric carmaker's inclusion in the S&P 500 index.
---
China NEV sales fall 22% in June
14 July 2020
Sales of new energy vehicles (NEVs) in China, comprising mainly electric and plug-in hybrid vehicles, declined by over 22% to 104,000 units in June 2020 from a peak year earlier level of 134,000 units, according to wholesale data released by the China Association of Automobile Manufacturers (CAAM).
---
Panasonic and Tesla talking battery spend again
19 May 2020
Panasonic and Tesla have revived talks on investment to boost output of electric vehicle batteries at the Gigafactory in Nevada, the Japanese company told Nikkei.
---
Tesla to continue expanding recharging network in China
18 May 2020
Tesla said it would continue to expand its electric vehicle recharging network in China by an additional 4,000 supercharging sites by the end of the year, as it looks to strengthen its position in the world's largest electric vehicle market.
---
Tesla opens virtual store on Alibaba Tmall
20 April 2020
Tesla opened an official virtual store on China's Tmall site last week, as the US electric vehicle manufacturer continues its efforts to expand its share of the world's largest vehicle market.
---
Tesla prepares pay cuts and furloughs
8 April 2020
Tesla reportedly has told workers to brace for pay cuts and furloughs as the Covid-19 pandemic disrupts its operations and cripples demand.
---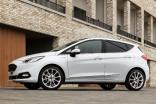 Ford toppled as UK market leader
6 April 2020
Ford has lost its long held position as the UK market's number one passenger vehicle brand. SMMT data for March show that during the first quarter, Volkswagen became the top selling marque.
---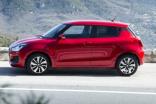 Italy - Fiat fewer than 500 cars ahead of VW in March
3 April 2020
Due to the sudden collapse of sales, the Italian market's leading brand was only 478 vehicles ahead of Volkswagen in March, a month when the overall market plunged to levels not seen since 1959.
---
Tesla tree cutting continues after court ruling
24 February 2020
Tesla reportedly resumed cutting down trees to clear land in in Gruenheide, Germany for its first European car and battery factory after environmentalists lost a court case.
---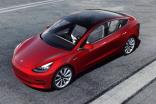 Tesla agrees battery supply deal with CATL
3 February 2020
Tesla announced it was partnering with China's largest electric vehicle battery manufacturer CATL, according to local reports in China.
---
Tesla to produce Model Y in China from 2021
8 January 2020
Tesla has confirmed the Model Y battery-powered compact SUV would be the second model to be produced at its new plant in Shanghai, China.
---
Tesla Q4 2019 vehicle production & deliveries
7 January 2020
In the fourth quarter, we achieved record production of almost 105,000 vehicles and record deliveries of approximately 112,000 vehicles. In 2019, we delivered approximately 367,500 vehicles, 50% more than the previous year and in line with our full year...
---
Tesla to cut Model 3 prices in China by 20% in 2020
19 December 2019
US electric vehicle manufacturer Tesla is looking to cut its Model 3 prices in China by 20% or more next year after local production gets under way, according to local reports citing sources close to the company.
---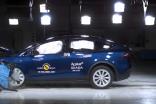 Tesla Model X biffs Porsche Taycan in Thatcham test
4 December 2019
The Porsche Taycan and Tesla Model X have been tested by Euro NCAP and, though both received five-star ratings, the Tesla showed stronger safety performance in key assessment categories.
---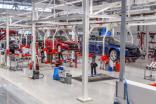 After Gigafactory problems, Panasonic won't follow Tesla to China - report
22 November 2019
Panasonic has told Tesla it won't supply Chinese made batteries for locally built EVs and the automaker should look elsewhere, according to a media report.
---
Tesla begins trial Model 3 production in Shanghai
25 October 2019
Tesla confirmed this week it has begun trial production of the Model 3 at its new Gigafactory 3 factory in Shanghai, China, as it looks to strengthen its presence in the world's largest vehicle market.
---
Tesla hits record but Q3 output, but concerns remain
9 October 2019
Tesla CEO Elon Musk has told investors he expects the company produce between 360,000 and 400,000 vehicles in 2019 and has posted record Q3 volumes, as widely predicted.
---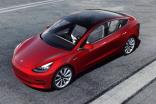 Tesla 3 makes NZ top three as well
4 October 2019
Sales of rental vehicles and EVs pushed New Zealand new vehicle sales to a September record of 14,525 units, up 4.2% year on year.
---
Tesla updates progress on Shanghai factory
27 September 2019
US electric vehicle manufacturer Tesla this week updated the progress of its new car plant currently under construction in Shanghai which will be the company's first overseas full production plant [the Netherlands factory which completes cars for Europe is only a final assembly operation].
---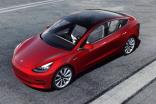 IIHS rates Tesla Model 3 a 'top safety pick'
20 September 2019
Tesla has picked up its first award from the US Insurance Institute for Highway Safety (IIHS), as the 2019 Model 3, its most expensive sedan, achieved a 'Top Safety Pick+' rating.
---
Tesla might retrofit full self drive chips
15 July 2019
Tesla which launched 'fully self-driving' computers last April and has already installed them in recently built  Model S, X, and 3 vehicles, reportedly might start retrofitting the chips into older cars.
---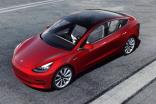 Tesla tops record March Europe electric car sales
1 May 2019
Total new car registrations in the 27 key Europe markets fell 3.6% year on year in March - the seventh consecutive monthly drop. Diesel cars counted for 31% of total registrations, the lowest monthly share since September 2000, but the newly launched Tesla Model 3 was the top market share winner.
Tesla Motors news
---
---
---
---
---
Most popular news
---
Most popular insights
---