Panasonic Corporation
---
Latest news
---
Panasonic teams for battery business potential
19 November 2020
Panasonic, energy company Equinor and Hydro have signed an MoU to form a partnership to explore possibilities for establishing a European battery business
---
Panasonic appoints company veteran Kusumi as CEO
17 November 2020
---
Toyota-Panasonic JV to build batteries for hybrids
6 October 2020
A Toyota-Panasonic batteries JV has said it will build batteries for hybrid cars at a plant on Japan from 2022.
---
Tesla disappoints investors with big 'reveal'
23 September 2020
Investors reportedly cut US$50bn from Tesla market value on Tuesday despite CEO Elon Musk's promise to cut electric vehicle costs so much a US$25,000 car that drives itself would be possible, but not for at least three years.
---
Panasonic develops intelligent rear-view mirror for Nissan
27 August 2020
Panasonic has developed jointly with Nissan Motor Corporation what it describes as a high-performance electronic mirror for driver safety.
---
Panasonic and Tesla talking battery spend again
19 May 2020
Panasonic and Tesla have revived talks on investment to boost output of electric vehicle batteries at the Gigafactory in Nevada, the Japanese company told Nikkei.
---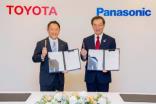 Toyota and Panasonic establish EV battery JV
3 February 2020
Toyota Motor and Panasonic Corp reportedly agreed to set up a joint venture (JV) that will begin developing electric vehicle (EV) batteries from April, as both Japanese companies gear up for an expected surge in demand.
---
Panasonic Automotive unveils their next generation connected eCockpit
9 January 2020
---
Panasonic and Toyota confirm location and executive structure of town development joint venture
6 December 2019
---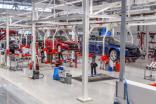 After Gigafactory problems, Panasonic won't follow Tesla to China - report
22 November 2019
Panasonic has told Tesla it won't supply Chinese made batteries for locally built EVs and the automaker should look elsewhere, according to a media report.
---
Panasonic develops battery management technology
15 November 2019
---
Panasonic launches autonomous ride share service around its headquarters
29 October 2019
Panasonic Corporation has begun offering an autonomous ride share service for its employees around its headquarters in Kadoma City, Osaka Prefecture, Japan.
---
Subaru production suspended after Typhoon Hagibis
17 October 2019
Japanese automaker Subaru has halted vehicle production in Japan for 10 days after typhoon Hagibis which swept through the country over the weekend, dumping record rainfall.
---
Panasonic develops a driverless automated valet parking system and a large screen AR-HUD
14 October 2019
---
Toyota China using Panasonic batteries designed for Tesla
13 September 2019
Toyota has started using the same type of battery Panasonic designed for Tesla in some plug-in hybrids sold in China, media reports said.
---
Panasonic teams with Tropos for utility EVs
31 May 2019
Panasonic is collaborating with Tropos Motors to advance electric compact utility vehicles (ECUV).
---
Toyota, Panasonic to partner on connected homes
9 May 2019
Toyota Motor and EV battery supplier Panasonic plan to establish a joint company to develop connected services to be used in homes and urban development, a media report said.
---
Tesla hopes for 2,000 Chinese made cars a week by year's end
26 April 2019
Tesla production in China could reach 2,000 vehicles a week by the end of the year, CEO Elon Musk has said.
---
Tesla Model Y factory location uncertain - report
7 March 2019
Tesla executives still have not decided where to manufacture the company's forthcoming crossover SUV, the Model Y, according six current and former employees who spoke to cnbc.com.
---
Global EV battery market expands by almost half in 2018
11 February 2019
The global market for electric vehicle (EV) batteries expanded by almost 47% to 7.38 gigawatt-hours (GWh) last year from 5.03 in 2017, according to a study carried out by South Korean consulting firm SNE Research.
---
Toyota, Panasonic planning large-scale EV battery JV in China 
21 January 2019
Toyota Motor and Panasonic plan to have in place a new joint venture in China by next year to produce batteries for electric vehicles, according to a report in the Nikkei business daily citing sources close to the negotiations.
---
CES - Panasonic develops new 48V ePowertrain platform for small EVs
8 January 2019
Panasonic Corporation has said it has developed the next generation of a new 48V ePowertrain platform for small electric vehicles (EVs).
Panasonic Corporation news
---
---
---
---
---
Most popular news
---
Most popular insights
---