Nanjing Automobile
---
All the very latest information about Nanjing Automobile in one place. The latest Nanjing Automobile business news, analysis, comment and interviews, all from our automotive industry experts at just-auto.
Latest news
---
NextEV and Nanjing ink US$462m China plant deal
4 May 2016
NextEV and the Nanjing Municipal Government have signed a partnership agreement to build a RMB3bn (US$462m) plant for the development and production of high-performance motors, as well as electronic modules in the Nanjing Economic and Technological Development Zone.
---
CHINA: LG Chem to supply EV batteries to Changan Auto
17 August 2015
South Korea's LG Chem has signed agreement to supply batteries for Changan Automobile's its next generation plug-in hybrid-electric vehicles.
---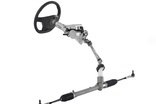 RESEARCH SNAPSHOT - Review of the electrically powered steering market
15 June 2015
Continuing just-auto's series of research snapshots - pulled from its automotive research platform, QUBE - Matthew Beecham looks at how the application of electric power steering (EPS) is shaping up in developed and emerging markets as well as some novel steering and reversing innovations.
---
CHINA: 'P2P' car sharing service rolls out in Beijing
21 May 2015
A person to person, or P2P, car sharing mobile application provider Atzuche.com has rolled out its service to Beijing.
---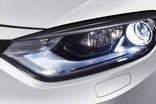 20 March 2015
MG next month will launch an updated MG6 in the UK, replacing a line first launched here in 2011.
---
CHINA: Kumho to move plants to Nanjing outskirts
26 January 2015
Kumho Tyre plans to shift and combine both its Nanjing plants in China to an economic development zone in Pukou following a government regulation in 2011 which requires all the factories in the city to be moved to the outskirts.
---
CHINA: LG Chem starts work on Nanjing EV battery plant
30 October 2014
LG Chem has held a ground breaking ceremony for the construction of electric-car battery plant in Nanjing, China, to meet what it describes as "growing demand in the world's biggest car market"
---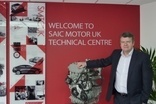 Q&A with David Lindley Managing Director SAIC Motor Technical Centre UK (2)
19 June 2014
SAIC Motor technical Centre UK SMTC UK works on designing, developing and engineering advanced new vehicle and powertrain products for SAIC, one of the world's largest automotive manufacturers and owner of the MG brand. Dave Leggett interviewed SMTC UK's managing director David Lindley (part two of two).
---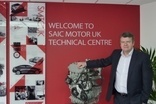 Q&A with David Lindley, SAIC Motor Technical Centre, UK
16 June 2014
SAIC Motor technical Centre UK SMTC UK works on designing, developing and engineering advanced new vehicle and powertrain products for SAIC, one of the world's largest automotive manufacturers and owner of the MG brand. Dave Leggett interviewed SMTC UK's managing director David Lindley.
---
SOUTH KOREA: Halla Visteon Climate Control to acquire majority of China JV
4 June 2014
Halla Visteon Climate Control is to take a 51% stake in Japan Climate Systems (JCS) Nanjing and become the majority shareholder.
---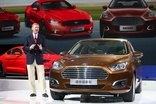 BEIJING SHOW: Ford revives Escort nameplate for China
22 April 2014
Ford has revived the long-serving Escort nameplate for a new model built and sold, initially at least, in China.
---
CHINA: Mazda JVs start 3 and 6 production
11 April 2014
Mazda has started Chinese production of the redesigned 3 Axela at Changan Mazda Automobile in Nanjing and the 6 Atenza at FAW Car in Changchun. Both models produced by its local joint ventures will go on sale in May.
---
CHINA: Ford expanding workforce and Nanjing R&D facility
11 March 2014
Ford is expanding its research and development complex in China by doubling the number of employees there by over 50% by the end of 2018, adding a new building and test track and broadening activities, the automaker has said.
---
CHINA: Shanghai VW tally passes 10m units
18 November 2013
Shanghai-Volkswagen, the joint venture between VW and SAIC Motor Corporation, has built its 10 millionth vehicle, a Tiguan.
---
CHINA: VW opens 16th Chinese factory
25 October 2013
Volkswagen Group executives and the usual gaggle of dignitaries from local partner SAIC Motor Corporation and government have officially opened Shanghai-Volkswagen's new plant in Ningbo, south eastern China.
---
CHINA: SAIC to sell Maxus van in Thailand in 2014
18 September 2013
As part of a plan to sell the Maxus Datong light commercial van across the world, SAIC will introduce it in Thailand in 2014 through its SAIC Motor-CP joint venture with Charoen Pokphand (CP) Group, reported The Bangkok Post.
---
CHINA: Nanjing City to buy big fleet of 'London Taxis'
15 August 2013
Zhejiang Geely says that it will supply some 500 London Taxi TX4s to the municipal authority in Nanjing.
---
CHINA: BAIC to take on Zhenjiang auto plant
12 August 2013
Beijing-based BAIC Group is to build a new car plant in east China after signing a strategic framework agreement with the Zhenjiang municipal government in Jiangsu province.
---
CHINA: Valeo to start first double clutch production
8 July 2013
Valeo on Monday (8 July) officially opened its Nanjing 'expansion plant' in the Yangtze Delta Region, one of China's major automotive manufacturing bases, and will make its first double clutch systems there.
---
JAPAN: New Mazda3/Axela loses 90kg, gains hybrid derivative
26 June 2013
A new generation of the Mazda3 (Mazda Atenza in Japan) has been announced. The car is said to weigh some 90kg less than the old model.
---
CHINA: Volkswagen JV breaks ground for Changsha plant
16 May 2013
Volkswagen's joint venture with Shanghai Automotive has broken ground for a 300,000-unit plant in Changsha in the province of Hunan, south-central China.
---
SHANGHAI: Design teams clash over Ford Escort show car
22 April 2013
Ford is having something of an internal spat over the credit for its Shanghai show car, according to The Australian newspaper.
---
SHANGHAI: Global debuts list [Final version with additional cars & updated descriptions]
22 April 2013
Details of concepts and new models which made their global debuts on Saturday 20 April at Auto Shanghai's media preview day.
---
CHINA: Ford and Mazda reshuffle China joint ventures
12 December 2012
The three-way joint venture between Chang'an Automobile Group, Ford and Mazda has finally ended following a lengthy procedure that began in 2010.
---
CHINA: Changan Ford Mazda JV restructuring approved
3 December 2012
The restructuring plan for Changan Ford Mazda Automobile (CFMA) has received final approval from the Chinese government.
---
THE WEEK THAT WAS: All quiet on the Stateside front
23 November 2012
I wondered why things seemed a little quiet this week until the cent dropped: something to do with lots of travel, turkey and shopping in the US, for which many take the week off.
---
COMMENT: What now for London's traditional 'black cab' maker?
22 October 2012
"Britain 'is creating jobs faster than US' and may soon exit longest double-dip recession since the Second World War," reads a headline in today's Daily Mail - good news for Britain plc but less so for the 300-odd workers likely to lose their jobs if Manganese Bronze, maker of the iconic London 'black cab' taxi, goes bust after announcing it was putting itself into 'administration', aka voluntary bankruptcy, today.
---
CHINA: Rising anti-Japan sentiment hits Japanese brands
17 September 2012
A diplomatic dispute between China and Japan is threatening to put a sizeable dent in sales of Japanese brand cars in China as anti-Japanese sentiment in the country rises.
---
CHINA: Mazda to establish R&D centre in Nanjing
5 September 2012
Mazda is to launch R&D operations with a Chinese partner in 2013 to develop fuel-efficient vehicles for the local market.
---
CHINA: Ford breaks ground on new Hangzhou plant
29 August 2012
Ford is today breaking ground on a new JV plant in China which it says will double its production capacity in China to 1.2m passenger cars annually by 2015.
1
Nanjing Automobile news
---
---
---
---
---
Most popular news
---
Most popular insights
---