Lamborghini
---
All the very latest information about Lamborghini in one place. The latest Lamborghini business news, analysis, comment and interviews, all from our automotive industry experts at just-auto.
Latest insights
---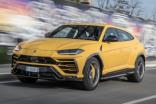 Lamborghini and Bugatti future models
6 January 2021
In recessions, the most monied people tend to stop flaunting their cash. That is exactly what has happened in those parts of the world mired in economic woe. Luckily, Lamborghini and Bugatti have China to fall back on as Europe, much of Asia, the Americas and elsewhere remain challenging places for hypercar brands.
---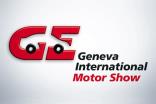 2020 Geneva motor show - all the digital debuts
3 March 2020
The cancellation of the Geneva motor show meant that most vehicles which would have been world debuts were instead revealed via online premieres. Concepts, prototypes and production models originally due to have their public premieres are listed below.
---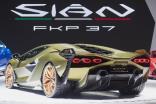 Future Bentley, Lamborghini and Bugatti models
26 February 2020
A year ago, Bentley was in its parent's bad books, being publicly chastised by Wolfgang Porsche and Hans Michel Piech. Now, after selling more than 11,000 vehicles in 2019, it's back in the black and on steadier footing. Lamborghini too had a good year and is working on several new models including a Urus PHEV. As for Bugatti, a new W16-powered model is looking ever more likely for the early 2020s.
---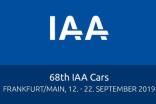 2019 Frankfurt IAA motor show world premieres list
11 September 2019
The media preview days of the 2019 Frankfurt IAA brought a few surprises. Volkswagen (a camouflaged and altered I.D. Crozz which will be called ID.4), Hyundai (i30 N Project C), FAW (Hongqi S9 & E115 prototypes) and BMW (i Hydrogen Next, and the Concept 4: yes, the one with THAT grille) were among the OEMs showing unheralded vehicles.
Latest interviews
---
INTERVIEW: Volkswagen Group Rus general director Marcus Osegowitsch
20 March 2014
Marcus Osegowitsch is general director, Volkswagen Group Rus and Simon Warburton caught up with him on the sidelines of this year's Russian Automotive Forum organised by Adam Smith Conferences in Moscow.
---
Q&A with Oerlikon Drive Systems
23 January 2014
Oerlikon Segment Drive Systems, with its brands Oerlikon Graziano and Oerlikon Fairfield, develops complete drive systems, gearing solutions and transmission components, with a product portfolio providing transmissions for high performance cars, solutions for all-wheel-drive vehicles and agricultural tractors, as well as Torque Hub planetary drive for industrial machinery and off-highway mobile equipment. In this interview, Matthew Beecham spoke to Paolo Mantelli, Head of Performance Automotive, Oerlikon Drive Systems about some of its latest innovations and technology partnerships with Continental and Vocis.
---
Q&A with Ioxus: Review of ultracapacitors for automotive applications
15 July 2013
As ultracapacitors play an increasingly important role in the auto industry, Matthew Beecham caught up with Ioxus' VP of Marketing and Product Management and Co-Founder Chad Hall to run through the opportunities and applications.
---
Q&A with Maxwell Technologies: Review of ultracapacitors
2 July 2013
With their ability to store huge amounts of energy, ultracapacitors are creeping into stop-start technologies. Here, Matthew Beecham talked with Jeremy Cowperthwaite, VP and GM of the Engine Starting Group of Maxwell Technologies Inc about the potential for ultracapacitors in automotive applications.
Latest news
---
Automobili Lamborghini: Strong profitability and second-best year ever for turnover and sales
19 March 2021
In a year of significant challenge such as 2020, marked by the spread of the pandemic worldwide, Automobili Lamborghini responded to the situation with great energy, flexibility and determination, recording positive commercial and financial performance. The...
---
Automobili Lamborghini closes 2020 with 7,430 cars delivered and six new product launches
13 January 2021
Automobili Lamborghini responded to a year marked by the great challenges of the global pandemic, with enormous energy and determination. The company delivered 7,430 cars worldwide in 2020, a decrease of only 9% compared to the previous year. The slight...
---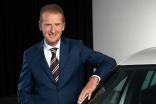 VW's Diess backed but no contract extension
15 December 2020
Volkswagen's supervisory board has said chief executive Herbert Diess had its full support as he heads a new executive team but stopped short of bringing forward a contract extension. The board also dispelled suggestions Lamborghini and Ducati might be sold off and said Wolfsburg (not Zwickau) would become its showcase electric vehicle plant.
---
Bridgestone supplies Huracan tyres
24 November 2020
Lamborghini has chosen Bridgestone as the tyre supplier for the Huracan supersports car set to be released in 2021.
---
Volkswagen reports third quarter 2020 results
30 October 2020
The Volkswagen Group's business was heavily impacted by the Covid-19 pandemic in first nine months of 2020, but recovered noticeably in the third quarter. This means that the declines in deliveries, sales revenue and profit as of the end of September...
---
Automobili Lamborghini achieves record September sales
5 October 2020
Automobili Lamborghini has achieved a record September in terms of commercial results with 738 units delivered to customers in one month: its best September ever. A consistently positive trend over the last three months resulted in 2,083 units delivered to...
---
VW reviewing high performance brands
30 September 2020
Volkswagen is reviewing the future of high performance brands Lamborghini, Bugatti and Ducati as part of a broader quest for more economies of scale as it shifts to mass producing electric cars, senior executives have told Reuters.
---
Chairman and CEO of Automobili Lamborghini, Stefano Domenicali, will leave leadership of the Italian super sports car company for a new professional role
28 September 2020
Automobili Lamborghini announces that Chairman and CEO Stefano Domenicali will leave his position leading the Italian super sports car company to take on a new and prestigious professional role from January 2021. Since joining Lamborghini in 2016, Stefano...
---
VW family silver on the block - report
18 September 2020
VW Group reportedly is set to sell Bugatti to Rimac of Croatia.
---
Volkswagen Group of America opens new Tradepoint Atlantic vehicle terminal at Port of Baltimore
21 July 2020
Volkswagen Group of America, Inc. (VWGoA) and Tradepoint Atlantic celebrated the first day of operations at the Tradepoint Atlantic terminal at the Port of Baltimore, VWGoA's newest port in the U.S. The port, which will serve roughly 302 dealers in...
---
Volkswagen Group of America opens next-gen charging station at Arizona global test center
16 July 2020
Volkswagen Group of America (VWGoA) announced the opening of one of the most extensive electric vehicle (EV) charging stations at a North American test facility. This next-generation charging station at its Arizona Proving Grounds will be used to help VWGoA...
---
Audi renews Radioplayer hybrid radio development deal
15 June 2020
Radioplayer has signed a new agreement with Audi to remain a lead developer of infotainment systems within the Volkswagen Group, to continue collaborating on radio apps.
---
Lamborghini launches Huracán EVO RWD Spyder using augmented reality
11 May 2020
As the first automotive brand to use augmented reality for the virtual launch of its new model, Lamborghini will unveil the Huracán EVO RWD Spyder. This means only one thing: you're in the right place, you just have to wait a few more hours. In...
---
Automobili Lamborghini prepares to restart production on May 4 with people-safety foremost
4 May 2020
Automobili Lamborghini is set to resume its production activities from 4 May, in accordance with the Italian Prime Minister's decree of 26 April. The Sant-Agata Bolognese company is currently completing all preparatory measures to ensure its people...
---
Automobili Lamborghini is supporting Siare in the manufacture of breathing simulators
16 April 2020
Automobili Lamborghini is providing resources and equipment from its Research and Development Department for the co-engineering and production of breathing simulators, supporting Siare Engineering International Group, Italy's top manufacturer of...
---
Volkswagen uses 3D printing to produce face shields
3 April 2020
In response to the corona crisis, the Volkswagen Group has started to produce face shield holders by 3D printing. This is part of a joint transnational initiative with Airbus and the 3D printing network "Mobility goes Additive", which includes...
---
Automobili Lamborghini starts production of surgical masks and medical shields for use in Coronavirus pandemic
1 April 2020
Automobili Lamborghini is converting departments of its super sports car production plant in Sant'Agata Bolognese in order to produce surgical masks and protective plexiglass shields. The masks will be donated to the Sant'Orsola-Malpighi...
---
Automobili Lamborghini's record figures in fiscal year 2019
20 March 2020
In Fiscal Year 2019 Automobili Lamborghini achieved its best-ever results and outperformed all previous key business benchmarks. Sales, turnover and profitability recorded unprecedented levels in the history of the brand. Turnover grew by 28% from 1.42...
---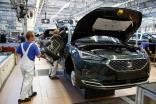 Volkswagen calls halt to production at Europe plants
17 March 2020
Like many other automotive manufacturers in Europe, Volkswagen Group is planning to temporarily suspend production at its European plants due to the ongoing severe impact of the COVID-19 coronavirus crisis.
---
Automobili Lamborghini makes new board of management appointments
24 January 2020
Automobili Lamborghini announces the appointment of Giovanni Perosino as the new Chief Commercial Officer, reporting directly to the company's Chairman and Chief Executive Officer, Stefano Domenicali. Starting from 1 January 2020, Mr. Perosino is...
---
Lamborghini sets new record with 8,205 cars delivered in 2019
14 January 2020
Lamborghini's global growth is still going strong. The unprecedentedly successful Fiscal Year 2019 marked a 43% increase, from 5,750 to 8,205 cars delivered to customers around the world, thus achieving sales growth for nine years in a row and setting...
---
"Alexa, put on the heating in my Huracán EVO" Automobili Lamborghini is first automaker to incorporate full in-car control by Amazon Alexa
8 January 2020
Automobili Lamborghini incorporates Alexa in its Huracán EVO range in 2020, enhancing its super sports car driving experience with the cloud-based voice service from Amazon. The first Huracán EVO equipped with Alexa is on display at the global...
---
A year after WLTP, VW enjoys sales boost in October
19 November 2019
Volkswagen Group delivered 949,800 vehicles worldwide in October, a year on year boost to sales of 12.2%.
---
Alcantara featured on Audi, BMW and Lamborghini vehicles at IAA/Frankfurt Auto Show
16 October 2019
Alcantara, the artificial 'suede-effect' material and brand, says it appeared on concept cars from two high-end automakers – Audi and BMW – and on the new Lamborghini Sián FKP 37 at the recent IAA/Frankfurt Motor Show.
---
Volkswagen Group India consolidates into a new entity: ŠKODA AUTO Volkswagen India Private Limited
8 October 2019
The merger of three former Volkswagen Group entities is an important milestone in the 'INDIA 2.0' project. The merged entity will be referred to as 'ŠKODA AUTO Volkswagen India Private Limited' (SAVWIPL). The entity will be led...
---
Lamborghini presents Aventador SVJ 63 Roadster
19 August 2019
Lamborghini presents the Aventador SVJ 63 Roadster, a limited edition of the iconic V12 super sports car at Monterey Car Week, US. Creating a new expression of exclusivity following the SVJ 63 coupé, the SVJ Roadster will also be produced in just 63...
---
Audi Group posts EUR28,761m revenue in H1 2019
29 July 2019
As forecasted, the year 2019 is proving to be challenging for the Audi Group: In the first half of this year, deliveries, revenue and operating profit were lower than in the same period of 2018, partially reflecting effects from the deconsolidation of several...
---
What sales crisis? Lamborghini sells more in H1 2019 than FY2017
3 July 2019
Lamborghini first half sales rose a staggering 96% year on year to a record 4,553 cars worldwide.
---
Audi Group reports EUR13,812m revenue in Q1 2019
7 May 2019
As expected, the Audi Group has embarked upon a very challenging financial year 2019. First-quarter revenue and operating profit decreased compared with the high levels of the previous year. At 8.0%, the operating return on sales was within the range of 7 to...
---
VW Group to merge all its passenger car entities in India
4 April 2019
The Volkswagen Group has announced its intent to merge its three Indian subsidiaries: Volkswagen India (VWIPL), Volkswagen Group Sales India (NSC) and Skoda Auto India (SAIPL). The merger has been considered and approved by the Boards of the three companies in...
Lamborghini news
---
---
---
---
---
Most popular news
---
Most popular insights
---