Freightliner
---
All the very latest information about Freightliner in one place. The latest Freightliner business news, analysis, comment and interviews, all from our automotive industry experts at just-auto.
Latest insights
---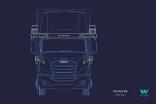 As ride-hail prospects dim, autonomous drive specialists look to freight trucks
3 November 2020
Google's (Alphabet) subsidiary Waymo and Daimler are to work together to deploy autonomous drive technology on freight trucks.
---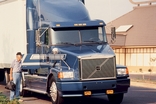 Orders fade and layoffs commence in NA Class 8 truck sector
10 December 2015
Volvo Trucks North America's decision to cut the workforce at its Virginia truck plant by around 25% in February 2016, is likely to send shivers through the entire North American heavy truck manufacturing sector. It is also a somewhat unfortunate baptism for Martin Lundstedt, the former president and CEO of major rival Scania, who replaced Olof Persson as Volvo president and CEO on 22 October.
---
FEATURE: Key trends in freight trucks
2 February 2009
In relation to the movement of goods, the beginning of the 20th century could be seen as the golden age of rail freight. The beginning of the 21st century will be seen in decades to come as the equivalent in road freight transport. In terms of serving the needs of consumers in both the industrialised and the developing markets of the world, trucks in their great variety can be seen as the key link between physical goods and the consumer. This feature has been exclusively supplied to us from SupplierBusiness.
---
M&A under fire: the problems of unwise alliances - Visteon's Orchard
15 August 2003
James Orchard, Visteon Corporation's president for North America and Asia, has urged vehicle makers and the supply industry to 'reinstall integrity in the competitive process' so as to stop stock market analysts 'trashing the automotive industry in the United States'. Stephen Downer caught up with him in Mexico City, heard his views about the state of the North American auto industry and talked to him about Visteon's Mexican strategy.
Latest interviews
---
13 October 2014
Allison, the automatic transmission specialists, is rolling out FuelSense, a fuel-saving solution that automatically adjusts shift schedules, selects neutral and manages vehicle acceleration to maximise transmission fuel economy. Last month, Kenworth became the third OEM to adopt the package. Manlio Alvaro, director of EMEA Marketing, tells just-auto that testing indicates FuelSense has the potential to reduce fuel consumption by up to 20 per cent when compared to the previous generation of Allison Electronic Controls without these fuel saving feature
---
INTERVIEW: Andreas Renschler, Head of Daimler Trucks Division
17 November 2011
Daimler's Trucks Division has been a strong performer through 2011, helped by a recovery in global heavy truck markets and a lower cost base following restructuring. Andreas Renschler has been with Daimler since 1988 (including a spell as head of the Mercedes' smart brand) and has headed Daimler Trucks since 2004. Oliver Dixon recently caught up with him on behalf of just-auto to discuss prospects.
---
Q&A with DaimlerChrysler's Andreas Renschler
19 December 2005
Andreas Renschler is a man with some thinking to do. The Commercial Vehicle world is changing, and, as the man charged with taking DaimlerChrysler's global CV operation forward, he's got the job of managing that change. Moreover, as the chief of the world's biggest CV operation, he has an opportunity to do much to define the agenda for the years ahead. In this exclusive to just-auto, Oliver Dixon caught up with him.
Latest news
---
PPG Defleet One paint approved by Daimler Truck North America
24 February 2021
PPG says Daimler Truck North America (DTNA) has approved the PPG Defleet One paint system for warranty and aftermarket repairs on its Freightliiner & Western Star trucks.
---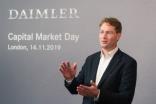 3 February 2021
Daimler announced on Wednesday it plans separation into two "pure-play" companies and a majority listing of Daimler Truck to "accelerate into a zero- emissions and software-driven future".
---
Cummins launches new smart connected engine for Freightliner Cascadia
3 December 2020
Global power leader Cummins Inc. announced the release of Cummins' first connectivity-enabled X15 Efficiency series engine and new Endurant HD powertrain for Freightliner Trucks. Available in the Cascadia line, Freightliner customers can take...
---
Daimler Trucks and Waymo partner on development of autonomous SAE Level 4 trucks
28 October 2020
Daimler Trucks and Waymo have signed a broad, global, strategic partnership to deploy autonomous SAE L4 technology. Their initial effort will combine Waymo's industry-leading automated driver technology with a unique version of Daimler's...
---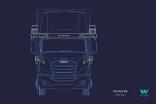 Daimler and Waymo partner on autonomous trucks
27 October 2020
Daimler Trucks and Waymo have signed what they describe as a broad, global, strategic partnership to deploy autonomous SAE L4 technology on freight trucks.
---
Torc to scale self-driving fleet with next-gen Daimler test trucks designed for its L4 system
12 October 2020
Torc Robotics will scale its self-driving truck testing in the Southwest in early 2021 using an enhanced prototype truck developed with Daimler Trucks North America (DTNA). This new generation of Freightliner Cascadia test trucks bolsters Torc's...
---
Daimler Truck Financial launches Keep the World Moving finance program for new Freightliner and Western Star trucks
26 May 2020
Daimler Truck Financial (DTF) and Daimler Trucks North America (DTNA) are making it easier than ever to purchase the trucks on which the world depends with the introduction of the Keep the World Moving finance program. Named to pay homage to Daimler...
---
Daimler Trucks launches additional electric Freightliner Customer Experience fleet
5 March 2020
Daimler Trucks launches additional electric Freightliner trucks for customer testing in North America. The Customer Experience (CX) fleet from Daimler Trucks North America (DTNA) consists of six heavy-duty Freightliner eCascadia and two medium-duty...
---
From project to product: With AXYARD, Lab1886 and Daimler Trucks automate the operation of commercial vehicles
21 February 2020
The automated snow removal by two self-driving Mercedes-Benz Arocs in Immendingen shows a successful application for automated commercial vehicles in closed areas. The joint project of Lab1886, the innovation unit for new business models within...
---
Daimler Trucks: E-Mobility Group starts global initiative for electric-truck charging infrastructure
19 February 2020
Daimler Trucks is pioneer of electric mobility: on the one hand, with electric trucks in worldwide customer use, and on the other hand, with a holistic ecosystem including consulting and infrastructure services for electric-truck customers. As an additional...
---
Daimler Trucks and Torc Robotics expand public road testing in the U.S. for automated truck technology – safety highest priority
19 February 2020
Daimler Trucks and Torc Robotics, partners in Daimler Trucks' Autonomous Technology Group, will soon expand testing of automated truck technology to new public routes in the U.S. The team completed initial mapping of additional routes in January....
---
Daimler Trucks with solid 2019 result – 2020 focus on efficiency gains and measures for CO2 neutrality
19 February 2020
Daimler Trucks ended the financial year 2019 with a solid result in a challenging environment. With an operating profit (earnings before interest and taxes, EBIT) amounting to 2.5 billion euros, 2019 was the third most successful financial year in the history...
---
Unit sales by Daimler Trucks in 2019 slightly down on previous year, as expected
6 January 2020
Daimler Trucks, the world's leading truck manufacturer, sold fewer vehicles in 2019 than in 2018 in a market environment that has been weakening significantly since the summer. In the first eleven months of 2019, sales of 446,800 units by the brands...
---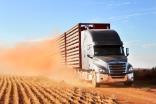 Daimler to ship new Freightliner truck to Australia and New Zealand
22 November 2019
Daimler Truck said it would export a popular North American truck - in right hand drive form, of course -  to Australia and New Zealand [where normal control tractors are the norm for heavy work such as logging, stock movements and Australia's multi-trailer road trains].
---
Daimler Trucks' e-mobility strategy launched
12 November 2019
The E-Mobility Group Daimler Trucks & Buses launches a holistic ecosystem for truck customers for the best possible entry into electric transportation logistics. This includes a comprehensive range of consulting services and the installation of suitable...
---
Consistent Customer Focus: Daimler Trucks at the North American Commercial Vehicle Show 2019
30 October 2019
'The Future. Driven by you' – from 28th to 31st October this year, Daimler Trucks presents its product and service innovations at the North American Commercial Vehicle Show (NACV), the leading trade show for commercial vehicles in North...
---
Daimler Mobility launches first series-produced leasing product for trucks in the USA with usage-based rate
30 October 2019
The industry's first "pay-as-you-drive" leasing financing will be used for trucks in the USA from 2020. As part of the NACV (North American Commercial Vehicle Show), Daimler Truck Financial, part of the business field of Daimler Mobility,...
---
Daimler Trucks & Buses targets completely CO2-neutral fleet of new vehicles by 2039 in key regions
28 October 2019
Daimler Trucks & Buses, one of the world's largest commercial vehicle manufacturers, pursues a sustainable corporate strategy and aims to offer only new vehicles that are CO2-neutral in driving operation ("tank-to-wheel") in the triad...
---
Daimler expands e-trucks field tests in North America
23 August 2019
Daimler Trucks is further expanding its field tests for medium and heavy-duty e-trucks in North America.
---
Daimler India Commercial Vehicles surpasses 25,000 unit mark in exports
14 August 2019
Daimler India Commercial Vehicles marked yet another milestone by producing 25,000 vehicles determined for exports. The milestone vehicle, a Fuso FJ 1823R was shipped to Saudi Arabia. An integral part of Daimler's global production network for trucks and...
---
Daimler Trucks establishes global organisation for highly automated driving
30 May 2019
Daimler Trucks is establishing the Autonomous Technology Group as a global organisation for automated driving, bringing together its worldwide expertise and activities, as of 1 June.
---
Freightliner new Cascadia to feature Bendix SafetyDirect
26 March 2019
Safety data at their fingertips: Fleets running the Freightliner new Cascadia, equipped with the new Detroit Assurance 5.0 Suite of Safety Systems from Daimler Trucks North America (DTNA), will have this option, courtesy of SafetyDirect by Bendix CVS. DTNA...
---
Daimler Trucks reports EUR38.3bn revenue in 2018
15 February 2019
The year 2018 was the most successful year in the history of Daimler Trucks to date, with record unit sales, revenue and earnings (EBIT). Daimler's truck division increased its unit sales by 10% to 517,300 vehicles in the year under review – its...
---
DTNA starts production of Level 2 automated Freightliner Cascadia trucks
9 January 2019
Daimler Trucks North America (DTNA) introduced the first SAE Level 2 automated truck in series production in North America with the latest enhancements to the Freightliner new Cascadia. Level 2 automation means the truck is capable of both lateral (steering)...
---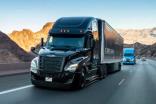 Daimler's new investment for automated HCVs
8 January 2019
At the Consumer Electronics Show (CES) in Las Vegas, Daimler Trucks announced that it will invest EUR500m (around US$570m) over the next years and create more than 200 new jobs in its global push to bring highly automated trucks (SAE level 4) to the road 'within a decade'.
---
Daimler Trucks first eleven month global sales up 11%
4 January 2019
Daimler Trucks, the world's leading truck manufacturer, achieved one of the best sales years in its history in 2018: Based on initial data, unit sales of the Mercedes-Benz, FUSO, Freightliner, Western Star, Thomas Built Buses and BharatBenz brands...
---
Daimler Trucks begins Freightliner eM2 operation trials in the US
3 January 2019
With the handover of the first fully electric Freightliner eM2, Daimler Trucks says it has begun operational testing of heavy-duty and medium-duty e-trucks in the US.
---
DTNA adds fuel and safety data options to its Connect Analytics services
14 December 2018
Daimler Trucks North America (DTNA) announced that Detroit Connect Analytics has extended its services to additional truck models and can also be added to vehicles in the aftermarket. Analytics is now available to order as a new truck option or in the...
---
Freightliner offers Cummins X12 engine on 114SD chassis
11 December 2018
Cummins announced that the Cummins X12 engine is now available in the Freightliner 114SD chassis. "Cummins is excited about the positive impact our X12 will have in weight-sensitive markets," said Brett Merritt, vice president − Cummins...
---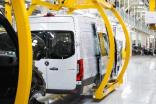 Daimler switches US Sprinter build from SKD to CKD
6 September 2018
The US launch of Daimler's 2018 Mercedes-Benz Vans Sprinter follows the opening of a much expanded assembly plant in North Charleston and a switch from semi knocked-down (SKD) to completely knocked-down (CKD) importation requiring new body and paint shops.
Freightliner news
---
---
---
---
---
Most popular news
---
Most popular insights
---