BYD Auto
---
All the very latest information about BYD in one place. The latest BYD business news, analysis, comment and interviews, all from our automotive industry experts at just-auto.
Latest news
---
BYD claims Blade battery a 'game changer'
15 April 2021
BYD claims its 'game-changing' new Blade Battery marks the start of a new era of safety and performance for the electric vehicle (EV) industry in Europe.
---
BYD partners with distributor in Norway
15 April 2021
BYD is partnering the Nordic car distributor, RSA, to deliver its sales, service and parts offering for BYD customers in Norway.
---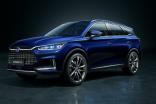 BYD updates Norwegian Tang EV SUV for 2021
1 March 2021
BYD Europe has confirmed specification of its updated 2021 model year Tang SUV which it will launch in EV-friendly Norway later this year.
---
BYD to help Kyoto reach Japan's 2050 carbon neutral goal
26 February 2021
---
SAIC Motor in tech tie-up with Horizon Robotics
23 February 2021
SAIC Motor Corporation has signed an agreement with Chinese artificial intelligence (AI) and semiconductor startup company Horizon Robotics to develop new connected services for smart cars.
---
BYD completes autonomous Tokyo Airport bus trial
19 February 2021
BYD has completed a ten-day trial of an autonomous bus at Tokyo Haneda Airport.
---
Second BYD eBus order follows recent breakthrough in Romania
18 February 2021
---
BYD wins ebus order from Romanian city of Constanta
18 February 2021
BYD has secured an order for 20 pure-electric 12-metre low-floor eBuses for the Romanian city of Constanta on the Black Sea coast.
---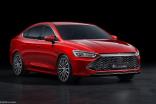 New models push BYD further ahead of Tesla
9 February 2021
BYD Company Limited (BYD) delivered 415,046 vehicles to customers in China last year, an eight per cent drop compared to two per cent for the market. January deliveries, however, were up 68% to 42,401, in a market which rose by 29.5% to 2.503 million*.
---
BYD confirms Romania eBus order
1 February 2021
BYD has confirmed its first pure-electric fleet order in Romania.
---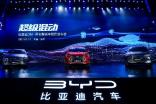 BYD launches new hybrid system and three new models
13 January 2021
BYD has officially launched its new DM-i hybrid system and three models at an event in Shenzhen.
---
BYD wins largest pure-electric bus order outside of China
13 January 2021
---
BYD ADL partnership accelerates electrification with the design and assembly of electric bus chassis in the UK
12 January 2021
---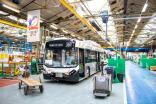 BYD & ADL to design and build electric bus chassis in the UK
11 January 2021
Alexander Dennis and BYD UK said they would commence design and assembly of chassis for electric single and double deck buses for the British market, thus ensuring complete vehicles are built in ADL factories in the UK.
---
MEG announces purchase agreement for 2,000 units of D1, BYD's custom electric ride-hailing vehicle
4 January 2021
---
BYD wins order for 406 electric buses in Colombia
4 January 2021
BYD has won an order to deliver another 406 pure electric buses to the Colombian capital of Bogota, coming shortly after a previous announcement on December 17 of the delivery of the 470 pure electric buses to the city.
---
Big BYD EV bus fleet for Bogota
18 December 2020
BYD announced the delivery of 470 pure electric buses to Bogota, the capital of Colombia. This is the country's largest pure electric bus fleet, and also the largest bus fleet BYD has delivered in the Americas.
---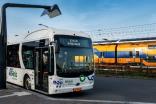 BYD delivers largest Europe EV bus order
14 December 2020
BYD said delivery to Keolis Nederland was Europe's largest ever single order for electric buses.
---
BYD delivers first electric coach to greater Paris
27 November 2020
BYD has delivered its first electric coach to the Parisian district of Drancy.
---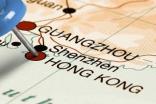 2020 Guangzhou motor show world debuts
23 November 2020
Below is just-auto.com's list of global debuts at Auto Guangzhou 2020.
---
DHL launches four BYD Class 8 battery-electric trucks
20 November 2020
DHL is launching four BYD Class 8 battery-electric trucks in the US, piloting the vehicles in the Los Angeles market.
---
BYD introduces DM-i hybrid technology with 1.5-litre Xiaoyun engine
16 November 2020
BYD has launched its DM-i hybrid technology for plug-in hybrid vehicles (PHEVs) with the 1.5-litre Xiaoyun engine.
---
BYD and Toyota's Hino joining to develop BEV CV batteries
21 October 2020
China's BYD Auto Industry and Toyota's Japanese heavy truck unit, Hino Motors, have signed a joint venture agreement to set up a new company for commercial battery electric vehicle (BEV) development.
---
BYD sells electric buses to Finland
22 September 2020
BYD has made its first Finnish sales to Nobina, a public transport operator.
---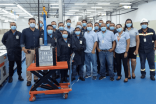 BYD opens Brazil EV bus battery plant
14 September 2020
BYD recently began operations at its third plant in Brazil, which it claims it the country's first lithium iron phosphate battery factory.
---
Toronto to put ten BYD e-buses into service
14 September 2020
BYD Canada says ten zero-emission, 40-foot K9M battery-electric buses will be put into service by the Toronto Transit Commission (TTC)
---
BYD and ADL supply ten electric buses to Coventry
1 September 2020
Alexander Dennis Limited (ADL) and BYD Europe say their electric vehicle partnership has supplied ten electric double deck buses to National Express for operation in the British city of Coventry, as part of a wider investment in 29 zero emission BYD ADL Enviro400EVs.
---
BYD delivers first electric bus to Barbados
25 August 2020
BYD has delivered the first electric bus fleet for public transport in the Caribbean.
---
London bus garage becomes world's largest vehicle-to-grid site
17 August 2020
---
BYD supplies 30 more eBuses for Madrid
17 August 2020
EMT Madrid has confirmed BYD will supply a further 30 eBuses for operations in the Spanish capital.
1
BYD Auto news
---
---
---
---
---
Most popular news
---
Most popular insights
---