Audi
---
All the very latest information about Audi in one place. The latest Audi business news, analysis, comment and interviews, all from our automotive industry experts at just-auto.
Latest insights
---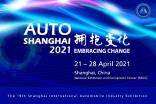 Auto Shanghai - Mercedes-Benz EQB global premiere
16 April 2021
The latest addition to just-auto's list of global premieres for 2021's biggest motor show is the Mercedes-Benz EQB.
---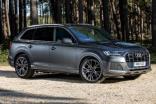 Audi keeps the diesel faith with Q7 50 TDI
13 April 2021
Even if it's the fuel that keeps falling from favour, Europe's biggest car maker continues to invest in diesel. Audi's latest Q7 can now be ordered with the Volkswagen Group's 3.0-litre V6, newly compliant with Euro 6d and with more power to boot.
---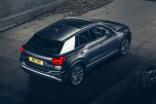 Audi updates the Q2 but where are its rivals?
20 January 2021
Four months ago, Audi AG gave us the first details of a facelift and other revisions for the Q2, exactly four years on from the start of production. Now the revised versions of its smallest SUV are reaching showrooms. How much longer will Mercedes and BMW, never mind Lexus, Volvo, Hongqi, Land Rover, Cadillac and others leave Audi to enjoy all the spoils of this global segment?
---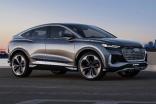 Electrified Audi SUVs - 2020 to 2030
16 December 2020
Last week Audi stated its intention to expand an already bustling line-up of electric vehicles to "about 30 models, of which approximately 20 will be powered entirely by electric batteries" by the end of 2025. The company plans to spend 35 billion euro on all manner of vehicle programmes, many of which will include PHEVs and EVs. So what's coming when?
Latest interviews
---
HERE Automotive on strategies to support autonomous driving
1 February 2016
At the 2016 CES, Cat Dow talked with Floris Van Der Klashorst, vice-president of HERE Automotive. HERE's a creator of connected navigation solutions and since December 2015 has been owned by an alliance of the German automakers Audi, BMW and Daimler.
---
14 October 2014
Calum MacRae talked to JATCO's Yuko Fujita. JATCO holds 49% of the world CVT market. JATCO, 75% held by Nissan Motor Company, was exhibiting at the Paris Motor Show for the first time.
---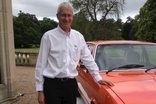 INTERVIEW: Audi's 'Mr RHD' retires
31 July 2014
David Ingrams, who retired from Audi UK's press office today (31 July) played a key role in helping the German automaker's engineers achieve "uncompromised" right hand drive configurations and also oversaw a collection of about 50 classic cars, many of which he helped to launch when new. The man who praised Audi for taking the long-term view has himself served 36 years with the automaker and the connection may not yet be completely severed.
---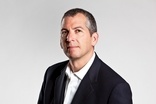 INTERVIEW: Danny Shapiro NVIDIA
2 July 2014
For two decades, NVIDIA says it has pioneered visual computing, the art and science of computer graphics. Its technologies are finding applications in video games, movie production, product design, medical diagnosis and scientific research. Automotive can now be added to the list. Ian Adcock spoke to the company's marketing director, Danny Shapiro, to find out more.
Latest news
---
VW to sue former chiefs over 'dieselgate' - report
29 March 2021
Volkswagen will claim damages from former chief executive Martin Winterkorn and former Audi boss Rupert Stadler over its diesel emissions scandal, the carmaker has said.
---
26 March 2021
Volkswagen has set up its AI Detroit unit, a dedicated AI research and development unit.
---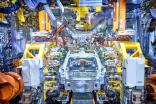 Start of production for Audi Q4 e-tron
24 March 2021
Audi says production of the Audi Q4 e-tron has started at Zwickau in Saxony.
---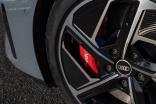 New Audi wheels made from sustainable aluminium
23 March 2021
Alcoa Corporation said it was supplying sustainable aluminium for the wheels on the Audi e-tron GT, said to be the first vehicle to use metal from a revolutionary technology that eliminates all direct carbon dioxide emissions from the traditional smelting process.
---
Audi plans 50% drop in water consumption by 2035
23 March 2021
Audi plans a 50% drop in water consumption by 2035 as part of its 'Mission:Zero' environmental program.
---
Audi defies the corona crisis with a robust performance in the 2020 financial year
19 March 2021
Audi announced 2020 financial year. Even in 2020, a challenging business year, Audi vigorously drove ahead its transformation into a provider of sustainable and networked premium mobility. As a result of the pandemic, deliveries and sales revenue fell...
---
Three Nexen Tire OE tires approved for new Audi A3 family
17 February 2021
Nexen Tire, a leading global tire manufacturer, today announced that it will supply the N'FERA SPORT, N'Blue S, and WINGUARD Sport 2 tires for the new fourth-generation Audi A3. The fourth-generation Audi A3 family, first unveiled in March 2020,...
---
Audi expands EV portfolio with e-Tron GT quattro and RS e-Tron GT
10 February 2021
With an energized driving demonstration and a world premiere featuring high-caliber participants, Audi has presented its new electric spearhead – the Audi e-tron GT. In two events on the digital Day of Progress, the Four Rings showcased the highlights...
---
Audi Hungaria produces e-motors for future PPE model generation
10 February 2021
Preparations for the production of the new generation of electric motors are already in progress at Audi Hungaria. In the future, Gyor will supply the new electric drives for the Group's all-electric models, which are based on the "Premium...
---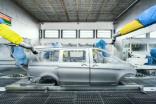 Mercedes marks 25 years of Spanish Vito van build
25 January 2021
Daimler's Mercedes-Vans has passed the milestone of 25 years of mid-size Vito van production at its Vitoria plant in northern Spain.
---
EU fine looms for VW Group missing 2020 emissions targets
21 January 2021
Volkswagen faces a fine of over EUR100m (US$121m) for missing EU targets on carbon dioxide (CO2) emissions from its 2020 passenger car fleet, it said on Thursday.
---
Audi selects Hankook Tire as original equipment for 2021 Audi RS Q8
20 January 2021
Global leading tire company Hankook Tire is equipping the new Audi RS Q8 with its tires as original equipment. The German car manufacturer's Q-series is characterized by progressive design and pioneering technology. The Audi Sport vehicle demonstrates...
---
New Euro 6d emission standard: Audi converts model range
19 January 2021
As of the beginning of 2021, Audi has converted its vehicle range to the new level of the Euro 6d emission standard. All models included in the currently valid sales program comply with the strict limits of the Euro 6d-ISC-FCM standard. The conversion was...
---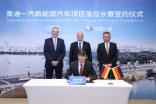 New Audi-FAW JV to be based in Changchun, building PPE platform EVs
18 January 2021
Volkswagen Group premium brand Audi said the relevant supervisory and management boards of Audi, VW Group and FAW Group had confirmed Changchun, in northeast China, would be the headquarters of the newly founded Audi-FAW company.
---
Chip shortage slows Audi output
18 January 2021
Audi has had to slow production because of a computer chip shortage it is describing as a "crisis upon a crisis", according to media reports on Monday.
---
VW opens new regional parts hub in Malaysia
15 January 2021
Volkswagen Group has opened a new aftermarket parts distribution centre in Malaysia to supply 21 Asia-Pacific countries, according to local reports.
---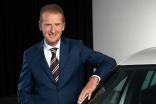 VW's Diess backed but no contract extension
15 December 2020
Volkswagen's supervisory board has said chief executive Herbert Diess had its full support as he heads a new executive team but stopped short of bringing forward a contract extension. The board also dispelled suggestions Lamborghini and Ducati might be sold off and said Wolfsburg (not Zwickau) would become its showcase electric vehicle plant.
---
Volkswagen factories in US and Mexico to link up with industrial cloud
15 December 2020
Volkswagen has announced plans to connect its NA production facilities in Chattanooga (TN), Puebla and Silao (Mexico) with the global Industrial Cloud initiative from the Volkswagen Group and Amazon Web Services (AWS).
---
Five stars for several new models in latest Euro NCAP crash tests
9 December 2020
The Audi A3 Sportback, Seat Leon, Isuzu D-Max, Kia Sorento and Land Rover Defender achieved the maximum five stars in the latest round of Euro NCAP crash testing.
---
Audi increases budget for electromobility up to 2025
3 December 2020
With its investment planning for the next five years, AUDI AG is pushing ahead its transformation to a provider of networked and sustainable premium mobility: with a total amount of approximately € 35 billion, investments remain at a high level,...
---
Audi uses augmented reality to increase efficiency in logistics planning
2 December 2020
Audi relies on augmented reality (AR) to plan complex logistics processes: Virtual presentation of three dimensional holograms that are shown in their actual environment helps planners to better evaluate the future situation. Because of this,...
---
Audi strengthens digital alliance with Alibaba
27 November 2020
Volkswagen subsidiary Audi has agreed to strengthen its partnership with Chinese internet giant Alibaba to improve its in car applications to help it meet the requirements of the Chinese domestic market, according to local reports.
---
Audi further improves e-tron product line
26 November 2020
Faster charging, more convenience behind the wheel - Audi is systematically enhancing its e-tron models. The all-electric SUV and e-tron Sportback SUV coupe are receiving a number of new equipment features. AC charging: double the...
---
Charge flexibly and inexpensively: SMA and Audi are networking energy management and e-mobility
20 November 2020
One advantage of electromobility is that users can conveniently charge their vehicle at home. Intelligent solutions coordinate the charging process of the e-vehicle with the needs of other producers and consumers in the household. One such is the intelligent...
---
Audi gives SQ2 sharper design
17 November 2020
The sporty SUV in the compact segment now has an even fresher look: Audi has revised the SQ2. Thanks in part to the new headlights and bumpers, its appearance is even sportier and more striking, and new Audi connect services and assist systems make driving...
---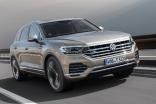 Volkswagen planning three big electric SUVs [updated]
16 November 2020
Is the Volkswagen Group planning to take the radical step of turning the next generation VW Touareg and Audi Q7 into EVs? Might there also be electric Škoda and SEAT (or Cupra) SUVs positioned above the Kodiaq and Tarraco successors?
---
VW ups investment in advanced tech to EUR73bn
16 November 2020
The Volkswagen Group says it is pressing ahead with its transformation into a digital mobility company and that (as per Planning Round 69), the VW Group will spend around EUR73bn on electrification, hybrid powertrains and digital technology over the next five years.
---
9 November 2020
Volkswagen Group of America is recalling 94,144 2018-2020 Audi Q7 vehicles because he padding on the C pillar may not absorb enough impact in the event of a crash.
---
Audi reports third quarter 2020 results
30 October 2020
Audi Group achieves breakeven thanks to strong third quarter. A noticeable recovery in the markets and a stabilization of business operations: After a very challenging first half of the year against the backdrop of the corona pandemic, the Audi Group is now...
---
Volkswagen reports third quarter 2020 results
30 October 2020
The Volkswagen Group's business was heavily impacted by the Covid-19 pandemic in first nine months of 2020, but recovered noticeably in the third quarter. This means that the declines in deliveries, sales revenue and profit as of the end of September...
Audi news
---
---
---
---
---
Most popular news
---
Most popular insights
---