THE WEEK THAT WAS: Toy shop, Bochum and Saab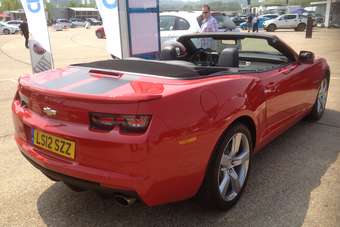 American: Chevy's Camaro convertible
Two highlights for the j-a crew this week; days of sunny hot weather after the coldest and wettest spring anyone can remember and the annual SMMT Test Day at Millbrook.
Full credit to Janet Wilkinson and the rest of the SMMT crew for sorting the weather in time for our annual expose to whatever six cars most UK automakers/importers think we'd like to try on the (relatively) traffic-free confines of the Millbrook test centre, originally built in 1969 as Vauxhall's proving ground in Bedordshire. A great hill route and the high speed bowl (100mph max, if you please, ladies and gents) are my favourite routes though there's also a 'city' route which is great fun for trying out stop-start and EVs.
Every writer approaches Test Day differently; some to knock out little drive pieces on variants of a model line not yet tried, other to network with industry PRs and colleagues, whatever suits. Me, it's a beeline for luxury, American and tech, not necessarily in that order. Bentley, as ever, provided the luxury as I wafted off in a W12 (after being corrected for calling it a V12) Continental convertible but a new one-car-per-journo restriction this year prevented a go in the new V8. Must plan better next year and stop being besotted by convertibles trimmed in acres of finest creamy hide...
American, Chevrolet and Chrysler, as usual, provided; last year's look-but-don't-touch yellow Camaro coupe had morphed into an off-you-go red convertible. Yucky interior plastics aside, this was less crude and a far better handler than I expected but emissions and drive-by noise rules have muffled the V8s of my youth - smooth as silk all the way from idle has replaced that lovley ker-bobble, ker-bobble sound at the kerb and the noisy snarl up through the rev range. Have it delivered to PCH in Santa Monica, please.... Also went for a waft in the latest Jeep Grand Cherokee Overlander diesel. Lovely. Was that a Twizy I just ran over? Close enough to American was the complately pointless Holden-made Vauxhall Maloo ute which combines 6.2-litres of Corvette V8 with a pickup truck body a la El Camino. Just what we need in Blighty with GBP1.34 a litre gas but huge fun.
Tech, I wanted to try as many of the new blend of small, sometimes blown engines as possible. First up and long overdue was a go in the Fiat 500 Twin Air. No wonder these things never get anything like their 'official' fuel economy. Barely giving away its two-pot configuration, it loves revs and seems unburstable, reminding me of Fiat's 1980s one-litre FIRE engine which would also take anything you did with it and come back, tail wagging, for more. Less impressive was VW's 122PS TSi with a seven-speed DSG gearbox in the new Beetle, a combo not yet on sale. Individually, fine, but less than ideal together as the 'box struggled to be in the right ratio when needed. A consumer colleague with way more exposure to product opined it was great if you changed gear yourself but I don't buy automatics for that...
Much more impressive was the little one-litre I3 (with manual) in the VW Up which also impressed for detail, finish and quality at the automaker's entry level end. I reckon there'll be zillions of these on European roads, counting in Skoda and Seat spin-offs, in a couple of years. Ford's one-litre EcoBoost - in a Focus - was also highly impressive with more pulling power than expected and no out-of-balance hints of the uneven cylinder count. I also tried Nissan's latest Renault 1.6 diesel in the Qashqai and was pleased with the even spread of torque across the rev range and the refinement - it did Millbrook's hill route in third; many need a downshift on the tightest uphill corners.
I also worked my way through a full complement of new BMWs - 1, 3, 5 hybrid (very good) and 640d four-door and tried Renault's Twizy EV. Fun, great when it's 23C out (think Florida or Spain retirement villa) but the school run in a UK winter - forgeddaboutit... Don't want to think about crash safety, either. Also had a go in PSA's new diesel/lecky hybrid in the 508 and, apart from my vendetta against automated manuals, found that impressive as well.
Real-world pick of the day? A last minute surprise, having suddenly realised, with 15 minutes of track time to go, I'd not tried any Audis. A Q3, the new base diesel 2WD, was suggested and I found it delightful - just the right size, nice handling, good ride, torquey motor and lots of kit standard with loads more optional. No chance of it being the next Robertsmobile, though, starting at £26,000-ish, I couldn't find a used auto in the listings last night for less than £31,000. A few more years depreciation is required to get down to my level; they were only out nine months ago. Honourable runner-up - the new Merc B-class; small Europe town package with a big Mercedes feel.
In other news this week, we've had lots more on GM and the future of its European plants - this earlier and this today.
Saab is still bubbling away and we had this update this week although the EV approach does not sit well with some observers.
An intriguing new alliance was announced that will see an Alfa built in Japan - cranking open my memory banks - and Nissan announced big plans for Russia.
The sun is forecast right through the weekend into mid-week which means I will see Amsterdam in May in a far nicer state next Monday and Tuesday (Yaris hybrid launch) than the first and only time 25 years ago when it was cold and rainy. Meanwhile, I'm thinking BBQ...
Have a great (and in the US, extended Memorial) weekend.
Graeme Roberts, Deputy Editor, just-auto.com
Most popular news
---
Most popular insights
---
Oops! This article is copy protected.
Why can't I copy the text on this page?
The ability to copy articles is specially reserved for people who are part of a group membership.
How do I become a group member?
To find out how you and your team can copy and share articles and save money as part of a group membership call Shivani Hayer on
+44 (0)1527 573 732 or complete this form..