Review of the year - Part 2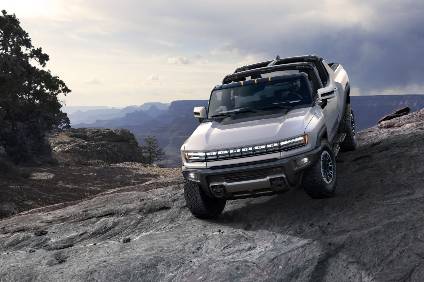 It's a Hummer, GM, but not as we know it
Well, that was 2020, a year none of us will forget in a hurry. Editor Dave Leggett takes a look back month-by-month through the prism of just-auto's industry coverage. Safe to say, things didn't quite go quite as expected for anyone in 2020. This second part covers the second half of the year.
July
Ineos Automotive reveals the exterior design of the Grenadier, its upcoming, 'no-nonsense 4×4 vehicle for the world'. (There's a bit of controversy later in the year on the manufacturing plans though...)
INEOS Automotive unveils Grenadier 4x4
And later in the month...what about the Wales (Bridgend) plan?
Ineos in talks with Daimler over Hambach site
We run a feature on car subscription for the 'new normal'. How we will consume our transport product or service in the future was a very valid question before the pandemic. It seems even more pertinent now.
RESEARCH SNAPSHOT - Car subscription in the 'new normal'
Ford hits supply problems at a plant in Mexico, illustrating once again how international supply chains are being impacted by the pandemic.
Ford's Mexico engine supply problems sound a warning for global supply chains
As the pandemic rumbles along, along with a tentative industrial recovery, a number of impacts and effects are observed. Companies are taking action on cost, while preserving cash for essentials. For example, Daimler.
Daimler taking the right actions on cost
And a GlobalData (just-auto's parent company) database on hires shows GM swinging into action.
General Motors reopens hiring as it tries to get back on its feet
Another GlobalData database shows an uptick in M&A activity
While Jaguar Land Rover develops a contactless touchscreen (would you trust it?)
Jaguar Land Rover develops contactless touchscreen to help fight bacteria and viruses
The global nature of the pandemic-induced vehicle sales crash is laid bare in our report of Q2 sales results for the ASEAN markets.
ASEAN vehicle sales plunge 66% in Q2
Restructuring is also evident in Japan.
Mitsubishi to close Pajero plant in 2023
Mitsubishi spending big to manufacture new electric kei cars with Nissan
August
Ford announced that Jim Hackett is to pass on the CEO reins to COO Jim Farley. The consensus reaction seems to be that Hackett has laid the groundwork to put Ford on a better platform - with a number of significant steps taken, in terms of internal organisation and also product offerings - to address the major auto industry challenges ahead, but that it was unspectacular as far as investors were concerned. The Ford share price stubbornly languished during Hackett's term as CEO.
Hackett handing Ford reins to Farley
How do trade show and exhibitions organisers cope with a pandemic? With great difficulty, is the glib answer. German-based aftermarket trade show organiser Automechanika set out new digital networking opportunities for "everyone who had been looking forward to coming to Frankfurt this September". Good effort, but the vaccines can't come quickly enough. Can't wait to sample the many delights of Frankfurt am Main in-person again...
Automechanika sets out digital event vision
Batteries for electric cars emerged as a pretty dynamic area of company activity and investment in 2020, as typified by CATL.
CATL targets overseas acquisitions to regain leadership
European battery makers more likely to eye niches
2020 was probably a pretty good year for drones, in general. Geely illustrates how they can work in automotive retail handover also.
RESEARCH SNAPSHOT – Game of drones
Nissan was a company that seemed pretty comfortable a few years' back, but it has been through a tumultuous period, culminating in the you-could-not-make-it-up fall from grace and exit of former boss Carlos Ghosn. We secured an interview with current CEO Makoto Uchida and there were some insights on the Alliance and electrification.
INTERVIEW – Nissan CEO Makoto Uchida
GM held a Tech Day which set out its technology rollout plan for electrification, intelligent driving and connectivity in China at 'Tech Day' (held at the PATAC Design Dome in Shanghai and virtual presentations from the Warren Design Dome in Michigan). GM President Mark Reuss revealed a couple of data points that caught my eye. How many ICE powertrain combinations does GM have in production currently and how many combinations will be needed for GM's planned future EV portfolio? 500 and 19.
Key takeaways from GM's Tech Day
And some GM China strategy detail: GM sets out electrification push for China
The power of data. Ford says it is developing a digital road safety tool that it says could predict potential incident hotspots, using data from sources including connected vehicles and roadside sensors.
Ford trials tech that 'predicts traffic incidents'
Another sign of the times. Online shopping has taken off during the pandemic and there's also been a shift towards electric vans for delivery in urban areas. This order from Amazon for electric vans is the largest electric van order Mercedes has received to date: Amazon orders 1,800 e-vans from Mercedes
September
Strategic alliances were all the rage in 2020. In September, General Motors and Honda said they'd signed a non-binding memorandum of understanding (MoU) to establish a North American automotive alliance. This would include shared vehicle models sold under each automaker's own brands plus purchasing, research and development, and connected services cooperation. The pair would collaborate in North America by sharing common vehicle platforms, including both electrified and internal combustion powertrains.
General Motors and Honda eye strategic alliance
Another late cancellation as the organisers of the LA Show have finally bowed to the inevitable and the November event is now scheduled for next May...
LA Auto Show postponed till May
Green bonds issued to raise capital for expensive investments were tried out by a number of manufacturing groups in 2020, including VW and Volvo/Geely. Volkswagen Group successfully placed its first green bonds with a volume of EUR2bn earmarked to fund EV projects, including its MEB platform.
Volkswagen issues green bonds to finance MEB, EVs
The clock is ticking to the end of the UK's transition period as part of its EU withdrawal agreement. The UK and the bloc are in negotiations for a permanent security and trade deal. It's not proving an easy process to conclude. The UK's auto industry is particularly nervous over the risks of new tariffs and non-tariff barriers that could slow just-in-time international shipments and add to costs. Rules of origin emerge as a particular concern.
COMMENT - UK-EU disharmony and worries for UK auto sector
October
In a research partnership, Scania says it will develop a solar cell clad trailer to power a plug-in hybrid truck. Initial tests indicate possible fuel savings of 5–10 percent in Sweden and twice that amount in sunnier southern Spain. "Solar cells have previously been employed on boats and caravans but then only to power auxiliaries such as refrigerators and cookers and not the actual powertrain," says Eric Falkgrim, Technology Leader in Vehicle Design at Scania R&D.
Scania tests truck trailer with solar panels
Bosch, Mercedes-Benz, and parking garage operator Apcoa say they plan to introduce driverless and highly automated parking at Stuttgart airport. Daimler's redesigned Mercedes-Benz S-Class is the claimed world's first production vehicle to feature the technology required for future infrastructure-based automatic valet parking (AVP). Nice work.
Daimler to trial self-parking cars at Stuttgart airport
I drove a Ford Kuga PHEV this year and I was very impressed with its capabilities, especially the amount of electric-only range available and how quickly you could boost the battery's reserve in regular petrol engine driving, if you so choose. Ford, however, got in a bit of a jam during the launch due to overheating battery packs.
Ford delays US Escape PHEV after Europe Kuga fires
Tesla's on a bit of a roll through much of 2020. In October, it reported its fifth consecutive quarterly profit and said it is on track to deliver half a million vehicles this year. There's a ramp-up of Model Y production in the US and Model 3 output at its new Shanghai factory. Impressive stuff, especially during a pandemic. Moreover, Tesla says production at the Berlin factory is expected to start in 2021 and that buildings are under construction and 'equipment move-in will start over the coming weeks'.
Tesla posts fifth consecutive quarterly profit
The established automakers aren't standing still on e-mobility though. General Motors announces its Detroit-Hamtramck Assembly Center will now be known as 'Factory ZERO', reconfigured to an all-electric vehicle assembly plant. GM said the name Factory ZERO reflects the significance of the facility in advancing GM's zero-crashes, zero-emissions and zero-congestion future.
GM unveils 'Factory ZERO' EV plant in Detroit
GM also revives the Hummer nameplate and Factory ZERO will make an electric Hummer pickup.
New GMC Hummer EV revealed to battle Tesla's Cybertruck and Rivian's R1T
BMW decides to bring contracted out assembly of the Mini Countryman variant back in-house (it will go to Leipzig).
BMW to end Mini Countryman production at VDL Nedcar
This start-up comes with some pedigree in the name and is one to keep an eye on in 2021. It's an ambitious sounding project that it is planned will yield an electric sports car to market at the end of 2022.
Piech Automotive names 'leading auto executives' for launch plan
More strategic tie-ups are announced at the end of the month. Daimler and Waymo said they would partner up on autonomous freight trucks.
Daimler and Waymo partner on autonomous trucks
In HCVs, Volvo AB and Isuzu
And in China, BMW said it will be working with Alibaba on its digital strategy.
And get ready for speculation on who wants a big stake in LG Chem's automotive powertrain battery business...
LG Chem shareholders approve battery spin-off
Daimler said it wants a slice of Aston Martin in return for sharing technology that hard-pushed Aston can't really afford to do on its own.
Mercedes and Aston Martin deepen cooperation
November
The UK government announces it is planning to bring forward a ban on the sale of new internal combustion engine cars and vans from 2040 to 2030. The reaction can be summed up as mixed. The announcement came as part of a broader green vision for the UK economy and as part of the aim to be net neutral in terms of greenhouse gas emissions by 2050.
UK government confirms 2030 ICE ban
In Berlin, meanwhile, the transition to electric is seen through the slightly different lens of a highly proactive industrial strategy designed to support the country's engineering and industrial base.
Berlin extends support for auto sector to 2025
We compared and contrasted the respective approaches in London and Berlin: Electrification - sink or swim for the UK industry as Germany throws its industry a lifebelt
Yet another strategic collaboration; well a deepening of a partnership: Daimler and Geely. A new joint venture between their parent companies that will see Mercedes-Benz and Volvo Cars sharing hybrid powertrains. Daimler and Geely Holding announced plans to "collaborate on developing highly efficient powertrain systems for next generation hybrid vehicle applications". The cooperation is expected to see the pair work together on hybrid powertrains to "enhance their global competitiveness and create true economies of scale". Areas of potential cooperation include engineering, sourcing, 'industrialisation' and efficiency measures. Expect high volume production of the hybrid system four-cylinder engines in China, with fitment to other Geely brands such as Proton, Lynk & Co and Volvo Cars.
Daimler and Geely to jointly develop hybrids
Yanfeng says it continues to see opportunity in the shared mobility sector as the world looks to emerge from the effects of the global pandemic. Key to convincing potential customers of the benefits of ridesharing will be technology which demonstrates health safety and Yanfeng has been working on cabin cleanliness for some time. For example, the supplier has developed an antimicrobial device that can be integrated into the headliner console and uses UV light to disinfect the air and surfaces in the vehicle interior. You can imagine the future conversations in Ubers...'did the UV light scan thing happen?'
Yanfeng backs 'economic logic' of shared mobility
December
Toyota says it will soon "preview" a new battery electric mid-size SUV based on the upcoming e-TNGA platform. Further details will be announced in the coming months, the automaker promised. At this stage, only a stylised silhouette and details of the platform architecture have been released.
Toyota to "preview" battery electric SUV
If we have an electric future – and everyone seems pretty convinced we do – then a reimagined gas station forecourt may be a part of the picture. But you won't be in and out in a jiffy. So, if it's a 20-minute wait for your car's fast charge to finish, why not have a coffee, or visit the post office (eh?), or have a go on an exercise bike (eh?)? That's progress.
UK's first Electric Forecourt opens
GM and start-up Nikola strike a deal, but the pickup GM was going to manufacture for Nikola is now missing.
General Motors signs fuel cell systems MoU with Nikola
Backgrounder - Nikola and GM's renegotiated deal
As a tumultuous year nears its calendar end, the virus ups its game and it's also pretty clear that adverse consequences for automotive supply chains are far from over.
Volkswagen to cut output at Wolfsburg
COVID-19 continues to pile pressure on supply chains
And final demand is also fragile: Vehicle markets hit by lockdowns in November
Petrochemicals firm Ineos made a big splash when it said it would build a plant in Wales to make a Land Rover Defender (the old one) inspired utility 4x4. It would have been great news for a part of the country hit by some sizeable economic blows in recent years. Except that Ineos changed its mind and decided that Hambach is a better bet after that came onto the market (engines supplied from Germany; body and chassis from Portugal; did Brexit play a part in this decision? Discuss.)
Ineos buys Daimler's French Smart plant
Amazon is getting a lot of business from big companies rationalising their data resources. BMW is the latest big automotive OEM to sign up.
BMW and Amazon to collaborate on cloud-based data
Wowser. Something to keep an eye on in 2021. Toyota releases plans to build a prototype electric vehicle in 2021 powered by solid-state batteries.
Toyota announces solid-state battery EV prototype for 2021
And keep an eye on Tesla's batteries, as well as progress in Europe.
Tesla's Berlin plant to get new tech and new model
As the end of the year nears, two of the year's big plots seem to converge in the final scene, as if in the tradition of a blockbuster disaster movie – COVID-19 and Brexit. The fragility of the UK's major EU trade corridors is shown up when the French government bans accompanied freight trade outbound from the UK, due to concerns over a new COVID-19 strain that appears to be rampant in the UK. The trucks quickly back-up at UK ports and worries over supply chains mount. Let's just hope it's not a trailer for the main event when Brexit gets real in January, preferably with a free trade deal that minimises additional costs on international flows of goods between the UK and EU. Happy Brexmas!
Logistics UK requests details as France border closes
Prospect of a No Deal Brexit is no red herring for the UK automotive sector
And of course, best wishes to all for 2021.
Most popular news
---
Most popular insights
---
Oops! This article is copy protected.
Why can't I copy the text on this page?
The ability to copy articles is specially reserved for people who are part of a group membership.
How do I become a group member?
To find out how you and your team can copy and share articles and save money as part of a group membership call Shivani Hayer on
+44 (0)1527 573 732 or complete this form..