Plant axes, new diesel jobs, EVs debut - the week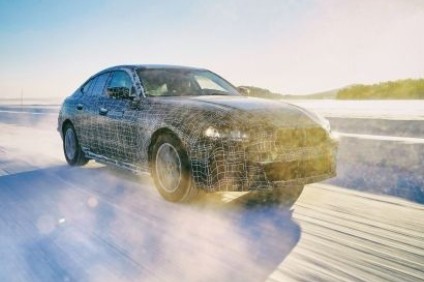 BMW's i4 is one of several new EVs with a decent range
Plant closures are never good news but you wield the axe, we cover 'em.
I always note the PR-department composed, company lawyer-vetted corporate-speak used in press releases about such bad news (for the workers and local communities) and Continental's missive this week, skilfully edited by a colleague, was no exception - "restructuring" is required of its "manufacturing footprint" over the next decade as "an accelerated transition to electric mobility necessitates adjustments" as the Tier 1 is " phasing out of production for combustion engine components at several locations worldwide". "Over 5,000 jobs will be affected by the changes over the next 10 years."
Interpreter? "We've too many factories and people in the wrong places making parts automakers soon won't be buying and, in the next decade, need to place manufacturing where it's needed, making more EV parts. Five thousand people will need to relocate or lose their jobs, regrettably". To the man or woman on the assembly line, the production supervisor, heck, the people running the bakery which sells 5,000 doughnuts a week to the plant cafe, it's a big deal locally as they contemplate options such as relocation, finding a new job, early retirement, retraining and so on, and it's all the fault of some over-compensated suit they never met over at company HQ. 'Course, as auto industry professionals and analysts, we all know that demand for products, the products themselves and the location the plants are needed all changes over time and suppliers and automakers must site factories to suit but firing people surely is never easy. This follows Daimler's recent announcement of the need to cut jobs to make EUR1bn savings and suggests this cyclic business we all love is again heading for some challenging times ahead though I did see some optimistic analysis this week suggesting an uptick in China auto sales in 2020.
On t'other hand, GM last night announced 100 new jobs at a parts plant in the US. It seems EU politician and greenie-demonised diesel still has some future across the pond.
Speaking of EVs and their components, Kia has updated its Niro, the C-segment crossover which covers all bases (as does the word 'crossover') with hybrid, plug-in hybrid and electric powertrains. I really must try one, sometime. As we noted, models like this position Kia (and its rivals) well for the sub-100g/km CO2 average which will be mandated in the EU bloc from 2020. That's next year, automakers, get cracking.
The Los Angeles motor show is on this week and, as expected, there was plenty of new product for automakers to show 'n' tell on the press days. We have it all listed here. As also expected, there was a lot of EV in the subject line and, in amongst the more exotic stuff, Toyota launched a PHEV RAV4 badged, like the Prius with an extension cord, Prime for the US. Nowt to do with Amazon.
Hear a faint spinning sound? I imagine that might be the late, great Lee Iacocca rotating at 6,500rpm in his grave after learning his Mustang nameplate is soon to appear on an electric SUV and competitor to Tesla's Model Y. Yeah, I get it, and some EVs can give you that same wa-hey, pushed-back-in-the-seat experience you get prodding in anger a gas pedal attached to one of the US' legendary V8 combustion engines, polar bears will be happy and all that, but? Mustang is a petrol head's brand, at least with the V8, as one of us discovered this week by taking a Bullitt for the team, and surely, if Ford was going to spin off a new all-EV brand, the marketeers and imagineers could have come up with a new name rather than recycling a badge that, to some enthusiasts, is sacred? Why not just 'Mach-E' and leave the Mustang in its own niche?
More EV: I have been known to say that when the industry builds a 300-mile EV, they will come, as will I, to the showroom. Maybe it's time to check the credit score as BMW claims to have just done that with the i4 "full electric premium mid-range model" which has a range of "some 600 kilometres" - 373 miles in imperial currency. In BMW-speak, the car is "a four-door Gran Coupe with locally emissions-free mobility" which "heralds a new era of driving pleasure". Dangled in front of our noses to tantalise us now (and maybe take a bit of wind out of Porsche sails as they were media-presenting the Taycan EV sportster in the US this week) but not in your friendly corner BMW shop until 2021 - which gives me breathing space to scrape up the deposit.
Honourable mention: Aston Martin is entering a new segment with its Wales-made DBX luxury crossover, which is now on sale. The car will be priced at GBP158,000 in the UK, EUR193,500 in Germany and US$189,900 in the US, with the first deliveries scheduled to begin Q2 2020. Set to be built in their new, purpose-built manufacturing facility in St Athan, Wales, the foundation of DBX is a new dedicated SUV platform. Those who have seen it (a UK motoring writers group got a sneak peek six months ago after their cameraphones were confiscated at the door) have been known to swoon.
Have a nice weekend.
Most popular news
---
Most popular insights
---
Oops! This article is copy protected.
Why can't I copy the text on this page?
The ability to copy articles is specially reserved for people who are part of a group membership.
How do I become a group member?
To find out how you and your team can copy and share articles and save money as part of a group membership call Shivani Hayer on
+44 (0)1527 573 732 or complete this form..