Jaguar, Tesla and a reimagined sun visor - the week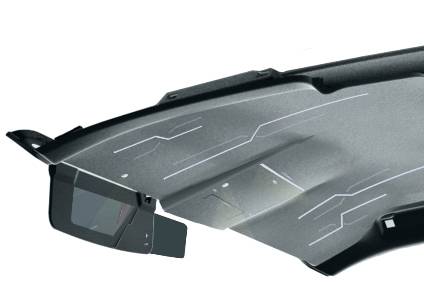 Retractable sun visors, anyone?
Future models-r-us. You knew that. This week, Jaguar was in the spotlight: The leaping cat brand saw its EU-EFTA-UK sales halve to 24,389 during the year to the end of August. Data for North America is no longer made public while things still aren't good in China (12,024 YTD, -24%). What to do about Jaguar? That's a question that new CEO Thierry Bollore will be wrestling with right now.
Surprise, surprise: EU demand for passenger cars contracted 32% year on year in the first eight months of 2020, ACEA said. A tally of 6,123,852 new cars was registered across the European Union from January to August, almost 2.9m less in the same months of 2019. July 2020 registrations declined 5.7%. Seven of the 27 member states posted growth in July, including France (+3.9%) and Spain (+1.1%). Outside the EU perimeter, the United Kingdom (+11.3%), Iceland (+44.5%) and Norway (+6.5%) also showed first signs of recovery. August volume fell 18.9% though that was less dramatic than earlier in the year. With the exception of Cyprus (+14.1%), all countries in the region recorded losses compared to August 2019. With so called second waves of COVID-19 infections hitting a number of countries, we in the UK included, that recovery may prove tenuous.
Tata too: Until recently, Tata seemed to be the main victim as the likes of Hyundai, Kia and MG gained ground in a recovering Indian market. Suddenly though, things have taken a dramatic turn for the better. Can that be maintained? August was a sensational month for Tata, wholesale deliveries surging by 154% to 18,583 units versus the Indian market's 20% (234,142) year-on-year rise.
Tesla's Elon Musk has a habit of over promising and under delivering: Investors gave him a good slap this week as they cut US$50bn from the EV maker's market value despite Musk's promise to cut electric vehicle costs so much a US$25,000 car that drives itself would be possible - but not for at least three years. Tesla's market cap dropped $20bn in just two hours after trading closed Tuesday, as Musk and other Tesla executives presented their new battery and manufacturing strategies. Shares closed down 5.6% and dropped another 6.9% after hours. "Nothing Musk discussed about batteries is a done deal," Roth Capital Partners analyst Craig Irwin said. "There was nothing tangible." Investors were disappointed when two expected significant announcements - the development of a 'million mile' battery good for 10 years or more, and a specific cost reduction target, expressed in dollars per kilowatt-hour, which would finally drop the price of an electric vehicle below that of a petrol car - were not made.
Geely-owned electric performance brand Polestar says it will publish 'full details of the climate impact of its electric vehicles': It has published a breakdown of Polestar 2's carbon footprint compared with the ICE-powered XC40. Polestar' says its complete Life Cycle Assessment shows the total climate impact of the car over its life cycle. "Car manufacturers have not been clear in the past with consumers on the environmental impact of their products," says Thomas Ingenlath, Polestar CEO. "That's not good enough. We need to be honest, even if it makes for uncomfortable reading." Using its own analysis, Polestar found the new Polestar 2 leaves the factory with a 26-tonne carbon footprint. Compared to a Volvo XC40 with a petrol internal combustion engine, Polestar 2 has a larger footprint in the manufacturing phase, mainly due to the energy-intensive battery production process. Once the EV reaches the customer, if charged with green energy, further CO2 emissions are negligible. After 50,000 km of driving, the fossil fuel car surpasses the EV in total CO2 emissions.
Shows are back! Well, in China, anyway: After a delay of five months, AutoChina is set to go ahead in Beijing this weekend. The latest addition to just-auto.com's list of premieres was the Infiniti QX60 Monograph. Infiniti? Remember them? (Gone from Europe.)
Answer to a problem we didn't know we had: Grupo Antolin said it had "reimagined" the sun visor and developed a retractable version. The retractable visors are hidden behind the headliner substrate until needed and can be deploy manually or electrically. "The seamless integration also provides fluent lines and a bigger sense of space for the end users," the supplier claimed. Hiding the sun visors provides free space in the overhead for functional customisation giving designers possibilities. The sun visor can be fabric covered or uncovered. The possibility of materials and textures is endless: plain plastic, pattern engraved plastic, natural or sustainable materials, stitching or even back lighted materials. Antolin claims the end user will benefit from more ergonomic movements. The rest position in the headliner disappears so the user does not need to move the head to position the sun visor. Visual angles are also improved. So who'll fit first?
Volkswagen Group said it had successfully placed its first green bonds with a volume of EUR2bn earmarked to fund EV projects, including its MEB platform. The benchmark bonds, which are denominated in euros, have terms of eight and 12 years and coupons (returns to investors) of 0.875% and 1.250% respectively. VW says investors showed considerable interest, including both international and specialised green bond investors. VW said the proceeds of the bonds would be used in a targeted way to fund the modular electric drive matrix (MEB) and the new ID.3 and ID.4 BEV models. Annual reporting on the use of the proceeds and the environmental effects achieved would create transparency for investors.
That is one way to raise money, the other is to flog off some unneeded family silver: VW Group reportedly is set to sell Bugatti to Rimac of Croatia. Britain's Car magazine said the luxury brand would likely be transferred to Rimac via Porsche, in exchange for a bigger share in the electric hypercar maker. Porsche boosted its slice of Rimac to just over 15% a year ago. Car sources said VW executives approved the deal the week before last but it had yet to be signed off by the supervisory board. The report noted Bugatti, Lamborghini and Bentley were added under the reign of the late Ferdinand Piech, once head of VW's managing board and then its supervisory chairman. "Volkswagen Group no longer wants to lavish money and manpower on the so-called hobby brands acquired by the former CEO. Instead, all resources must be devoted to fund the massive investment programme in the future of motoring – electrification, digitalisation and autonomous driving," Car's report said. The company is buried in debt as it converts whole plants from combustion to electrified vehicles and it took a huge financial hit from 'dieselgate' which is still ongoing. Apart from Porsche, Car noted, other Rimac investors include Hyundai, Jaguar, Koenigsegg and Magna and 15 car companies reportedly using its technology. Car also said Lamborghini, Seat, Ital Design, Bentley and Ducati are all being eyed for possible sale.
Yanfeng has detailed plans to expand its global presence, leveraging the existing footprint of Yanfeng Automotive Interiors (YFAI), as well as increasing the company's Smart Cabin product portfolio. In 2015, Yanfeng and the former Johnson Controls (now Adient) established the YFAI joint venture, with Yanfeng holding 70% equity and Adient holding the remaining 30% equity. In July 2020, YFAI became a wholly-owned entity of Yanfeng, as Yanfeng Automotive Trim Systems acquired the 30% stake held by Adient. YFAI was the first Yanfeng business to operate outside China. Yanfeng is now expanding its seating and safety systems businesses into Europe and North America, leveraging YFAI's global platform to further enhance its global product offering.
Punch Powertrain and Groupe PSA have launched their joint venture – Punch Powertrain PSA e-transmissions. Following regulatory approvals, the company has been founded and started operations on 17 September. Punch Powertrain holds majority control in the new 61/39 JV which will design, manufacture and supply Punch's DT2 dual clutch transmission for the next generation of mild hybrid electric (MHEV) and plug-in hybrid electric (PHEV) vehicles. The business will initially supply Groupe PSA's global operations and aims to supply other vehicle manufacturers worldwide. Elias van Wijk, previously CTO to Punch Powertrain, was named CEO of the new company.
Have a nice weekend.
Graeme Roberts, Deputy Editor, just-auto.com
Most popular news
---
Most popular insights
---
Oops! This article is copy protected.
Why can't I copy the text on this page?
The ability to copy articles is specially reserved for people who are part of a group membership.
How do I become a group member?
To find out how you and your team can copy and share articles and save money as part of a group membership call Shivani Hayer on
+44 (0)1527 573 732 or complete this form..