Is contract manufacturing the future for EV startups?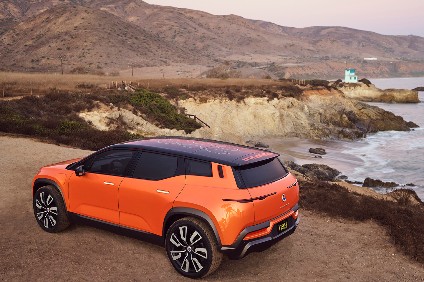 Fisker announced earlier Magna Steyr would "initially" manufacture the upcoming Ocean luxury EV "exclusively" in Europe. Magna already builds Jaguar's i-Pace luxury BEV SUV and the Ocean, also a luxury SUV, will use a modified version of a Magna-developed EV platform
This week's announcement from EV startup Fisker it had inked a deal with Taiwan's Hon Hai Technology Group, better known as consumer electronics contract manufacturer Foxconn, to co-develop and build a "breakthrough new segment vehicle" reflects a new approach from EV startups - contract rather than in-house build.
For Fisker, it's the second such deal it has inked having already contracted Magna in Austria to "initially" manufacture the upcoming Ocean luxury EV "exclusively" in Europe. Global paid reservations for that car have passed 10,400 and a "production-intent prototype" is due for reveal next summer ahead of a production start in the fourth quarter of 2022. Magna already builds Jaguar's I-Pace luxury SUV EV and the Ocean, also a luxury SUV, will use a modified version of a Magna-developed EV platform.
Now comes a second Fisker EV which Foxconn will build. It is cellphone giant Apple's key contract assembler - Apple designs and develops iPhones for production, then Foxconn sorts the factories, recruits the labour, lays out the assembly lines, builds efficient supply chains and, voila, a steady stream of high quality products heads daily for willing buyers of the latest technology across the globe.
Apple, which started in 1970s California as a maker of an innovative (today we'd call it 'disruptive') personal computer called the MacIntosh, initially built its products in-house at US factories but, as volume grew and, no doubt, costs came under increased scrutiny, assembly eventually moved offshore. Buy an iPhone today and the consumer interested in where it was made will have to read the box fine print: "Designed by Apple in California. Assembled in China."
Contract assembly has long also been a useful aid to automakers. The already mentioned Magna Steyr in Austria or Valmet in Finland will happily provide extra production capacity to boost supply of a high-demand model, as illustrated by Valmet's recent multiple contracts with Daimler's Mercedes-Benz, or take on assembly of lower volume niche variants, such as Magna Steyr has done with the I-Pace and various BMW, Mini, Mercedes and US Chrysler models over the years. VDL in the Netherlands is another outsourcing option for European automakers - the former DAF/Volvo/Mitsubishi/Smart assembly plant has been transformed into a contract builder, currently assembling select Mini models for BMW.
Traditionally, contract assembly has also enabled automakers to establish themselves relatively quickly in new markets. When the Japanese companies started their export drive in earnest during the 1960s, they were able to enter the US market easily with fully imported cars but, in markets such as Australia and New Zealand, and many countries in Asia, they faced tariff barriers and import controls as part of government policies which encouraged local assembly/manufacture (to provide employment opportunities for domestic labour) with prescribed 'local content' - components which had to be procured locally.
For Toyota and Datsun in particular, local contract assemblers were a boon - well established companies such as Australian Motor Industries (already building English Standard-Triumph models) and Motor Producers had existing factories with welding and paint shops, assembly lines in place, a skilled labour force on hand and established supply chain relationships for the many local parts including wiring, glass, trim, tyres, batteries, heaters, radios and so on. It was thus a relatively simple process to get their volume launch models - Toyota's Tiara/Corona and Datsun's Bluebird - into local assembly, ensuring a steady supply of new cars to the developing dealer chains.
Contract assembly today remains extensive worldwide. Just this week we reported Porsche was considering setting up an assembly plant in Kedah, Malaysia, in partnership with a subsidiary of local automotive distributing conglomerate Sime Darby. As we noted, local assembly in the APAC/SEA region would help Porsche to reduce import duties and logistics costs. The luxury brand would join BMW, Mercedes-Benz, Land Rover and Volvo in local build under contract - Sime Darby's Inokom Corporation has strong form in luxury vehicle assembling, which includes Mini and Land Rover, while the company is also a Hyundai, Mazda, Ford, Brilliance and Foton assembler with capacity of 38,000 units a year.
The push by many western automakers into new, emerging markets, such as China, Russia and India, in recent decades has also been smoothed by local contract assembly deals. Few new entrants into China have made much headway without a regulator-scrutinised joint venture deal, the result, in Volkswagen Group's case, now being millions of new cars built every year by local joint ventures with FAW and SAIC. In Russia, Ford established an initial manufacturing footprint with local assembler/distributor Sollers Group.
In contrast to Elon Musk's expensive traditional approach with Tesla (ignoring the initial electrification of completed bodies purchased from Lotus) - buy and equip a factory (the former NUMMI plant in Fremont, California), fill it with state of the art equipment, recruit and train a workforce, establish a supply chain (including in-house battery manufacture at the Nevada gigafactory), start making cars - Fisker, with its newly announced 'partnership' with Foxconn, is (again) taking what you might term a 'share the load' (and cost) approach. The two parties will 'co-develop' a vehicle to "pioneer a new market segment and deliver industry-first innovations" but it'll be down to Foxconn, for a price, to get it into production and build up output to "projected annual volumes of more than 250,000".
In a joint press release, Foxconn Technology Group chairman, Young-way Liu was confident.
"The Fisker and Foxconn partnership brings together two global leaders in innovation that will join forces to unlock the potential of the electric vehicle industry," he said. "Foxconn's participation in the electric vehicle industry delivers a refreshing thrust into the information and communication technology (ICT) industry that is already focused on this exciting sector. The key success elements of electric vehicle development include the electric motor, electric control module and battery. We have two major advantages in this regard, with an exceptional vertically integrated global supply chain and the best supply chain management team in our industry. Coupled with our accumulated engineering capabilities, Foxconn has been critical to the success of many ICT companies over the past 40 years and we look forward to extending this success with Fisker."
In other words, Fisker is, again, not bothering to reinvent the wheel unnecessarily. Rather than take the Tesla approach and build an EV factory and supply chain from scratch at immense cost, incurring large debt, Fisker, doubtless encouraged by the earlier deal with Magna, clearly is confident Foxconn, with four decades of experience in electronics/electrical contract build, can do what is needed to 'productionise' the new EV, put a supply chain in place and build sufficient volumes of a model based on a standardised 'skateboard' platform (motors, batteries, drivetrain and suspension all below the floor) at a per-unit cost which makes a satisfactory business case for both parties.
This deal makes a lot of sense. Fisker, for a second time, avoids huge factory setup costs and gets a brand new EV model to market faster; Foxconn gets a huge boost for its auto building aims.
Said Young-way Liu: ""The new collaboration between Foxconn and Fisker will revolutionise the automotive industry model by introducing ICT capabilities – which help automakers accelerate their transition to new, innovative, and efficient manufacturing processes and business models.
"The collaboration between our firms means that it will only take 24 months to produce the next Fisker vehicle – from research and development to production, reducing half of the traditional time required to bring a new vehicle to market."
Will other EV startups (disruptors) follow? We'll be watching this 'space' with interest.
Most popular news
---
Most popular insights
---
Oops! This article is copy protected.
Why can't I copy the text on this page?
The ability to copy articles is specially reserved for people who are part of a group membership.
How do I become a group member?
To find out how you and your team can copy and share articles and save money as part of a group membership call Shivani Hayer on
+44 (0)1527 573 732 or complete this form..