MOSCOW REFLECTIVE: A show heading for global status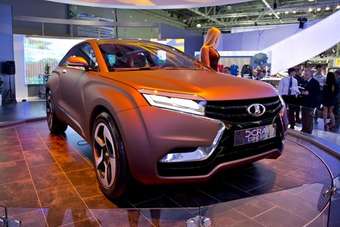 Lada also showed the XRAY concept in Moscow. The Lada designers are based in Milan and led by Steve Mattin (ex Mercedes and Volvo). It's a long way from the Fiat 124-derived Rivas of old.
The Moscow Motor Show seemed to command more media and industry attention this year than in past years. Maybe that's not too surprising given a growing market and a strong flow of inward investment in production capacity from international OEMs. Tristan Young was there and offers a personal viewpoint on attending the show for the first time.
If you were parachuted into Russia's Crocus Expo for the 2012 Moscow International Automobile Salon (MIAS) and never stepped outside, from anywhere in Western Europe or the US you'd be forgiven for thinking that it was just like any other major auto exhibition. Bright lights, glossy stands with pretty models and shiny new cars.
But step outside and there's no mistaking where you are.
As a well-traveled Brit arriving into Russia for the first time, as soon as you step outside Domodedovo Airport you get your first taste of the chaos that is Moscow's road network.
The combination of a complete lack of any adherence to traffic laws, vehicle maintenance and sheer numbers mean the infrastructure, which itself could best be described as poor, just can't cope.
The result is a three hour drive to cover the 28 miles to the centre of Moscow.
The boss of Mazda Russia Joerg Schreiber blamed the traffic on the end of the school holidays, but also conceded it was just part of life in Moscow. Regular visitors to Moscow say the traffic is always bad. But spending three hours watching the world go by (albeit very slowly) gives you a great insight into both the auto industry and also Russian life.
To tackle the latter first, it is immediately obvious from the moment you spot your first Mercedes G55 AMG parked outside the airport among the ageing Ladas and GAZ Volga taxis that there is a huge cultural divide between the rich and poor.
Clearly there's a significantly large minority with a significant wealth, and they like to make that wealth obvious by driving top-end metal. Even more impressive is the fact that not only are they buying high-performance, range-topping cars, but in a lot of cases they're not afraid to then spend even more money having these cars modified. If you're a car designer working for an OEM, you will probably come away with a bout of depression after seeing (what Western eyes would consider) the vulgar bodykits on prestige cars.
Even within the police (or at least officialdom) there seems to be a two-tier rich-poor divide. Most of the marked police cars are locally sourced brands, but then there's a significant number of unmarked, current model BMW 7-series, running around Moscow with Kojak-style magnetic blue flashing lights stuck on the roof above the driver's head.
Given these are all badged 750i, you can't help but wonder 'who did that fleet deal', and 'what are they driving as a result'.
Unmarked 7-series aside, the other thing you immediately notice is the proportion of SUVs. But given the condition of the roads, the severity of the winters and petrol that costs about 60p a litre, this is less surprising.
Driving a 4x4 also means you've got more metal to intimidate other road users and should, or rather, when, you are involved in an accident you're probably going to be safer.
Mobile phone use while driving seems obligatory, but it appears the real reason for the rising mortality rate is that no one seems to obey any kind motoring laws. And, yes, you did read that right. According to the OECD figures from less than a year ago, transport mortality rates increased more than 12% between 1995 and 2009, against an OECD average fall of more than 40%.
So, assuming you make it through the traffic and into the Moscow motor show (via a metal detector to make sure you're not carrying a gun into the Crocus Expo) you're in for one of the world's biggest auto shows, at least in terms of visitor numbers.
The event organisers say that over the 12 days the show is on, there will be more than one million visitors. That puts it between Geneva at around 700,000 and Paris at about 1.4m.
On that basis the Moscow show should be right up there. But to be classed as a top-ranked motor show takes more than just visitor numbers. One of the key indicators are the number of global debuts for new models.
Headlining Moscow was the global premier of the latest Mazda 6 saloon. As the second of eight new cars Mazda is building under its SkyActive eco-banner it also forms a key part in the brand's financial recovery. Mazda is keen for the 6 to be seen as their lead model, with global president and CEO Takashi Yamanouchi describing it as the firm's flagship both in terms of size and technology.
While Russia may not yet be a huge market for Mazda, selling 40,000 vehicles or around 1.5% market share, Yamanouchi listed it as one of the three areas (alongside China and South East Asia) that would see growth in the next few years.
Alongside this, Mazda has also started building the 6 in Russia at a rate of around 70,000 a year. So having a global debut is a logical fit. And given the car will launch as an estate at the same time as the saloon, Mazda can also give the debut of the load-lugger to Paris.
Sticking with truly global debuts, Audi revealed the facelifted R8 which was more about technical enhancements than a new look (although the lights have changed). As well as a new double-clutch gearbox to replace the automated manual in the outgoing model, Audi added a new range-topping R8-plus model with less weight and more power from the V10 engine.
Keeping within the buying range of Russia's elite, Mercedes picked the show to launch the GL63 AMG. A 557hp, seven-seat SUV that's capable of 0-62mph in 4.9 seconds.
Describing why Russia was the chosen country for the public debut, AMG boss Ola Kallenius said: "With the GL63 we have a thoroughbred performance car with go-anywhere ability and that means you can have the best of both worlds. You can go anywhere in any weather, so it's perfect for the Russian market. We will reach 500 soon for AMG and AMG SUVs are the majority of that in Russia."
AMG sells around 20,000 cars a year globally, according to Kallenius, but is looking to get to 30,000 by 2017.
Also keeping the high proportion of SUV buyers happy was Land Rover with the unveiling of a facelifted Freelander. Like the Audi R8, this was more about the inside than any great visual changes including the fitting of Ford's 2.0-litre Ecoboost engine.
What was also impressive was that this was only JLR global operations director Phil Popham's third motor show of the year. However, Popham gave the impression that he'd been asked too many times when there was going to be a quicker version of the Evoque. This may seem like going off at a tangent, but given the number of aftermarket tuned versions of the Evoque that were within meters of the official Land Rover stand, it seems clear that in Russia at least there's room for a faster Evoque.
Further down the economic ladder there were plenty of higher volume models debuting around the show.
Both Opel and Nissan showed C-segment saloons, a body-style that's very popular in Russia. In Nissan's case the Almera - built at the AvtoVAZ plant in Togliatti. In Opel's case it was the booted version of the Astra.
Sitting in the B-segment, Moscow also saw the long overdue replacement for the Lada Kalina, Russia's best selling car with more than 67,000 registered in the first half of 2012.
After this, the show is more about local market reveals and, as mentioned before, the tuning companies' efforts. While OEMs may look down their noses at such companies, there's clearly a market for the cars. On the streets of Moscow it seemed that the most popular cars for tuning were BMW X6s and Mercedes G-class, but inside the show it seemed that the new favourite is the Range Rover Evoque or Nissan GT-R which came in for the most aftermarket attention.
The only way car makers had of getting away from these tuning companies, given they were sited in the same halls occupied by OEMs, was to book out an entire hall. However, the only brand to do that was Hyundai, and despite the firm's popularity in Russia – it's the fifth largest brand – there wasn't a tuned Hyundai in sight at the Crocus Expo.
What you can say for certain about the show is that, like Russia's car sales, it's growing fast. Come 2014 when the next Moscow motor show is due and it would be a foolish person who bets against it nearing must-go status for the most senior industry executives.
Tristan Young
Most popular news
---
Most popular insights
---
Oops! This article is copy protected.
Why can't I copy the text on this page?
The ability to copy articles is specially reserved for people who are part of a group membership.
How do I become a group member?
To find out how you and your team can copy and share articles and save money as part of a group membership call Shivani Hayer on
+44 (0)1527 573 732 or complete this form..