just-auto authors and correspondents
---
just-auto plus
---
Articles by just-auto plus
---
UK commercial vehicle production rises 3.6% in July
25 August 2020
UK commercial vehicle (CV) production grew 3.6% in July, according to the latest figures released today by the Society of Motor Manufacturers and Traders (SMMT), with 5,234 commercial vehicles rolling off production lines.
---
GKN Automotive appoints new head of world-leading ePowertrain division
19 August 2020
GKN Automotive, the leading global technology company, has announced Dirk Kesselgruber as the new President of its ePowertrain division.
---
Jemena inks Australia hydrogen deal
14 August 2020
Energy infrastructure company, Jemena, signed a new deal to supply Australia's zero emission vehicle industry with renewably-generated hydrogen.
---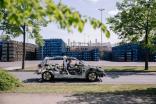 Latest issue - just-auto magazine on lightweighting
29 June 2020
The latest issue of the just-auto magazine (JAM) has arrived. We take a look at different aspects of automotive lightweighting, material use and sustainability.
---
BMW and GWM China JV factory under construction
25 June 2020
The Spotlight Automotive Factory, a JV between Great Wall Motors (GWM) and BMW Group to make EVs (including electric Minis), has begun construction in Zhangjiagang, Jiangsu province, and the project is progressing smoothly as planned, GWM says.
---
Michael Cole appointed Hyundai Europe CEO
22 June 2020
Hyundai says Michael Cole will join the European regional headquarters as president and CEO, starting 1 July, 2020.
---
Lyft: Commitment to 100% electric vehicles by 2030
16 June 2020
The year 2020 will go down in history as an inflection point for humankind. The challenges we face today, from the global climate crisis that is ravaging our planet, to the global pandemic that is ravaging our lives, to the global rage at injustice that is ravaging our communities, remind us at once that we are human, and humans make choices.
---
Leoni adjusts board of directors structure
1 June 2020
Leoni has changed the structure of its board of directors, effective 1 June.
---
Volvo Cars launches Volvo Valet maintenance pick-up service in Europe
25 May 2020
Volvo Cars launches its new Volvo Valet maintenance pick-up and delivery service across selected European markets, including the UK, following its successful introduction in the United States.
---
Midlands Future Mobility starts AV trial route
22 May 2020
Work has started on the 300km UK Midlands Future Mobility test environment, spanning from Coventry to Birmingham, which will see autonomous vehicles trialled on urban, rural, suburban and highway roads.
---
Most popular news
---
Most popular insights
---