January 2013 management briefing: World markets (3)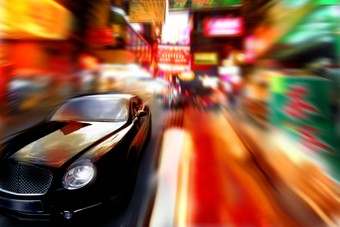 The Chinese light vehicle market is forecast to grow 10% in 2013, boosted by a stronger domestic economy
In this month's management briefing we review the latest developments and prospects for demand in the world's major vehicle markets. This instalment takes a look at two markets currently heading in different directions: Western Europe and China.
Western Europe's car market heading for further decline
West European light vehicle markets, having fallen in total by 9% in 2012, look likely to deteriorate further in 2013, with a drop in the 2-5% range. The crisis for the European economy may have stabilised in recent months, but the business environment will remain extremely challenging for the next few years, at least.
Actions from the European Central Bank (ECB) in sovereign debt markets have helped dampen down the regional financial crisis since mid-2012. Financial markets have calmed. However, austerity budgets and low-growth are major concerns. And the structural reforms needed for the long-term sustainability of the single currency have yet to be agreed. The European economy will likely continue to flirt with recession, flatline and, possibly, show signs of growth late in the year. There are some particular worries to keep an eye on. France is shaping up to have a trying year on the back of its looming fiscal challenges. An election in Italy and ongoing unrest in southern Europe due to rising unemployment could trigger more episodes of crisis and worsen the European economic outlook further. Fiscal tightening will continue to constrain economic growth and dominate political debate across Western Europe in 2013.
The automotive industry is at the heart of Europe's economic challenges as companies look to lower costs and address overcapacity in a demand environment, at home, that is far from helpful. Fiat boss Sergio Marchionne is calling for help for OEM restructuring from the EU. "The EU should act and provide support to help the industry restructure and build a growth agenda," he said in Detroit earlier this month. "Right now, too many cars are being made and we are selling them at ridiculously low prices and this can't go on forever." In 2013, a further market decline is in prospect for Western Europe's car market which is now running around a fifth down on its pre-crisis peak.
"While some European manufacturers have performed well through broad geographical diversity and strength in premium and export markets, those tied closely to the performance of European markets will find the going tough in 2013. Inventory accumulation in the context of continued overcapacity may haunt a number of European OEMs this year and beyond," says Justin Cox, Head of European Production Forecasting at LMC Automotive's Oxford, UK office.
Car sales are down furthest in the countries where the eurozone crisis and austerity budgets are biting hardest. The Italian car market, for example, was down by 20% in 2012. A full-year car market of just 1.4m units is the lowest in Italy since 1979. Germany was down by just 2.9% for the year, but it is now turning down more strongly (despite a relatively strong economy) as consumers and businesses react to the continent-wide bad economic news and uncertainties over future bailouts for eurozone economies. The UK car market has been a relatively strong performer (over 2m units for the car market in 2012), but manufacturer activity has been strong and most observers expect the UK car market to struggle in 2013 as that activity wanes.
While there continues to be fluctuation at national level, the region as a whole is expected to see a further, albeit slower, decline in 2013. Most markets will likely see a depressed first half of 2013 with some territories realising a slight recovery as economic conditions begin to improve toward the end of the year. With this in mind, PwC Autofacts is forecasting EU assembly of 15.6m units in 2013, a decline of 200k units compared to 2012.
Squeezed middle to be squeezed further
2013 will see Western Europe continuing to present something of a problem region for OEMs and suppliers. 2014 may see a recovery to demand (and volumes) as the economic situation shows signs of improvement and some pent-up demand becomes evident after such a protracted downswing. But it will be a recovery off a low base, the West European car market remaining way below pre-crisis levels. Times will be especially tough for the volume brands. They will continue to see their share under attack from above and below. From above, the premium brands will continue to have the financial muscle to add formidable niche models and variants. From below, brands once dismissed as value-driven have upped their game with better product that is very competitively priced. The economic environment adds to their attractiveness in a market where brand loyalty continues to break down. It's a trail that was blazed by Skoda and is now being happily followed by Hyundai and Kia. Expect to see Renault's low-cost brand Dacia increasingly joining the party, Chinese and Indian OEMs also beginning to make their presence felt. And as the Japanese OEMs come under more pressure in China, they will ramp up efforts in other parts of the world, including Europe, helped by a more competitive exchange rate.
| Western Europe car market | | |
| --- | --- | --- |
| Selected shares % | 2001 | 2012 |
| Groups | | |
| Fiat | 9.6 | 6.5 |
| Ford | 8.8 | 7.6 |
| GM | 10.2 | 8.2 |
| PSA | 14.4 | 11.9 |
| Renault | 10.6 | 8.5 |
| VW | 18.9 | 24.7 |
| BMW | 3.7 | 6.4 |
| Japanese brands | 10.4 | 11.5 |
| Korean brands | 2.8 | 6.1 |
Source:ACEA
China: 10% vehicle market growth in 2013 widely forecast
Although China's vehicle market has simmered down in recent years, the outlook for 2013 looks upbeat with a high degree of consensus among forecasters that market growth of around 10% is likely. The Chinese economy has slowed in line with Beijing's aims and there are tentative signs that demand will pick up next year as China's economy and manufacturing sector is increasingly driven by rising domestic demand.
China's economy, the world's second largest, is showing real signs of a rebound in recent months. According to the latest official data, economic growth picked up to 7.9% in the final three months of 2012, from 7.4% in the previous quarter. China's economy, underpinned by fiscal stimulus, should once again be achieving growth rates of close to 9% by the second half of 2013. Beijing has made it clear that it will underpin the economy with capital spending to boost growth.
In the automotive sector, replacement demand for vehicles will be building from the sizeable markets of 3-4 years ago. The spread of vehicle sales from so-called tier 1 cities to the tier 2 and tier 3 cities continues. The worst of the risks associated with the real-estate boom may have passed, even if they are not gone completely. The professional forecasters acknowledge the short-term risks associated with the global economy and its impact on China's economy, but also point out that China's economy is in transition and that domestic consumption is rising.
According to data issued by the China Association of Automobile Manufacturers (CAAM), Chinese vehicles sales increased by 4.3% to 19.3m units in 2012. CAAM forecasts that total vehicle sales in the world's largest market will rise by around 7% this year to 20.65m units.
CAAM puts vehicle production in China last year at 19,271,800 units, an increase of 4.6% on 2011. Production of passenger cars was 15,523,700 units, an increase 7.2% on 2011; the output of commercial vehicles was 3,748,100 units, a decrease of 4.7% compared with the same period of last year.
For 2013 CAAM forecasts that passenger vehicle sales will grow 8.5% to about 16.8m units, while commercial vehicle sales grow by just 1% to around 3.85m units.
China light vehicle sales (including imports) rose year-on-year by 6.2% to 19.1m units in 2012, which was higher than the annual growth rate of 4.4% in 2011, acccording to LMC. This improvement, LMC maintains, was largely due to the phase-out of pay-back effects from the booming car sales during 2009-10, particularly in the light commercial vehicle sector. With the anticipated more favourable economic environment in 2013, the light vehicle market is expected to reach 21m units in 2013, a 10% increase over 2012.
John Zeng, LMC Automotive's Asia Pacific Director in Shanghai, also sees a favourable political cycle. "With a change in political leadership being formalised in early 2013, the positive impact of the political-business cycle should provide support for vehicle demand. The sales momentum that started to rebuild in Q4 2012 also indicates a good start for the light vehicle market in Q1 2013".
Forecasters at IHS Automotive expect the Chinese passenger car market to expand by around 11% this year.
China comes with risks
There are though some risks associated with the Chinese economy and automotive sector. A still uncertain global outlook and rising inflation could upset the economy and constrain the vehicle market. There is also a risk that the Chinese government will launch stricter measures to limit the number of the vehicles in major cities in order to curb worsening air pollution, LMC warns, implying some risk to its base line projections.
Other China watchers note the unprecedented scale of the migration to the cities over the last ten years and wonder if the country could face a broader political crisis if the economy slows and unemployment rises. Such political risks are a constant factor in China, but the government has proven very adept at managing economic growth, managing the regions and also containing elements of dissent, while allowing greater freedoms - in some areas - at the same time. It has presided over an unprecedented rise in living standards for many. Keeping the rising urban middle classes happy, as well as the increasingly aspirant urban workers who are the bedrock of China's manufacturing sector, will be a key challenge for the next ten years.
Domestic brands under pressure
The big winners in the Chinese market in 2012 were the foreign companies in big local joint ventures including VW, GM and Hyundai. Local makers struggled to hit annual sales targets set at the beginning of the year. However, China's 'big three' JVs –FAW-VW, Shanghai GM and Shanghai VW– all managed to hit their sales targets last year. However, there was some relief for the domestic brands provided by the crisis that hit the Japanese automakers, sparked by a bilateral diplomatic spat between China and Japan.
While the European, American and Korean car makers (Koreans also benefiting from new model introductions) all gained market share in 2012 at the expense of the Japanese brands, the biggest beneficiary in the long-term may be Chinese companies.
It is still too early to say how permanent the damage done to Japanese brand sales will be in China, but the impact of recent months suggests that it's far from being a short-lived impact. For the next twelve months, however, the impact will be significant.
Toyota has said it expects to sell 200,000 fewer vehicles in China in the second half of its fiscal year. Nissan now expects to sell about 1.18 million vehicles in China this fiscal year (to end March 2013), down from a previous target of 1.35m units.
For now, non-Japanese automakers are benefiting from the sales slump of Japanese cars. There are concerns over longer-term impacts. For example, investment in China's components industry from Japan could suffer as Japanese companies look to invest in other parts of Asia. And trade between Japan and China in automotive parts could also be hit and there could be supply-chain issues that would impact the Chinese automotive sector generally.
Source:LMC Automotive
Source:LMC Automotive
See also:
January 2013 management briefing: World markets (1) - Global overview and US analysis
January 2013 management briefing: World markets (2) - ASEAN markets
Most popular news
---
Most popular insights
---
Oops! This article is copy protected.
Why can't I copy the text on this page?
The ability to copy articles is specially reserved for people who are part of a group membership.
How do I become a group member?
To find out how you and your team can copy and share articles and save money as part of a group membership call Shivani Hayer on
+44 (0)1527 573 732 or complete this form..