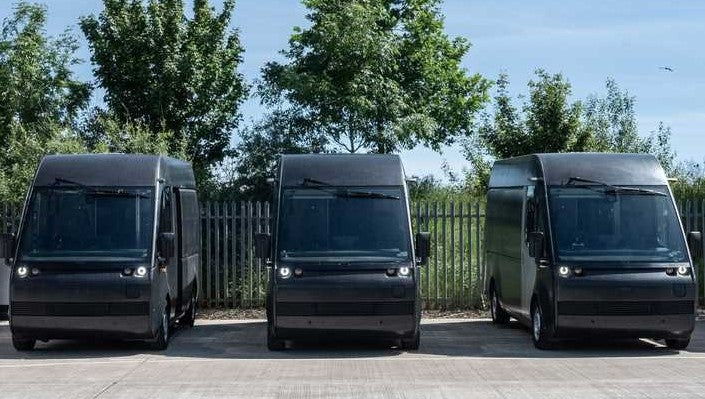 Arrival is a UK-based electric vehicle developer that began operations in 2015. The company is preparing to launch four battery EVs over the next few years. The first of these is an electric bus due to start production at the end of 2021, with a large van, a small van and a passenger car following later on. The company claims to have competitively priced its offerings to compete with combustion vehicles, and says total cost of ownership will be much lower.
It began as the brainchild of Russian entrepreneur Denis Sverdlov, the former CEO of Yota, a Russian broadband company. Beyond its London headquarters, Arrival also has a second HQ in Charlotte, North Carolina, and an R&D location in Banbury, UK. Arrival is not aiming to open large centralised production facilities but, instead, is planning to build its vehicles across a number of small 'micro-factories' to reduce start-up time and improve company agility.
Considering its first models are squarely aimed at the commercial vehicle sector – the first will be a bus, followed by a van – Arrival will be selling vehicles in an increasingly competitive segment. Bus makers including BYD and Daimler have already introduced a number of electrified options, and groups including Stellantis and Renault-Nissan have already launched electrified vans for local delivery routes. Arrival aims to beat out these rivals thanks to its vehicles having a less compromised 'clean-sheet' design.
Funding
Arrival may have only existed for a few years but it has already attracted some big-ticket investment from automotive and other industries. Most notable among these is a $100 million investment announced at the start of 2020 from Korean automaker Hyundai. This opened a strategic partnership between the two companies that will see both Hyundai and Kia make use of Arrival components and technologies to electrify their vehicle fleets. Arrival, meanwhile, will benefit from the sheer global footprint and economies of scale achieved by Hyundai.
Like many startups in the electric vehicle space, Arrival has been keen to take advantage of bubbling investor hype in the sector. This excitement is driven by novel companies such as Tesla, which have been able to enter and significantly disrupt the automotive industry despite the extreme barriers to entry. Tesla has been rewarded for its bold strategy with a company valuation that far outstrips its current revenue, driven instead by the promise of even larger sales numbers in the future. Some investment funds seeking 'the next Tesla' have provided a route to public listing for these EV startups through merging with Special Purpose Acquisition Companies (SPACs).
Arrival, itself, merged with CIIG Merger Corp in March 2021 to list on the Nasdaq. The public listing brought $660 million in gross proceeds to Arrival to help continue its plan to build production volume and launch new models. After the listing, the company's valuation stood at around $13 billion, a drastic increase compared to the $5.4 billion valuation it had received in November 2020.
In January 2020, Arrival agreed a deal with US-based logistics company United Parcel Service (UPS) to supply the firm with 10,000 custom-built electric delivery vans. UPS retains the option to increase this order by another 10,000 units in the future if required. Currently, Arrival claims to have more than $1.2 billion in total existing orders – it predicts that the company will become profitable by 2023 with revenue reaching $14.1 billion by 2024.
Production
Something that sets Arrival apart from competitors is its decision to pursue a micro-factory strategy. These facilities are smaller, cheaper and quicker to set up than a full-scale factory and can be built in close proximity to their ultimate end users. Arrival says this approach allows the company to be more adaptable than rivals, better able to change according to the needs of its customers.
Where a typical auto factory will take years to build, with huge reserves of cash needed, Arrival says its factories can be set up to produce vehicles in as little as six months after starting construction. This means lower production volumes are needed for each factory to become profitable, and makes it easier for something in the vehicle's design or the production process to be changed in response to customer needs. Similarly, each Arrival vehicle factory can be adapted to better serve its specific local customers with purpose-built vehicles thanks to its enhanced agility.
Arrival points to its vertical integration as a particular strength. The company notes that many rivals use branded core components to save on R&D costs but Arrival says this means components can end up costing the OEM more over the lifetime of the supply agreement. With Arrival's approach, the company has designed most of the core components itself and expects that 60% of its upcoming electric van's components will be vertically integrated within the company.
It has also focused on recyclability across the vehicle life. Among its many innovative processes is to outfit its models with poly-propylene (plastic) body panels. These panels are quicker and easier to mould than metal panels and, crucially, are produced in their finished colour – this means the factory can omit the paint shop from the production line, saving space and time during a vehicle's construction. The panels can be fully recycled if they are damaged or the vehicle reaches the end of its service life.
Vehicles
So far, Arrival has announced a four-vehicle lineup that is planned to gradually roll out over the next two years. The initial focus of the company's production will be commercial vehicles but it could diversify into other light vehicle types later on.
The first model due later in 2021 is a single-decker electric bus. Arrival says the bus will offer space for between 80 and 125 passengers and will feature a range of between 150 and 250 miles depending on battery size. First Group, a UK-based transport company has stated that it will trial the Arrival buses later in 2021, in line with its announced strategy to no longer buy diesel buses after 2022 and fully eliminate exhaust emissions by 2035. The Arrival bus will face competition from a number of rivals including the UK's ADL which has a JV agreement with China's BYD to manufacture electric buses in the UK.
Following the bus will be a pair of vans – one slightly smaller, the other slightly larger – aiming to start production in the second half of 2022. The smaller model offers a payload of up to 2,000kg with a range of between 93 and 211 miles depending on battery size. The larger version increases payload up to a maximum of 4,000kg and, thanks to the longer wheelbase, can fit more batteries under the chassis for a range of up to 250 miles.
While battery details have yet to be fully confirmed, it is expected that Arrival will use cylindrical Li-ion cells manufactured by LG Energy Solution. Reportedly, all Arrival vans have the ability to use DC fast charging at a rate of up to 120kW – typically enough for an 80% charge in less than 40 minutes. Finished production Arrival vans are likely to be very similar in design and construction to the nine prototypes delivered for assessment to the UK's Royal Mail in 2017, or the 35 prototypes given to UPS to test across Europe in 2019.
Arrival's fourth concept is a light passenger vehicle. Considering companies such as Tesla have seized huge swathes of the electric passenger vehicle market, Arrival isn't going to muscle in on the Californian company's territory. Instead, Arrival's passenger vehicle is clearly aimed at fleet buyers and, to that end, it established a partnership with ride-hail giant Uber in May 2021. The partnership will see Arrival develop an electric vehicle designed in collaboration with Uber's drivers and purpose built for their use. Arrival notes that a typical ride-hail vehicle covers around 30,000 miles per year, far more than the 7,500 covered by the average private vehicle, so comfort and utility are crucial. Arrival says the vehicle will offer a range of up to 186 miles and aims to start production in the second half of 2023.