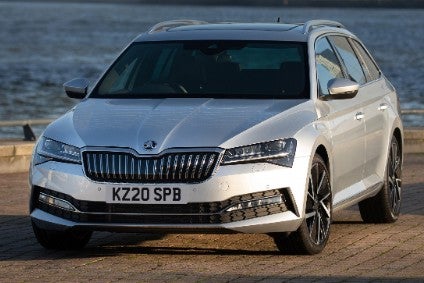 Škoda's has many electrified models on the way, including the Kodiaq iV, Octavia iV and Octavia RS iV petrol plug-in hybrids, with the fully electric Enyaq iV due to join the Citigoe iV. This armada is being led by the company's biggest, most expensive car, the Superb, in 1.4-litre iV form.
You can have the Superb iV as either a hatchback or an estate but so far at least, there isn't a plug-in hybrid Scout – perhaps that will come later should Škoda see a market opportunity in Europe. The PHEV option is also only for Superbs which are manufactured at Kvasiny, SAIC Volkswagen's Nanjing-made hatchback not (yet) being available with the new petrol-electric powertrain.
The Czech plant, currently off line, began making the brand's first plug-in hybrid at the end of September last year. Series production didn't get fully underway until year end, which was then followed by build for right-hand drive markets. UK deliveries commenced at the end of January. As at mid-February, which was the last time that Škoda reported progress, some 2,000 examples had been produced.
Putting this model into Kvasiny entailed extra spending in various parts of the factory. For example, the production line was fitted with a feeder for chassis frames and high voltage plus 12V battery handling machines. The welding shop also saw changes due to PHEV cars having a differently shaped floor (to accommodate the additional battery). Škoda also created a new training centre and says 5,500 workers underwent instruction in the multiple facets of being prepared for a new era of making plug-in cars. This facility, where 9,000 people work, also produces the Kodiaq and Karoq. In 2019, a record 320,000 vehicles were made at Kvasiny.
It's perhaps strange that the company chose two older vehicles as the first applications of electrification. The Citigo has being around since 2011 and the existing generation Superb since 2015. The PHEV variants were part of the novelties when Škoda announced a facelifted Superb range for European countries in May last year, a raft of updated engines and the addition of a Scout being the other main news.
The new plug-in Superb has total horsepower which differs from all but one of the Volkswagen Group's other models which also use the 1,395 cc petrol engine and motor combination. In the Golf, there are two options, these being the eHybrid and GTE. In the first of the pair, the engine produces 115 kW while the motor's output is 75 kW. Combined power is 150 kW (204 PS). The GTE's equivalents are 110 kW (150 PS) and 250 Nm from the engine plus 85 kW (115 PS) from the motor, making a total of 180 kW (245 PS) and 400 Nm.
Volkswagen will continue to roll out the various specifications of its 1.4+motor PHEV powerpack. Already, the new SEAT Leon eHybrid has been announced with the same powertrain as the Golf eHybrid, while the Cupra eHybrid has identical power and torque to the Golf GTE. Two forthcoming Škodas will also be fitted with the 204 PS and 245 PS powertrains, these being the Octavia iV and RS iV. All these cars are front-wheel drive only. We can expect to see identically powered plug-in hybrids in the new Audi A3 Sportback (badged TFSI e) later in 2020 too and maybe also for China's yet to be announced A3 L.
Škoda has been given a version of the 1.4 TSI petrol engine and electric motor combination which delivers a combined 160 kW (218 PS) and 400Nm. The Passat GTE has the same numbers. The maximum range using reserves from the battery is 56 km/35 miles (WLTP cycle) and the company claims up to 930 km or 578 miles can be covered when combined with the petrol engine. The official C02 rating is 34 g/km (NEDC). Zero to 62mph takes 7.7 seconds, top speed is 138 mph and the only transmission is a six-speed DSG.
A week with the Superb iV showed how refined the new powertrain is, and also that the officially stated fuel consumption is if anything, not as good as what owners should expect. Even with that heavy battery pack, the big Škoda delivered an average of 43 mpg and I wasn't trying to drive especially economically.
Perhaps it's because the engine is so small that the extra heft of the battery isn't something you notice, the overall handling being as good as if not better than other (pre-facelift and engineering tweeks) Superbs I've driven. The silence on take-off is always one of the best things about any hybrid and try as I may, there was no chance of hearing or feeling any unpleasant shunting through the driveline from the DSG or engine when giving the throttle pedal a hard push.
The test vehicle was in high end L&K specification and aside from metallic paint, a GBP 595 extra, you wouldn't want for much else in what is a true luxury-spec car. That does come at a cost though, this one having an OTR of GBP 38,960. If that's too much, L or Sportline Plus model grades are much less.
I can see the iV doing a lot of good for Superb sales, once the European market bounces back from its current terrible woes. It won't be anything like the 69,215 delivered in 2019 yet even at half to two thirds of the volume of last year, this big hatchback and estate would surely remain a good profit earner for Škoda. Add China (24,667 locally built hatchbacks in 2019) to that and it's clear that the money to be made from perhaps as few as 75,000 cars in 2020 will not be insubstantial, and likely much needed.
Ten+ iV models: what's next?
When revealing the name of the Enyaq two months ago, Škoda told us there would be "more than ten electric models that will be launched under the iV sub-brand by the end of 2022", adding that "by 2025", the expectation is that EVs and PHEVs would account "for 25% of [worldwide, presumably] sales". Looking at that tally, the known ones are Superb, Octavia and Kodiaq plug-ins, plus the electric Citigo and Enyaq. What might the remaining vehicles be?
A mid-life facelift for the Karoq should arrive in 2021 along with perhaps a PHEV, a new Fabia is due in 2022, and Europe's Kamiq and Scala should be facelifted and gain updated powertrains in 2023. Other possibilities include an electrification option for India's forthcoming MQB-AO-IN-based Rapid successor and 'Kosmiq' (small SUV), plus the same for China's Kamiq (it's different to the model sold in Europe) and Kamiq GT. It might instead or also be the case that a Škoda version of the VW ID.3 or yet to be seen ID.2 arrives some time after 2022, which is also when the replacement for the Citigoe and VW's ID.1 equivalent are due.
The Superb iV was borrowed from Škoda UK and driven before travel restrictions had been announced. Pricing starts at £34,755. Trim levels are L, Sportline Plus and Laurin & Klement.