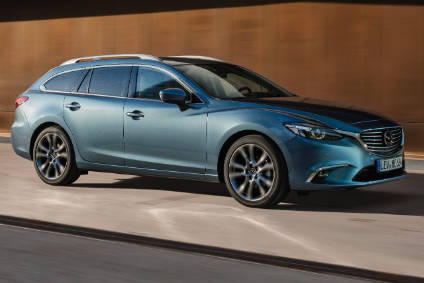 Mazda sells more cars in Europe than either JLR, Suzuki or Honda, but has no factory in the region. Now its models are becoming increasingly premium, with the 2017 model year Mazda6 a good example of that. What is the company's secret recipe for this success?
Where Mazda does best
The UK is Mazda Motor Europe's second largest market, with year to date deliveries now numbering 44,498, a rise of three per cent, which is a touch above the average overall gain. The main brand which Mazda is now outselling is SEAT (44,108), but Volvo too has had fewer sales in 2016 than the Japanese make, which was also the case in 2015.
The 6 proves that you don't have to be an Audi or even a Volkswagen to compete in the European D segment. As long as there is a stylish and roomy estate body style and, to a lesser extent, a sedan too, rather than a hatchback, a decent amount of sales volume is possible.
In Germany, MME's top market, more than 58,000 Mazdas were sold in the eleven months to the end of November, making this a much more successful brand there than Kia (55,800) or Peugeot (52,757), while Suzuki (28,876) has sold fewer than half as many cars. Given pricing levels, Mazda will likely be far more profitable than any of these makes.
The country where MME has its headquarters is also the largest in the European region for the Mazda6, with 6,165 cars delivered so far in 2016. The newly released 2017 model year range should help push the total towards the 7,000 mark by year-end. It's obviously not a great amount of volume but it's more than these other D segment models have achieved in Germany: Volvo S60 & V60 (4,815), Hyundai i40 (4,679), Renault Talisman (3,625), Jaguar XE (2,637), Toyota Prius (2,160), Citroen C5 (1,465), Peugeot 508 (1,274), Kia Optima (1,235), Subaru Legacy (741) and DS 5 (466). The DS is similarly hampered to the Jaguar, Prius and Legacy, by not being available as an estate.
There is some fascinating reading in looking at comparative numbers for a handful of other albeit unrelated models, underlining how successful Mazda's biggest sedan and wagon range truly is: Citroen C4 Cactus (5,250), BMW 7 Series (5,034), Audi A7 (3,063) and Audi A8 (2,532). The 6 is not that far behind the Mercedes S-Class, which has crashed to only 6,355 German market deliveries in 2016*.
A Passat's door handles don't do this
What makes this such an appealing car? Many factors, but oddly enough, the worst thing about the Mazda6 happens when you open any of the doors and then release the handle. The first impression, which is the beauty of the styling, is instantly spoiled by a clang. It sounds cheap and needs to be fixed ASAP. A bit more sound deadening material inside the doors would do the trick.
Once inside, the elegant lines of the exterior thankfully continue to the dashboard, instrument pack, seat shapes and door trims. Toyota, a minor shareholder in Mazda Motors, could do with sending its interior styling teams to a studio where they would study the simplicity of Mazda interiors. There is no fuss, all the shades of trim complement one another, plastic panels line up perfectly and pulling a door shut gives off a solid-sounding thunk, despite this being a light car for its class (1,493kg as tested).
Is Mazda the new Honda?
Mazda's secret lies in a consistent look for all models, clear branding and great looking showrooms. In many ways, it has become what Honda Motor Europe once was. Long gone are the days when HME sold 300,000 cars in the region, its volume having dropped to around half that level. MME, on the other hand, saw its sales rise by 15 per cent over the ten months to the end of October, to 205,184 vehicles.**
Underlining just how much MME punches above its weight, Mazda China, which has had a strong 2016, its sales rising by 17 per cent, sold fewer (219,858)*** cars than the European division.
Specs, dynamics, size
The vehicle lent to be was fitted with a 165PS 1,988cc four-cylinder petrol engine, linked to a six-speed manual gearbox. The throw between ratios was so much better than the heavy, sometimes, baulky changes you can suffer with some German cars in this segment: this is the brand which brings us the close-to-perfection MX-5's manual transmission, let's not forget.
Torque, at 210Nm, isn't generous but against that, the petrol engine revs so freely, you're constantly surprised that this is a sensible-shoes family estate. There are only 2.57 turns lock to the lock from electric-assist steering, while the car I assessed was on 19-inch wheels. Its ride was none the worse for that. The 0-62mph time is 9.1 seconds and top speed is 133mph.
Boot capacity is 522 litres with the easily-folded rear seats in place. As mentioned in last year's piece on the facelifted range, the wagon is in fact shorter and its wheelbase less lengthy than the sedan. That means 4,800mm from bumper to bumper and 2,750mm between the wheelarches (4,865mm and 2,830mm for the saloon). This anomaly is likely explained by the Russian and US markets having requested a big car, while the estate is sold mainly by MME, whose customers' garages and parking spaces tend to be on the compact side.
Production: three plants worldwide
Mazda builds this car at Hofu No. 2, production having commenced in 2012, the wagon arriving a few months after the four-door.
There are a couple of unusual engineering features for both bodystyles, one of which is the existence of what the company calls 'i-loop'. This is a marketing term for capacitors which store energy to run electrical systems when the engine is in stop-start mode.
The capacitors are supplied by Nihon Chemicon Corporation. Mazda says it takes only ten seconds for them to be recharged, and they absorb a higher percentage of the energy generated as the car decelerates than batteries. These components are also not as heat sensitive as certain kinds of lithium ion cells, which means the capacitors can be located inside the engine compartment, under one of the headlights.
Japan is not the only country where the 6 is manufactured, OJSC Sollers building it and other Mazda models at its Vladivostok plant in Russia's Far Eastern Federal District. The sedan is also made in China, the FAW Car Co., Ltd. (FCC) factory in Changchun having been building it since 2014. All three sites have manufactured facelifted cars since 2015, and should do so until the next generation model arrives in 2017 or 2018.
GVC – new for the 2017 model year
As noted in the picture caption, G-Vectoring Control is new for the 2017 model year, these cars having been rolled out worldwide since October. GVC is said to integrate control of the engine, transmission and chassis "to enhance the connection between car and driver". The most obvious thing it does is to vary torque so that each of the driving wheels maintains maximum traction.
As luck would have it, the week I spent with the MY 2017 estate saw a fair bit of rain and that leafy mulch which usually appears in October but which came late late in this still warm autumn.
Mazda reckons GVC is monitoring steering and throttle position as you accelerate into a corner, and it will momentarily reduce the amount of torque delivered to the front wheels. What that does is allow a fraction more weight onto the front axle and therefore a reduction in torque steer. Cornering does feel a bit flatter than in some floaty rivals and you definitely don't have to make those small steering corrections which are normal with large-ish front-wheel drive family cars.
The engine line-up is carried over for the 2017MY cars, which means the 2.0-litre petrol unit is still available in 145PS or 165PS forms, and the 2.2-litre diesel comes with either 150PS or 175PS.
The diesels have been slightly re-engineered to give off less noise, and backing that up is improved sound insulation. That includes laminated front side windows, the adoption of upgraded door seals, tighter tolerances between panels and sound deadening materials added to the underbody, rear console, headliner and, apparently, doors. Well, if that's really the case, a bit more is needed.
New engine tech for next model
The fourth generation of this sedan and wagon range should use an evolution of the existing architecture which Mazda has moved almost all of its vehicles onto. Build will again be in Japan, China and Russia. The company will offer the four-door car with a diesel engine as well as four-cylinder petrol units in the US market.
The next 6 (Atenza in Japan) could also be Mazda's first car for the homogenous compression engines which the company says it is working on and which will be available in 2018/2019. When these hit the market, there should be a big improvement in fuel economy, even though the existing model is hardly a hard-drinker, the 165PS engine delivering a Combined average of 47.9mpg. CO2 is 136g/km.
*Source: KBA **ACEA ***CAAM