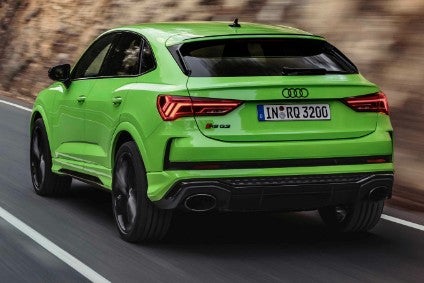 It's a terrible time to be launching any high priced, high performance SUV. Still, the importance of the Q3 Sportback including its RS derivative are clear. They're part of a raft of additional models which includes the e-tron Sportback and later this year, a Q5 Sportback. Has Audi found a lucrative set of new niches?
After announcing the RS Q3 Sportback, the fastest, top-spec variant of what we can think of the Q3 Coupe, Audi was playing catch-up with BMW and Mercedes. The company terms this a 'compact SUV coupe' and that's exactly what the rival X4 and GLC Coupé are.
This new RS should be going into battle with the X4 M and Mercedes-AMG GLC 43 Coupé and 63 GLC Coupé. Technically it isn't though. That's because sizing puts it out of sync with both: they're more than 4.7 m long versus 4.5 for the Audi. Ah, but what about the Mercedes-AMG GLA 35 and 45? Yes, they're closer at 4.4 m, while the GLB 35 and 45 are 4.6+ m.
Complicating matters even further, the RS Q3 Sportback has a decidedly offbeat engine. Which I would guess Audi's marketing people would accuse of being the dreaded and these days, stripped-of-meaning through overuse i-word. I suppose we could indulge them, given the motorsport heritage: yes, the five-cylinder turbo probably is iconic. This latest example is also the least polluting yet, as mandated by Euro 6d Temp regulations, average C02 emissions being CO2 emissions being 204 – 202 g/km.
The 2,480 cc in-line five boasts power and torque of 294 kW (400 PS) and 480 Nm (354 lb-ft). What those numbers don't show is how much it welcomes a hard mash on the throttle pedal, quickly revving up to 7,000 rpm and making the most delicious noise in so doing. All changes from the seven-speed S tronic (DSG) are silky.
The RS Q3 is almost frantically fast, the 0-62 mph time of 4.5 seconds failing to convey how free of any hint of wheelspin that launch is, no matter what the surface. And if you assume the top speed is at least 250 km/h (155 mph), you'd be correct: that's where the limiter is said to intervene.
Differences in the RS' appearance compared to lesser Q3 Sportbacks include the obvious suspension drop as well as 'pronounced muscles over the wheel arches, which have been flared by 10 mm' to quote the official description, as well as huge black wheels and tyres. Other touches include a glossy black grille which extends deeper into the front end, boomerang-shaped elements in the bumper, black mirror housings and similarly dark slices of plastic attached to the car's sides. Oh, and not one bit of shiny-silver plastic.
Audi has specified body-colour for the wheelarch extenders and to me, that was the correct choice as wet-look black would be too much. The overall effect is arresting, especially when viewed from the front, and the RS Q3 Sportback looks far more distinct from the RS Q3 than the image above suggests.
A 45 mm lower roof line is the big reason why this model has a character all of its own but when it comes to the interior, other than a ceiling which is closer to the occupants' scalps, this is the same as what you'll find peering into an RS Q3. No need to change anything either as this is Audi design at its best.
There is just the right amount of red detailing throughout the cabin to set off the black everywhere else. That extends to double stitching on the seats in a honeycomb pattern to match the shapes on the grille, the same colour as the default for all illumination. Some rather less subtle but still tastefully applied fire engine red Alcantara panels on the tops of the front seats also feature. Overall, it looks very cool and fittingly expensive.
As with the similarly bonkers-fast VW T-Roc R which I recently wrote about, it's easy to dismiss the Sportback as an irrelevance. Surely anyone who wants a vehicle such as this would go for an RS Q3? Yes and no. One of the main benefits in choosing what might appear to be – from the roofline – a less than commodious small-ish SUV instead of a saloon or hatchback, is the boot. Thanks to an especially deep floor, albeit due to the lack of a spare tyre, volume is an impressive 530 litres, which can be extended to 1,400 via dropping the back seats.
As well as loving cars, riding a road bike is another passion and lately, it's more enjoyable than I can ever recall it being during any spring up here in the northern hemisphere. Main roads which are normally beset by noisy trucks and constant car traffic (including me, most days) are now near-silent. Another wonder is mercifully few animals injured or slaughtered by vehicles, which also means fewer squished hazards on what has become my daily exercise route. Was it only a few weeks ago that this was a 50mph functional drive rather than a breezily joyous and scenic five-mile ride from my village to the supermarket.
Aside from serendipitous birdsong, virtually zero cars and hardly any decomposing foxes or pheasants, the increasingly rare sound of five-cylinder engines has, thrillingly, been heard twice in as many days. Today, I found myself in a 20 mph zone following an XC70 from perhaps 2005 with the distinctively thrummy beat of Volvo's in-line five. And on Wednesday, an equally antique estate, this one a Mercedes E 270 CDI, was about to pull out of a driveway, its pleasingly fast cold-start idle clearly audible. So rare are such engines now that each sounded positively exotic. Yes, even the rattly Daimler diesel which its owner will have been puzzled to notice was a head-turner to a cyclist.
Five-cylinder engines were never everywhere in Britain but 10-15 years ago they were certainly not unusual as the default choice for buyers of Volvo estates and SUVs, the D5 offering a compelling mix of economy and torque-for-towing. Now in 2020, the Volkswagen Group's 2.5-litre boisterous petrol turbo five is an altogether different animal. And it should be celebrated, as the layout and distinctive exhaust note are exotic in a world of mostly samey-feeling and sounding four-cylinder engines.
No inline five-cylinder diesel has ever revved as hard as this one will either: it's a total treat for the ears, and 400 horsepower in a small and not overly weighty SUV with a well tethered body means lots of thrills. If only I'd known back in March that the pleasure of being able to go driving for the sake of it, along with assessing the car for this review, would soon become verboten.
The unspeakable horror that the virus has visited upon so many and those who grieve for them has to be acknowledged. So too does the hope that relatively soon we will all be able to move about freely again, if more slowly and cautiously. I for one cannot wait to appreciate even more than I had done, my freedom, and the buzz and privilege of driving super-fast cars such as the RS Q3 Sportback. Not to mention an even stronger appreciation and fascination for the car plants and the workers who toil there (Györ in Hungary in this case) bringing incredible machines such as this one to life as signs of a cutting edge European industry which will thrive again, eventually.
The RS Q3 Sportback, which is priced from GBP51,605 before OTR costs and options, was borrowed from Audi UK and driven before travel restrictions had been announced.