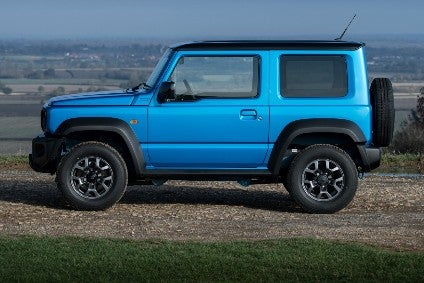 Not even Suzuki's tiny Hustler SUV manages to look as tough and cute as the equally dinky Jimny. Whereas the former comes only in 660cc mini-vehicle form and is therefore hard to find outside Japan, 1.5-litre ladder-frame big brother is available in Britain, albeit via a long waiting list. So why aren't other car makers in this segment?
There are strong reasons for the absence of Jeep, Mercedes-Benz, Land Rover, Haval and other brands famous for one or more well known 4x4s from the class of one which the Jimny defines. Its maker has an obsession with preventing even the smallest non-vital cost entering the engineering and manufacturing processes. Which means Suzuki can make strong returns from low-price little'uns while bigger OEMs remain unable to see how that could be possible.
Dinky SUVs – going large in India?
Not even M&M or Great Wall have sought to try their luck with an A-segment old-school 4×4 in their home markets. That says much. Such a vehicle would be a perfect fit for the Mahindra or Haval brands but inevitably, the business case might not be there due to any number of perceived risks. Maruti Suzuki India Limited (MSIL) will probably hammer home its advantage next year by creating a long expected, Jimny-based successor for the locally manufactured Gypsy. If that happens, Britain would be an obvious export market.
America? China? Neither.
What has already been achieved by the company's little ladder-frame SUV should remind us that Suzuki Motor Corporation (SMC) itself is a great example of a car maker which others could emulate. The modest-sized firm has no presence in the USA or China, having left both of those giant markets. And no intention of returning to either. Instead, this fairly conservative OEM long ago saw what it needed to concentrate on in order to thrive: cost control. Then picking a few key markets and studying them constantly to maintain an enviable sales and profits momentum. Also, offering vehicles which not even super-smart rivals such as Hyundai Motor India, a distant number two to MSIL, can match.
Maruti – SMC's secret sauce
The stroke of genius which was getting heavily involved with the then small and federally protected Indian market decades ago is something which General Motors, Ford, FCA, Nissan, even Toyota wish they had done. None has been able to make much headway and now GM is gone, with Ford scaling down its own interests in favour of an alliance with Mahindra & Mahindra.
Some might at this point be saying ah yes but the big guys will also be greatly relieved that they have little exposure to what can correctly be called a collapse of economic confidence in India over recent months. Yet is there any sign of panic from the market leader as vehicle sales remain in a deep hole? No, although SMC did recently tell shareholders that the downturn is causing challenges for what it wants to see in fiscal 2019-2020.
Looking to the positives beyond the here and now, controlling 50 per cent of India's passenger vehicle sales places Maruti in prime position for an eventual bounce. And unlike Subaru, which would be hit hard if the US economy suffered as deep a slump as the one which happened a decade ago, Suzuki would never risk having one main national source of vehicle sales. And a sole driver of income. As with Honda, SMC's two-wheeler business has always been just as important to shareholders as the cars side of things.
Japan – sales rising even as population shrinks
India might be a tough place to be selling SUVs, cars, LCVs and CVs just now but it's a different story in Suzuki's home market. There, deliveries hit record levels in the most recent month for which SMC reported data. It's all about careful planning and having the right products in place. But more than that, engineering them well, concentrating on high quality so as to minimise recall repair risks, and not spending one yen more than it has to in every area of the business are equally vital. Such caution has served this firm well. And lately, the brand is in the unusual position of being a low-price make with a waiting list for one of its key models.
Every vehicle maker which has bought and stripped down a Jimny or two, seeking to discover all the secrets, will have inevitably learned the same thing. Which is that there isn't really anything terribly special about the little four-by-four. Other than Suzuki not messing with a formula which made the previous iteration so cherished.
Jimny – what's to love?
I know two car journalists who have bought the new-shape Jimny and they both love their teeny rides. Me, I wasn't sure what I'd be feeling after a week of driving one, mostly because its decades old predecessor was, like the L316 Defender, fun for a few hours but had safety issues I could not ignore.
Happily, it took less than a day to be won over by the new Jimny. All the penny-pinching that you soon see in this vehicle only makes you admire its maker even more. And the spend-as-little-as-we-can mantra seems unlikely to have any effect on longevity. Indeed, the press vehicle, which was a year old, looked new in every way. Normally manufacturers and importers turn their test fleets around after three-nine months; sooner if the vehicles are stacking on the miles.
A waiting list for a Suzuki? Yes really.
Why was this one so aged? That's to do with Suzuki UK taking pains not to upset customers who have paid deposits and are patiently awaiting a build slot and delivery date. All production takes place at one factory in Japan but as noted above, that may change in 2020 if Maruti gets involved too.
The latest generation of this 3,480mm long four-seat 4×4 might seem new still yet it was announced in July 2018. Production in Japan had just commenced at that point. One month later, SMC's Indonesian subsidiary announced at the Jakarta motor show that where would be local assembly at the Tambun factory. And whereas the long-lived previous model had been manufactured by SMC at Iwata, the current Jimny is built at Kosai, the Japanese plant also being the source of those kits for Indonesia.
Jimny and Jimny Sierra
There are in fact two versions of this little SUV, an even narrower one than what is exported being available in Japan. There, it fits within the specifications of the Kei mini-vehicle class. The Japanese can also purchase the wider model with the four-cylinder engine but the name is different in the home market: Jimny Sierra.
The narrow-body one is powered by a 660cc (R06A) three-cylinder turbo petrol engine, with a 1,462cc four-cylinder alternative (K15B) reserved for the Jimny Sierra (Jimny in export markets). Both engines are offered with the option of five-speed manual and four-speed automatic transmissions.
As well as the solid rear axle, there are drum rear brakes and recirculating ball steering (low-tech components are also low-cost), vehicle construction remains body-on-frame and drive goes primarily to the rear axle but can be supplemented by a four-wheel drive system. That includes a low range transfer gear which is activated via a lever on the floor between the front seats.
Deleting non-essential parts – every little helps
Opening the side-hinged tailgate reveals a comically small boot yet that's not the whole story. Yes the backrests for the seats are close to the rear window but you can recline these if those occupants don't mind sitting more upright. Doing so makes more space for what would otherwise be room for a couple of overnight cases only. There is however, a lift-up panel below the boot floor which has a useful amount of space and this is ideal for wet clobber. Folding those back seats flat creates 377 litres of volume, and that's 53 litres more than its predecessor.
Things which show just now canny SMC is would include the lack of a plastic cover for the exposed bolt which retains the rear wiper. As the spare tyre is slung on a carrier behind it, no-one ever sees the naked bolt head unless they look. And can you imagine the silence filling the meeting room should an engineer have enquired was it not taking things too far to delete the lever which shifts the driver's seat forward? Yes, there really isn't one: if you're sitting in the back, the only way out is to yank on the catch which slides the passenger seat. Unless the driver kindly moves theirs for you. Oh, and there are two electric windows in this car yet only the driver's has a one-shot action. And the press tester was in the higher trim level.
Summary
In the end, the take no prisoners approach to vehicle content helped endear me to the Jimny and its maker. The thing itself is way less bouncy than the old model at higher speeds but a pothole on a dual carriageway can make you wonder if the vehicle didn't just jump slightly sideways.
The lack of weight means it's all too easy to spin the back tyres on autumnal roads so owners will be engaging 4×4 drive more often than they might have imagined. Other things which take a little bit of getting used to include more wind and road noise than most car owners would find normal; and economy isn't fantastic due to low gearing, no sixth gear and the need to rev for decent progress. But rowing through the gears is properly satisfying and keeping the revs up helps you notice a great engine note. Was money spent on that Suzuki? I am applauding even if the aural delight was an accidental inclusion.
As an only car, this would be a borderline decision for me. As a play thing for muddy fields and as an all-weather scooter substitute when it comes to traffic gaps and no-parking-space-is-too-small, the Jimny is unbeatable. If a major brand ever finds a way to create an A segment SUV as loveable as this one while building it at Suzuki levels of cost, what is now a small segment in a modest number of countries could become far bigger.
The Jimny costs either GBP15,999 (SZ4) or GBP18,499 in as-tested SZ5 top-spec trim. Base spec means steel wheels but painted black, no-one will realise. CO2 averages range from 154-170g/km, economy is 32.1-35.8mpg, there is just 130Nm of torque and the top speed is 90mph.