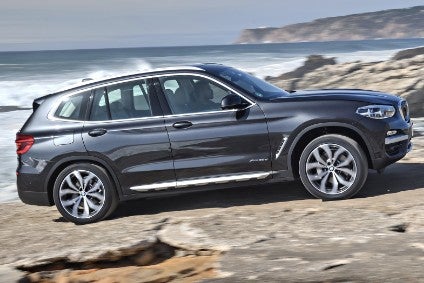 The definition of a compact SAV has changed somewhat since BMW began selling the first X3 in 2003. The proof? The new model is exactly half a metre longer than the original X5.
The advent of the X2 and the arrival of the X7 later in 2018 are causing all manner of changes within BMW's SAV range. G05, the next X5, will likely edge ever closer to the five-metre mark – quite a contrast to E83, the 4,666mm long first generation model from 1999.
The expansion of the Sport Activity Vehicle line-up has been matched by ever-increasing dimensions. Even the X1 is more than 4.4 metres in length, which does make you wonder what BMW will do once its rivals move down into sub-4m territory.
Audi has been careful to leave naming room below the 4,191mm Q2 and Volvo is said to be developing an XC20. Will there be a BMW X0 and a BMW XSub-X0? No, the company has gone on the record as saying that Mini is its brand for small crossovers and SAVs. However, the suspicion remains that BMW might one day rethink that position if a future Audi Q1 finds rich pickings in a hypothetical A-Premium SUV segment.
G01, the new X3, which has gained an extra 61mm, is neither the most compact nor the most affordable model in its size class. And what size is that exactly? The moment you try to park this 4,716mm long SUV, it becomes obvious how clever the design team was in disguising the dimensions.
Audi too has been making its own rival, the Q5, bigger and bigger. Having said that, at 4,663mm, there is quite a gap between it and the Q7. I know what you're thinking but a future Q6 isn't the main reason for that. No, what's coming much sooner than that is a Q5 L, which we will likely see at April's Beijing motor show. Will BMW have a retort? Don't rule it out.
The X3 has always been especially popular in the UK and the newest model is only a few months old here. It was revealed at an event at BMW's Spartanburg plant in the USA last June, with production starting four months later.
B57, the new 2,993cc engine, has outputs of 265PS (195kW) and 620Nm (457 lb-ft).
The first versions were the xDrive20d, xDrive30d and M40i xDrive, with the xDrive20i and xDrive30i added in relevant countries a few weeks ago. For some of these variants, the numbers in the badge are linked to engine capacity and so it proves with the 30d that BMW provided for this review. Of the original engine line-up, only this one has had major changes compared to the powertrains fitted to the second generation X3.
Pull a lever twice to pop the bonnet and you see how the straight-six is positioned not only close to the firewall but low in the engine bay too. This helps enormously with what is weight distribution of a claimed 50/50 ratio front to rear. That alone gives the BMW an inherent advantage over most of its rivals and their front- and all-wheel drive architectures.
B57, the new 2,993cc engine, has outputs of 265PS (195kW) and 620Nm (457 lb-ft). A ZF eight-speed automatic is standard as is xDrive four-wheel drive. Turbo lag is just about non-existent, even when starting off in zero celcius mornings and heading straight up a slope, which is what the X3 had to do a few times during my days with it.
Nailing the throttle causes no problems even on roads that could do with some grit to melt patches of ice. I've become used to heated seats in many press cars during the 2017-2018 winter. Those in the X3 were extremely quick to start working and the A/C system too will rapidly warm the cabin. There is no faffing about with controls either, as all of these are silvery plastic switches which do a good job of looking like aluminium, which I presume was BMW's intention.
Anyone who has ever owned one of the brand's cars, and I mean that – you can go back decades – will feel right at home the moment they slide in to the X3. If that's in the back, you get your own temperature controls and an almost astonishing amount of space. Far more than what can be found in the rear compartment of the 3 Series saloon or Touring. Which is possibly one of the reasons why worldwide registrations of those cars have softened so substantially, while sales of BMW SAVs have surged.
The X3 in 3.0-litre diesel form is as good as a Jaguar F-PACE.
The other factor behind the ongoing and rising success of BMW's taller models is how well they grip the road, plus how much fun they can be to chuck around. The X3 in 3.0-litre diesel form is as good as a Jaguar F-PACE, which is high praise. I preferred it to the Range Rover Velar too, even if that model's appearance is going to sway the purchase decision in Land Rover's favour for many.
BMW will continue to expand the G01 model range and not just with extra engine choices, such as a PHEV powertrain. The 3E, a new model for China's BMW-Brilliance Zinoro brand, should be closely related to the X3. There will also be an electric version of the BMW original.
BMW Group CEO's stated in an interview in September 2016 that a plug-in X3 would become available in relevant countries during 2020. No reason as to why development would take so long was given.
There was an update on BMW Group's plans for electrified vehicles in September 2017. Harald Krueger told the media at an event in Munich that the company will offer 25 electrified vehicles by 2025 across its brands. This would include 12 electric BMWs. Three months later, at another presentation in Munich, the chief executive announced that the firm had secured naming rights for i1 to i9 and iX1 to iX9. The X3 EV will therefore likely be called the iX3.
The addition of build in two countries means that the US market should have a greater supply of X3s.
BBA, the Brilliance Automotive and BMW Group joint venture, will also make the X3 at its Da Dong plant in the Chinese city of Shenyang.
Another production location is BMW's South African plant. Rosslyn had until recently been building various generations of the 3 Series for decades, so this is quite a change, reflecting the popularity of SUVs and relative decline of sedans in southern Africa and the countries where BMW SA formerly exported the F30 to.
The addition of production in two new countries means that the US market should have a far greater supply of X3s.
How to sum up this SAV? It's on the pricey side – from GBP45,900 – and the test vehicle was replete with options, weighing in at GBP55,105. Compared to equivalent versions of the Mercedes-Benz GLC-Class, Jaguar F-PACE, Range Rover Velar and Q5, it's not expensive but the Volvo XC60 is one alternative that won't leave buyers feeling that they have settled for a cheaper but second best option.
For those in this segment who love driving, and believe that it shouldn't be a choice of either supple suspension or linear dynamics, including perfectly weighted steering, this is now one of the best choices in the D-premium SUV class. The G01 BMW X3 might be larger and larger again than the first and second generation models respectively; it's a big improvement on both too.
The BMW X3 xDrive 30d weighs 1,820kg, reaches 62mph in a claimed 5.8 seconds, has a CO2 average of 149g/km and Combined consumption of 49.6mpg. Top speed is quoted as being 149mph.