BRIEFING FEATURE: What's in prospect for China's car market?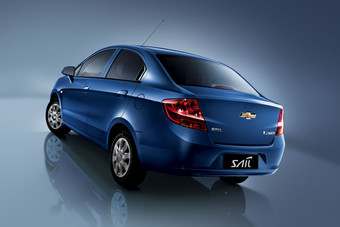 The Chevrolet Sail is among the small cars selling well in China. GM and its joint ventures in China have sold over 2m cars so far in 2010
In 2010, China is on course to eclipse Japan as the second biggest economy in the world. China rode the international economic crisis of last year via a massive fiscal stimulus programme. An economy expanding at 10% per annum has created the conditions for an unprecedented surge in car sales that has made China the world's biggest vehicle market. But can it continue and what are the structural issues ahead for the Chinese auto industry?
China has not exactly been immune to a global financial crisis with its roots in profligate Western consumerism, but its economy has been much less exposed than many others. Economic growth in 2009 is variously estimated at around 9% and it hasn't slowed in 2010.
The Chinese government has spent widely on anything from railways to vouchers handed out to buy things like Chinese-made cars and white goods. Unlike many other economies around the world, such as the UK or the US, the Chinese government has deep reserves and can afford to keep this up for a while yet.
The stimulus is helping to counteract a manufacturing slump created by lower exports – especially to the US. The Chinese domestic economy – after a period of sustained growth and rising incomes - is now large enough to take up quite a bit of the slack.
For 2010 Chinese economic growth is predicted at around 10% - very impressive in international terms. Given international economic growth projections it is becoming clear that when the recession ends the relative economic power of China will have grown enormously.
Besides the impact of incentives related to car purchase (tax cuts), many local observers say that there is now a structural build-up of demand to the car market as wealth from China's rapid economic growth over the last ten years continues to percolate through the economy.
Domestic demand will strengthen in 2010 and beyond as wealth spreads to smaller cities and towns. This is likely to keep Chinese automakers occupied for some time satisfying domestic demand, and ambitious export plans may take a back seat for the time being.
The Chinese Government's incentive package announced in December 2008 included a purchase tax cut to 5% from 10% for cars with engines smaller than 1.6 litres, and a scrappage incentive that gave one-off cash rebates totalling USD730m to owners of older vehicles who trade them in for newer, more fuel-efficient ones. The importance of the incentives seems to have been more as a psychological factor in conjunction with the broader stimulus package and what it said about the authorities' attitude to economic growth, rather than as purchase incentives in themselves.
Surpassing the US as the world's largest auto market last year, China is on track to log new light vehicle sales of close to 17m units in 2010 – some 25% ahead of 2009. Sales of domestically produced vehicles totalled 13.64m units in 2009, 46.2% ahead of 2008. As recently as 2007 the market was just 7m units.
In the third quarter of 2010, sales of passenger vehicles have accelerated. Local sources say that dealers have stepped up discounts after sales growth slowed from April amid talk of government efforts to cool the economy and dampen consumer credit availability.
In August, China's government actually increased the number of cars eligible for a subsidy benefiting fuel-efficient models.
What's driving car demand growth?
Local analysts assign more importance to China's economic advance and the factors associated with that than to the stimulus measures, though they acknowledge that lower taxes have helped as a part of the mix. However, the unprecedented surge in demand for cars, they say, is more a reflection of growing real incomes, a rapidly rising urban middle-class, continuing rapid urbanisation, rapid infrastructure development and also rising asset prices (real estate and stock prices).
Another factor is that provincial governments in China regard the car industry as essential to economic development – a 'pillar' industry. If there's a way they can help to lift demand for the local regional carmaker to improve its prospects, they tend to do that. It could be access to cheap loans for local consumers or even direct purchases by municipal institutions. And all the while, incomes are rising so that more people are moving into the annual income territory (variously estimated at around US$4,500) where car purchase becomes economically feasible to the household.
This year China's economy has continued to expand at an annualised rate of around 10% (9.6% in the third quarter), with no real sign of a significant slowing. And more of China's GDP is now going into domestic consumption, something that the Beijing government wants to encourage (for both economic and political reasons).
Some analysts say that last year's tax cuts were in fact a minor affair when set against the massive underlying expansion to the Chinese economy. They point out that China's rate of vehicle ownership remains very low when compared to developed countries and mature auto markets. The stimulus measures served to quickly overcome initial caution on the part of consumers in early 2009 as the international financial crisis unfolded. When it became clear that the authorities would act quickly to prevent economic slowdown in China, confidence returned, consumers were reassured and the interwoven underlying drivers of rising car demand in China were in the ascendancy again.
Is it a problem that many of China's major cities appear to be suffering from chronic traffic congestion as the infrastructure struggles to cope? Add in higher gasoline prices and the problems for parking and maybe, as some have speculated, the market could cool more rapidly – especially in places like Shanghai and Beijing. Well, it hasn't happened yet and perhaps the rising cost of car ownership or hassles associated with vehicle usage are not as bad for the car market as they sound.
For one thing, the appetite for cars is still in an early phase given the very rapid explosion to car demand since 2005. With so many drivers being new to car ownership (estimated at 80% of new car customers), the novelty will take time to wear off. Moreover, the appetite to get on the car ownership ladder is still very strong and not significantly deterred by things like traffic congestion. It's a lifestyle and status thing that transcends other considerations, especially in a period of such rapid change and economic growth. It may change over time, but for now China's population is enjoying something of a honeymoon period in its relationship with the automobile. And if sales in the established inner cities are slowing relatively quickly, there seem to be plenty of new buyers in the suburbs and further out in the smaller cities and towns.
Car sales to finish 2010 strongly
The latest data from China confirms that there is no sign of market slowdown yet. Car sales in China continued to surge during the month of October 2010 according to data released by the China Association of Automobile Manufacturers (CAAM).
CAAM said that wholesale deliveries of cars, sport-utility and MPVs ('passenger vehicles') was up 27% on the same month last year to stand at 1.2m units.
Passenger vehicle sales for the January-October period totalled 11.1m units, up 35.5% from a year earlier, CAAM said in a statement. Overall vehicle sales, which include commercial vehicles, reached 1.54m units in October, up 25.5% on the same month last year.
However, analysts believe that the car market in China is enjoying a boom ahead of the expected ending of tax incentives that have boosted car purchase last year and this, alongside breakneck economic growth of around 10% pa. There is also speculation of a possible increase in China's vehicle ownership taxes that might take effect next year. Even the talk of such taxes could bring sales forward into the final months of 2010, perhaps further stimulated by dealer discounts, to leave sales in early 2011 on the weak side.
While the Chinese car market is widely expected to slow in 2011, though there is disagreement over the likely magnitude of the slowdown. That remains the big question.
So where next - over 20m a year?
Many Chinese auto industry participants foresee the Chinese light vehicle market comfortably exceeding 20m a year in the medium-term (by the middle of the decade) if the economy continues to grow at 10% per annum. They believe that there is plenty of unrealised demand, especially in the suburbs and the so-called 'second tier' cities.

However, they also caution that maintaining the current rate of growth will be difficult and that demand growth may now move to a more sustainable rate.
Kevin Wale, head of General Motors' China operations, has said he believes that China light vehicle sales this year will exceed 17m units, growing to 19m units in 2011. That is the kind of 'sustainable' market and slowdown to growth that is similar to that being projected by JD Power. The forecasters at JDP project 11% growth of passenger vehicles in China in 2011, in line with GM's sales forecast. It means growth in the Chinese auto industry is going to continue to slow this year and then slow down even more next year.
Structural questions
Such rapid automotive market growth in China in such a short period of time raises a number of questions. Not least is the great unknown of how the Chinese vehicle aftermarket and used car market will develop. It is still very much early days, but rapid parc growth in such a short timescale means that the future flow of cars for replacement into a used market (and their resale values) is a very big area of uncertainty. Just how long will the first generation of car owners (who have typically purchased small cars last year and this) want to hang on to their cars before replacing/upgrading them? If a large used car market develops overnight as these cars flood the market, the result could well be an undermining of the new vehicle market with downward pressure on new car prices. Up until now, the new car market has operated more or less on its own, but a rapidly expanding car parc will be altering future new/used vehicle market dynamics.
For the vehicle manufacturing industry – both OEMs and suppliers - the big structural questions are the perennial ones with implications for capacity planning, vehicle prices and profitability. If a slowdown to market growth is coming how big will it be? The forecasters largely failed to predict the rapid rate of growth of demand in the 2008-2010 period. They simply underestimated the strength of demand in China. Are they doing that again in suggesting slowdown in 2011? They are putting forward a highly plausible case, but they have put forward plausible cases for market slowdown before and been wrong. If you err on the side of caution and can't meet higher than expected market demand, you risk losing out to competitors. Going the other way risks over-capacity and an unhappy loading of cost.
Another structural issue ahead with potentially major implications for the auto industry in China is addressing its fragmentation and the potential for major consolidation. The Chinese government has long favoured the consolidation of the industry into bigger groups able to produce lower unit costs, to afford extensive research and development and ultimately be able to compete internationally. But that objective has been hampered by the industry's regionally based structure and the support that the provinces give to their local and highly vertically integrated automotive corporations. Thus far, the absorption of Nanjing Auto into SAIC is a rare example of consolidation among the bigger groups. Central government has not been able to effect change (it first started calling for consolidation – 'three big, three medium, three small' in the 1990s – not much happened). Market forces may help to bring about more consolidation as the big firms start to enjoy higher scale economies and higher sales from national distribution.
The future for the smaller independents who have grown out of nowhere over the last five years – the likes of Great Wall, Chery, Geely and BYD – is uncertain if a shakeout to the industry starts to take shape. If it does, that shakeout could also become a battleground for a political struggle between Beijing and the provinces, with the regulatory playing field also assuming greater importance in the area of environmental incentives and, possibly, incentives for electric cars – some companies being better placed than others in that area.
Another questionmark hangs over the big vehicle manufacturing joint ventures with foreign participation. It has long been a widely held view in China that the bigger Chinese groups have needed foreign technology to get to a certain level of development – and once they achieve that, they will have no further need for their foreign partners. But that may be a little simplistic. Yes, the bigger groups are now, as expected, developing their own low-cost brands and models for the Chinese market. However, that appears to be going hand in hand with growing volumes from the Western brands' products being made in China - from foreign JV partners such as Volkswagen and General Motors. And technology transfer from international OEMs is arguably still very important for the big groups such as SAIC, FAW and Dongfeng that are eyeing international competitiveness. They also know that developing China as a low-cost global sourcing location for the international OEMs could be good business in the future. Joint ventures also bring further opportunities to share platforms and major vehicle systems with Western JV partners. And strategies for growing exports always play well politically in China.
Furthermore, the Western brands' image that the joint ventures convey in the marketplace may also be a positive for them that they would – at this stage – be reluctant to jettison. The most likely scenario is perhaps that the 'own brands' gradually grow share and assume greater importance in the Chinese market, the Western brands occupying a premium area of the market (consumers paying more for their perceived higher quality and better designs than the local brands).
But whatever happens to the Chinese vehicle market over the next few years, China is now firmly established as the largest market in the world. And, barring an unforeseen crisis, that's not going to change over the next decade. There is still plenty of untapped car demand in China and the genie is now well and truly out of the bottle. There is a broad consensus on that.
See also: October 2010 management briefing: BRICs
Most popular news
---
Most popular insights
---
Oops! This article is copy protected.
Why can't I copy the text on this page?
The ability to copy articles is specially reserved for people who are part of a group membership.
How do I become a group member?
To find out how you and your team can copy and share articles and save money as part of a group membership call Shivani Hayer on
+44 (0)1527 573 732 or complete this form..