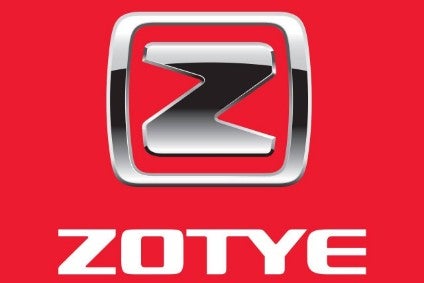 Three hundred and fifty nine. That's how many Zotye vehicles were sold in China during March. Not an ideal number to support a network of dealerships in a country of more than a billion citizens.
Zotye Auto 's sales had taken a dive long before COVID-19 struck China. Which means, even were numbers to improve by ten or twenty-fold during the coming months, would that be enough to bring the company back to a place where it can thrive in such a crowded, competitive home market?
Traum division was bankrupted last September and the best performing Zotye model in March was a four-year old micro EV which managed just 149 retail sales. Even so, Huanshan Jinma, the parent company, has insisted that Zotye Auto is financially sound.
Duke Hale's HAAH Automotive Holdings maintains that it will import vehicles next year. "HAAH's plans in regard to Zotye in the United States have not changed at this time", a spokesman told just-auto.com on 29 April. The sole model named on the brand's US website is the T600, claimed to be 'coming in 2021'.
Another, far larger American firm hasn't mentioned its own proposed venture with Zotye Auto for some time now. When questioned for this report, a Ford China spokesman stated, "Ford is working with Zotye to evaluate all cooperation options given the changes in China's automotive industry. The detail of the progress is confidential and is subject to external announcement".
Compare Ford's statement to the one made two and a half years ago, long before the Chinese new vehicle market began to stumble and eventually crash. Announced in November 2017, Zotye Ford Automobile Co. Ltd., a proposed 50-50 venture, would see the partners manufacture a range of EVs at a plant to be erected in Zhejiang province.
The media statement included this paragraph:
'Pending regulatory approval, the new JV will design, build, market and distribute all-electric passenger vehicles for China, the world's leading electric vehicle market. The establishment of the JV is a key step by Ford towards realizing its vision of a cleaner, more environmentally-sustainable future. The new JV will leverage a combined investment of 5 billion RMB (approximately U.S.$756 million)'.
In August last year, around the same time when workers building Traum models were beginning to make a lot of noise about unpaid wages, there were media reports claiming that Ford Motor Company and Zotye would "review" their collaboration.
There have been suggestions that the JV will be dissolved as little progress has reportedly been made in more than two years. Reasons speculated upon include the alleged financial health of Zotye Auto and of course, volatility in the Chinese passenger vehicle market.
As of now, Zotye itself has gone very quiet, but HAAH Holdings's spokesman told just-auto, "I can confirm that Zotye is still in business in China. We have been in touch with them recently". The company last launched a new model in the fourth quarter of 2018, that being the T500, an SUV. Reports out of China continue to state that the firm has not built any cars compliant with the latest emissions standards which came into force last July.
Even though the company has not commented on any plans it might have to add new vehicles to its line-up, at least two models could yet appear in 2020. These would be the production versions of the A16 and B21 SUVs. Revealed as prototypes at the Shanghai motor show in April 2019, each looked something like the Mazda CX-5 but with radically different front and rear ends.
Reports for many other manufacturers' future models are grouped in the OEM product strategy summaries section of just-auto.com.
Future product program intelligence
More detail on past, current and forthcoming models can be found in PLDB, the future vehicles database.
The next OEM to feature in the future models reports series will be Nio.