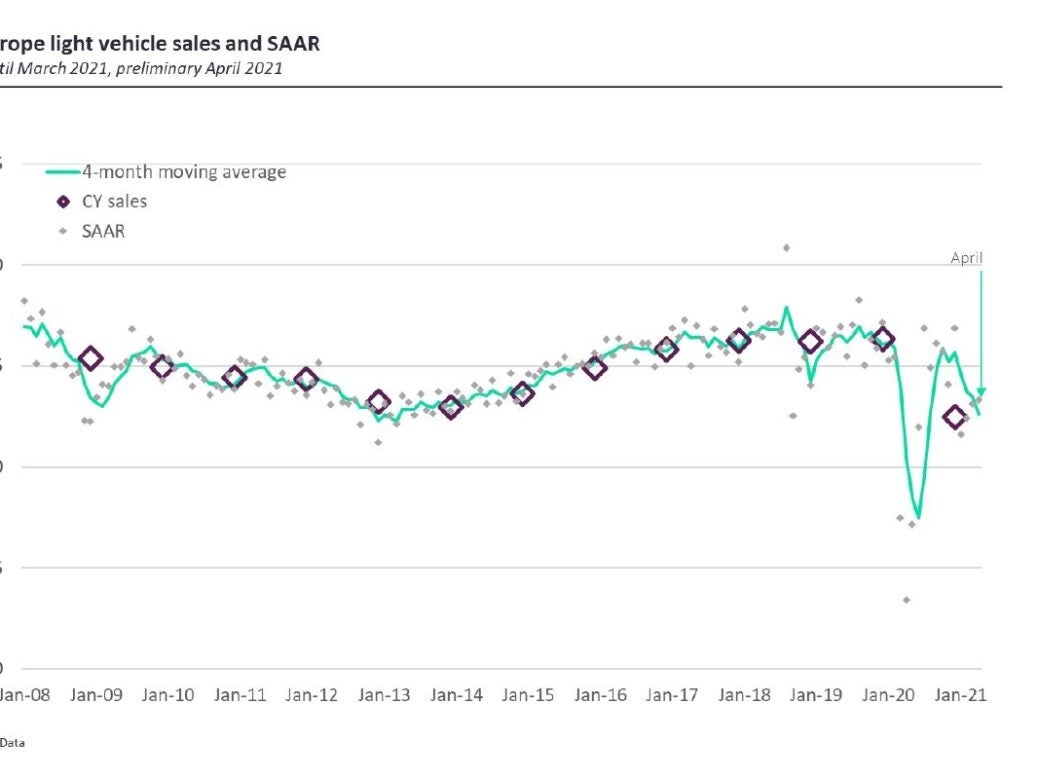 A more viable contrast would be with April 2019's more orderly results. Here the most recent monthly result pales in comparison as April 2021's market is demonstrated to be 20% off.
SAAR for the month was roughly in line with March's 13.1m at 13.3m, but some way off 2019's 16.5m level.
While SAAR was relatively stable for the region a mixed picture emerges on closer inspection. As one would expect market results are largely determined by levels of COVID-19 infection in individual countries and measures introduced to counter infection rates.
In the UK, freshly released from lockdown at the start of the month, sales increased more than 20-fold on 2020. More pertinent was the SAAR rate which increased from March's 1.7m to 2.5m which was just 7% off the rate in April 2019. In contrast, Germany's selling rate declined to 2.86m from 3.2m in March as the federal government and its 16 states implemented various measures in April to curb infection rises. A similar picture was apparent in France, with sales volume suppressed in the month leading to SAAR declining month-on-month and being 21.3% down on April 2019's selling rate.
Year-to-date we estimate the West European market is 27.4% ahead of year ago levels, but that level is 22.8% off 2019's sales. We expect selling rates to progressively improve through the year as vaccine rollouts gather momentum. Our current forecast is for sales of 14.7m in 2021, nearly 18% ahead of 2020 but 10% down on 2019's market.