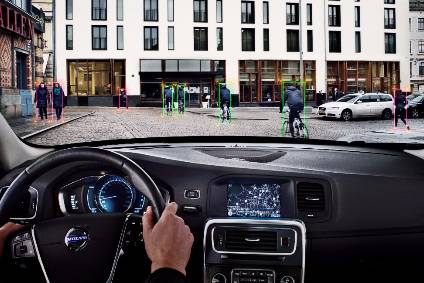 Continuing just-auto/QUBE's review of interior design and safety technology trends, we take a closer look at Volvo's premium mid-size S60. While the S60 is a solid, safe and sensible choice, it comes bristling with an appealing spec.
Five trim levels are offered, starting with the Business Edition through SE Nav, SE Lux Nav, R-Design Nav to R-Design Lux. The sportier R-Design Nav model we borrowed this week featured bigger wheels and provided an altogether more luxurious feel. Its lowered chassis, bumper and exhaust styling add to the charm.
Since the S60 appeared way back in 2000, the current exec version is positioned to compete with some attractive German models. Its horizontal lines and body creases are emphasised at both the front and rear. Its coupe-like appearance is partly thanks to its highly-raked windscreen and rear window. Together with details such as a wide grille and daylight running lights, they give the S60 plenty of showroom appeal.
There are no head-up displays, touchpads or touchscreens.
Yet once seated, you'll notice how the S60 does not mimic the cockpits of BMWs and Mercedes. There are no head-up displays, touchpads or wide touchscreens. Positioned on a central satin chrome stack, all but the essential buttons and dials are within easy reach crowned with a comparatively small and nondescript multimedia display. The net result is a less distracted driving experience.
Are we sitting comfortably?
Like other Volvos we have taken out and about, the leather, powered seats are both supportive yet comfortable on long journeys. The sport seat comes as standard in the S60 R-Design, featuring a blend of black nubuck textile and perforated leather. The seating is certainly easy on the eye, blending inlays with a perforated look and contrasting stitching. The cabin is covered by a charcoal headliner with piano black inlays hither and thither.
The classy centre stack itself is topped off with a 7-inch screen controlled by rotary jewel-like knobs. The central keypad positioned between the rotary controls appear confusing initially but soon enough becomes simplicity itself. An intuitive pictogram helps you select which air vents to open.
Visibility is good with no major blind spots to get bothered about. Although there is ample headroom for the driver and front seat passenger, tall rear seat occupants may not find it quite so light and airy while those seated centre back may grumble at the poor levels of comfort for this class.
We are certainly not carping about the reconfigurable instrument cluster, aka 'Adaptive Digital Display' in Volvo parlance. This uses an active TFT (Thin Film Transistor) crystal display to bring the driver personalised information. There are three themes to choose from: Elegance, Eco and Performance.
Incorporated across the Volvo range is its so-called Sensus Connect. This cloud-based service allows the driver to find and pay for parking from the car, find a restaurant, stream favourite music and a few more things besides. The driver can also have text messages read out loud without taking their hands off the wheel. Also falling under the auspices of Sensus Connect is Volvo On Call that allows drivers to communicate directly with their car via a smartphone application to lock, unlock, check fuel levels, locate and check mileage on the car.
Delphi supplies driver assistance technologies for the S60
While the upmarket cabin ambience will appeal to Volvo's traditional customer base, so too will the proliferation of latest safety technologies that many expect to find in any Volvo. For starters, fitted as standard on every S60 is the carmaker's City Safety that detects objects in front of the car and can automatically bring it to a halt to avoid low-speed impacts. Also standard are rear parking sensors, cruise control with speed limiter and hill-start assist. Our D4 came with an optional driver support pack that incorporated no fewer than ten additional advanced driver assistance system technologies, including pedestrian and cyclist detection and driver alert control.
Delphi is supplying its adaptive cruise control and collision mitigation system.
Delphi is supplying some of the driver assistance technologies for the S60, specifically its adaptive cruise control and collision warning and mitigation system with full automatic braking power that can detect moving and stationary vehicles and pedestrians. According to Delphi, the system warns the driver of an imminent collision and automatically brakes the vehicle if the driver is not able. Volvo S60's active safety system consists of Delphi's radar and vision system. Delphi also provides the camera, vision control module and radar sensor. Delphi has teamed up with Mobileye on the vision processor and certain vision algorithms.
As you would expect, the S60 comes with an array of passive safety systems, including a set of six airbags, side-impact protection and anti-whiplash headrests.
On the road
Our S60 D4 automatic R-Design Lux Nav version on 19-inch Rodinia alloy wheels felt responsive and quiet although we felt a good few bumps and thumps on some back roads.
The D4 spec included a winter pack with camera-based active bending headlights. The camera itself is hidden in the rearview mirror. Although our summer spin didn't allow us to fully appreciate all these creature comforts, the technologies included in the winter warmer pack are heated front seats, heated windscreen, headlight cleaning and heated washer nozzles.
The S60 is available with a range of engines from the carmaker's four-cylinder Drive-E powertrain family. Fuel consumption in an S60 D4 turbo with 190 hp and automatic is a claimed 65.7mpg (not far off real world), translating into CO2 emissions at 113 g/km.
The engine is particularly noteworthy as it features a world-first i-ART (which stands for intelligent accuracy refinement technology) that helps to cut fuel consumption. By featuring pressure feedback from each fuel injector as opposed to using a traditional single pressure sensor in the common rail, i-ART enables the system to continuously monitor and adapt fuel injection per combustion in each of the four cylinders. This all adds up to two per cent improvement in fuel economy.
&