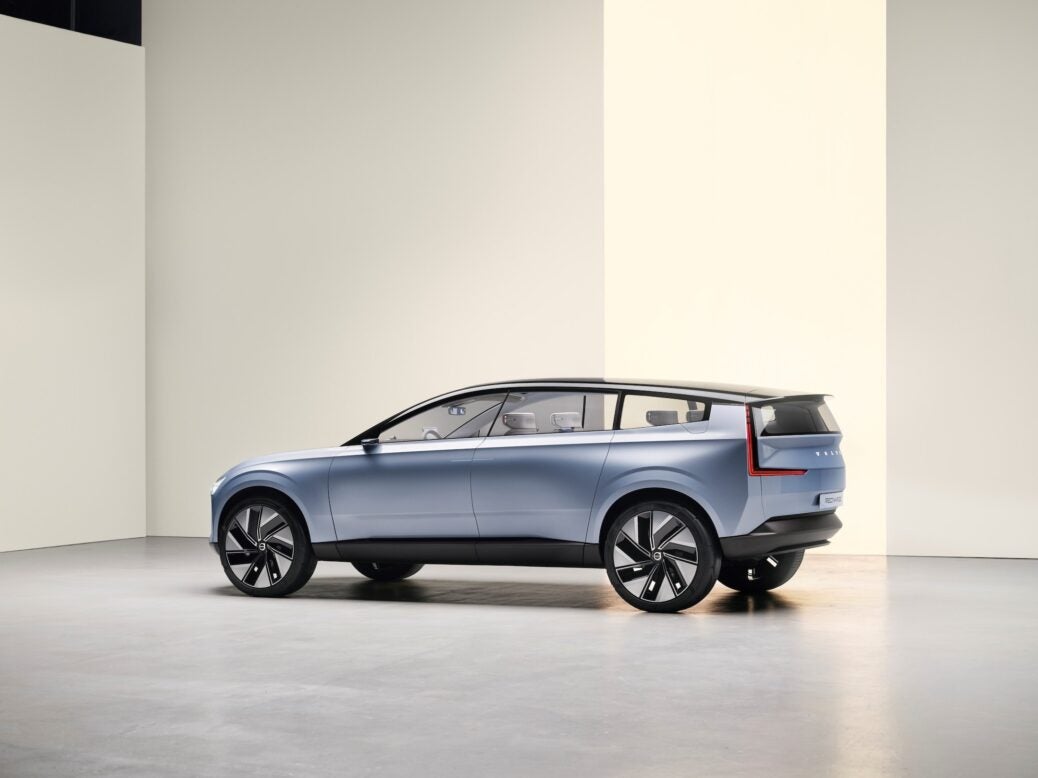 As with other car makers, Volvo is battling to fulfil orders for many of its models. March sales showed just how tough things are, with deliveries of 58,667 cars being a 22.1 per cent plunge compared to the same month in 2021.
The company is going all-in on EVs yet as of now, such models make up only a small portion of sales (9.0 per cent in March and 7.9 per cent in Q1). Including all electrified Volvos, the brand's so-called 'Recharge' vehicles accounted for just slightly more than one third of all deliveries during the most recent quarter.
This report explores some of the many electric Volvos yet to come as the brand's combustion engines are to be gone by 2030.
A big new EV is on its way for later in 2022. It should be called 'Embla', the company returning to the long-ago days when its vehicles had names rather than alpha-numeric identifiers (e.g. Amazon versus S90).
While this model should eventually succeed the brand's current largest SUV, the XC90 is still fairly young so it will be facelifted for a second time and have its life cycle extended to perhaps 2024 or even 2025. That's important for those markets where interest in EVs isn't yet translating into high-volume sales.
Volvo showed a possible direction for the looks when it revealed the Concept Recharge (see image) at a June 2021 event. This big EV will be built at Volvo's South Carolina factory. Today's generation two XC90 is made in Sweden at Torslanda.
Depending on this model's size, a second, larger electric SUV might be launched after 2024 or 2025 into the segment where today's BMW X7 does so well. However, much will depend on advances in battery chemistry as such a vehicle might otherwise be excessively heavy.
Volvo told the media in May 2020 that future SPA 2 (i.e. second generation large architecture) models will be available with LiDAR supplied by Luminar. This will be an option as obviously it will not be functional in many countries. The company's Chief Technology Officer Henrik Green also stated in an interview during the same month that when the system is active Volvo would have all responsibility and liability. It is not clear why the company would choose to put itself in this position. The software for autonomous drive will be provided by Zenuity.
One EV which is already selling well is the C40 Recharge. Revealed in early March 2021, this is a 4,431 mm long electric-only coupé-crossover which shares some elements of its appearance with the XC40.
The 78 kWh battery and two-motor drivetrain is also used by the XC40 Recharge P8 and Polestar 2.
In European markets at least, the C40 Recharge can only be purchased online. Production at the Ghent plant in Belgium commenced in October 2021. It should be built there until 2028 with a facelift due in 2025.
To be positioned below the C40 Recharge and XC40 Recharge, the V216 will therefore be in the B segment. 'XC20' had seemed the most likely badge for this vehicle but now it will be a word.
The platform for V216 is to be SEA, a Geely-Volvo electric-only one. As for launch timings, Volvo is yet to provide any guidance, so the vehicle may not arrive until 2024 or 2025. Production should be solely in China.
There will be another electric crossover-coupe a couple of sizes up, but probably not until 2025. This, the V546 project, should be produced in China and the USA at a projected combined rate of some 100,000 units annually. Size-wise it should be in a segment between today's XC60 and XC90.
It isn't just a major change in propulsion systems which is shaping this company's next generation models; shifts in segments are a major factor too.
Looking at vehicles which likely won't have direct successors, the S60 with a different name comes immediately to mind as one example. The US- and China-built sedan has been in production since August 2018 so a facelift is due soon.
Should Volvo decide that it wants to stay in this size class, an S60 replacement in 2025 or 2026 would be an EV. That applies equally to the V60 (estate) and V60 Cross Country.
Another large car is the S90 and its V90/V90 XC wagon brothers. Their successors could arrive in 2023 but it's looking more like 2024-2025, which is also when we should see the vehicle which takes over from today's V426 XC60.
Reports for many other manufacturers' future models are grouped in the OEM product strategy summaries section of Just Auto.
Future platform intelligence
More detail on past, current and forthcoming models can be found in PLDB, the future vehicles database which is part of Global Data's Automotive Intelligence Center.
This is the fourth of of five reports looking at the current and future models of brands controlled by Zhejiang Geely Holding Group. It follows recent features on the Geely brand; as well as Maple, Geometry, Zeekr and Jidu Auto; plus Lotus, Lynk & Co, smart and Proton. Next comes Polestar.