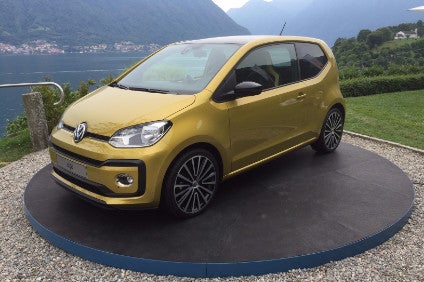 Volkswagen's mid-life Update for the Up can be summed up as more poke, more connectivity and more customisation. Simple as that.
'Course there's a bit more: a new 90 PS TSI version accelerates to 100 km/h (62mph) in less than 10 seconds, there's new front and rear design with detail changes such as sharp edges and sporty details, new bumpers, wing mirrors with integrated indicators, headlights with LED daytime running lights, new rear lights, and a new rear diffuser, 13 body colours, three contrasting roof colours, and 10 different dashpad designs (with, as we discovered in tunnels, big car-like LED ambient lighting inserts in some), smartphone integration of 'Volkswagen maps + more dock' rather than just a perch for an aftermarket satnav, optional multifunction steering wheel, reversing camera and panoramic sunroof, 300-watt sound system with seven speakers in the new Beats variation of the top trim level, plus a new Climatronic HVAC system with allergen filter.
Nailing my colours to the mast early, I normally don't much like small cars (anything south of a Jazz, say) but this one proved to be enormous fun with its new, three cylinder, one-litre 90PS petrol turbo having Italian characteristics of being willing to rev as high as you like and come back for more, sounding great with a wonderful, slightly off-beat I3 bark, yet surprisingly flexible with lots of low-speed pulling power – happy at anything over 1,000rpm. It comes with a five-speed manual. Our first drive car rode too firmly on 17-inch wheels with very low profile tyres; we later swapped to one on 15-inchers and teeth fillings remained in place.
The two earlier petrol engines delivering 44 kW/60 PS and 55 kW/75 PS continue alongside this new 66kW/90PS unit which is also the first turbo used in an Up. Claimed top speed is 185km/h and fuel consumption 4.4 l/100 km. Maximum torque of 160 Nm is available from 1,500 to 3,500 rpm. There is also a 50kW/68PS natural gas version for some markets and the electric Citystromer e-Up (60 kW/82 PS). Automated manual transmission is available with some motors. "There is an engine for every taste," says VW.
The automaker has sold some about 660,000 of the cars with VW badges in the past five years. It is one of the most popular small cars in Europe and tops its segment in Germany, Denmark and the Netherlands. Seat and Skoda versions, differing only in detail, are also offered.
Connectivity is improved with a new 'Composition Phone' radio system on higher versions, or as an option, which can be used to integrate all popular smartphones that use iOS or Android operating systems. A cradle above the centre console holds the phone which connects by Bluetooth. The new Volkswagen app 'maps + more' lets the driver operate the navigation system (offline navigation, 2-D or 3-D map view), multifunction display showing vehicle and trip data and the phone's hands-free kit. Handwriting recognition allows the driver to draw the first few letters of a search term on the smartphone screen with a finger for the automatic preselection to make suggestions.
Other new features include a multifunction steering wheel which lets the driver select radio stations and songs and also control volume. A reversing camera is optional. The Climatronic automatic climate control now has an allergen filter which prevents fungal spores getting in while 'coming home' and 'leaving home' exterior lighting functions have been added. Another Volkswagen app option assists the driver when loading up the car and looking for a parking space: the 'pack instructor' (for iOS) shows the distribution of luggage on a diagram and where it should best be stowed according to weight and safety.
Other available driver assistance systems include City Emergency Braking which uses a laser sensor to detect the distance to the vehicle in front or stationary vehicles at speeds up to 30 km/h (20mph). If the distance is too short and there is a threat of collision, the system automatically applies the brakes.
Cruise control is also offered along with 'ParkPilot' – ultrasonic sensors in the rear bumper locate obstacles at a distance of up to 1.5 metres. The system is automatically activated with reverse gear.
The 2016 Update follows on from the 1998 Lupo, 2005 Brazilian built Fox and 2011 first iteration of the Up and will come in four trim levels. The Take Up entry-level version now has LED daytime running lights, LED number plate illumination and wing mirrors with integrated indicator lights as standard plus remote central locking. It has chrome strips between the headlights and around the centre console.
The Move Up has the standard 'Composition' radio as well as equipment such as a USB port in the centre console, a large multi-function display and the dashpad 'black cube'.
In the High Up the ambient lighting in the interior is white and three dashpad versions are available to choose from in 'pixels' design. There are also a multifunction steering wheel, heated front seats, air conditioning, six speakers, fog lights, integrated static turning lights and new 15-inch ('radial') alloy wheels as standard. The 'Composition Phone' with radio and smartphone integration is also standard. The Beats version of this model has an eight-channel amplifier and a digital signal processor (DSP), the system provides seven high-end speakers: two tweeters in the A-pillars, two woofers in the front doors, two full-range speakers in the rear and a subwoofer in the spare wheel well. A brief excursion into upper decibel territory failed to make any of the interior vibrate in sympathy (or protest) and suggests that ear-bleed is a possibility.
The Cross Up model in offroad design features a 'crosslook' dashpad and ambient lighting in orange.
Exact details will vary by market.
Although there are acres of hard plastics and bare paint in the interiors, build quality is high and the pre-production cars at the European preview felt tight as drums. VW's group tiddler is set fair for a few more years.