ANALYSIS: Volkswagen redefines the London taxi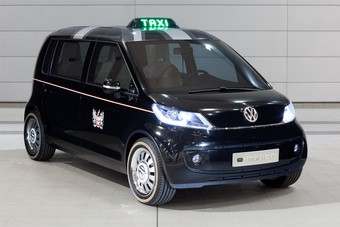 London's taxi regs would have to change, but what will London's mayor - Boris Johnson - make of it?
Volkswagen wants to change the taxi – and radically – as part of its broad strategy to overtake Toyota and become the world's leading car manufacturer. And big cities like London are part of that plan, writes Mark Bursa.
But first, it's going to have to persuade the London licensing authorities that they need to change the rules. Volkswagen unveiled a concept "London Taxi" before Christmas that is a long way from the familiar five-seater LTI black cab, with its 25ft turning circle and its chuffy diesel engine.
Instead, VW has unveiled a compact electric taxi with just two passenger seats, based on the underpinnings of the forthcoming UP! city car. It's the latest in a series of 'World Taxis' based on the same platform – a Milanese taxi was shown earlier in the year, and you can bet that other cities will receive their own version in the future – Mexico City or Shanghai, for example, where VW has a strong presence in the taxi market with wildly different cars – the old-shape Beetle was for decades a mainstay of the Mexico taxi fleets, while the ageing Santana, based on a 1970s Passat, is the standard Shanghai cab.
Or how about a New York Yellow Cab? "New York has already approached us," says the man behind the project, Klaus Bischoff, head of design at Volkswagen. VW is deadly serious about the project, he adds: "If Volkswagen is going to make a taxi, we will do it on a global scale," he says. "We want to create an icon, but if we want it to happen, we need to make big numbers – 500,000 vehicles worldwide on a shared platform."
So sheer volumes is one reason why VW has identified the global taxi market – half a million cars, based on a platform that is being developed anyway, makes sense. And that volume would represent a big chunk of the 3m extra units VW needs to elevate its global sales from 7m in 2010 to its target of 10m by 2018 – which would give it the global top slot.
The taxi project could be in production well within that timeframe – the electric UP! Is due in 2013, and adding the taxi body to the same platform could be done within a year or so.
The decision seems already to have been made that the global taxi will be electric. Hybrid would be possible, "but it is not the vision" at the moment, he says. However, there is some fascinating hybrid technology within the VW group, notably the rotary-engined range-extender that Audi has used on the A1 E-tron – a small Wankel engine that runs at a constant speed and provides power when the battery is depleted.
Bischoff believes the future taxi needs to be an electric vehicle as the trend within major cities is toward zero-emissions or low-emissions zones, to which conventional petrol and diesel-powered vehicles will eventually be prevented for entering. "Under this scenario we need to offer a comfortable, zero-emissions vehicle," he says.
As it will be a city centre vehicle, it needs to be small – the VW taxi measures 3,730 mm in length, 1,680 mm in width and 1,600 mm in height, so it is actually shorter than VW's smallest current production car, the Fox. But for the vehicle to work effectively, it must be only a two-seater. "A four-seater taxi would be much heavier, and would need more batteries. And in most situations, two passengers is enough."
Oddly, this positions the Concept taxi closest to the Mexican Beetles – which usually ran as two-seaters with the front passenger seat removed – the Beetle only has two doors so passengers have to clamber in to the back.
The Volkswagen Taxi Concept is powered by an electric motor fed by lithium-ion batteries. With a capacity of 45kW/h the batteries allow the electric motor to generate a maximum power output of 115PS, translating to a theoretical top speed of 74mph. The range of the Volkswagen Taxi Concept is estimated at 186 miles between charges with an 80% charge taking around one hour to complete.
But it has a long wheelbase – the wheels really are at the corners - and minimal front and rear overhangs maximise the cabin. Passengers enter from a large, sliding door; their luggage sits next to the driver, whose "work area" is accessed by the only offside door. There is a tailgate, but only to give access to a small parcel shelf, cubbyholes for the driver's belongings, and the battery pack.
The major functions of the vehicle including climate, entertainment and fare information are all grouped onto one touch-screen display mounted next to the driver. In the back a similar screen relays information to the passengers on their route and their immediate environment.
The concept doesn't adhere to current legal requirements for London taxis – but this does not deter Bischoff. He notes that London mayor Boris Johnson has announced plans to clean up the London environment with restrictions on older taxis – and believes that the mayor might be open to licensing a new class of cab in the future.
In any case, Bischoff sees the VW concept as being more to the spirit of the traditional LTI cab than the Mercedes-Benz Vito taxi, which has takes a 35% slice of the London taxi market in 2010. He says this is "a shame" as the traditional cab shape is iconic. "For me the London taxi is beloved," says Bischoff. "It is the most practical and nimble taxi concept in the world. The VW Concept is our tribute to it."
Mark 'Coolbear' Bursa
Most popular news
---
Most popular insights
---
Oops! This article is copy protected.
Why can't I copy the text on this page?
The ability to copy articles is specially reserved for people who are part of a group membership.
How do I become a group member?
To find out how you and your team can copy and share articles and save money as part of a group membership call Shivani Hayer on
+44 (0)1527 573 732 or complete this form..