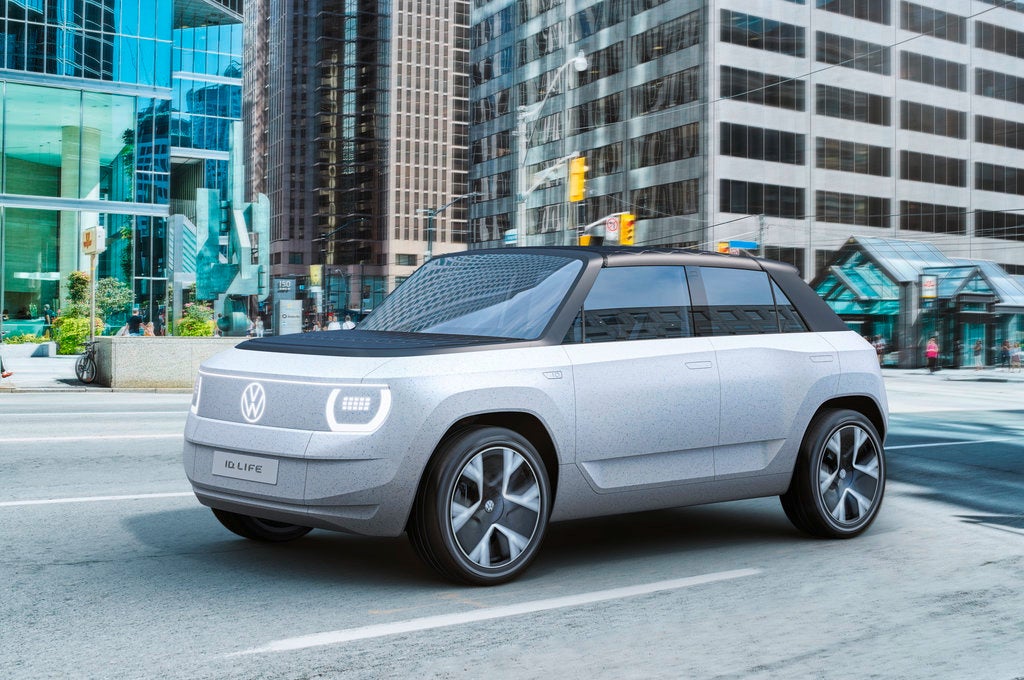 This report, one of two looking at the newest and next Volkswagen models, concentrates on cars and Multi-Purpose Vehicles. It will be followed by a second feature examining crossovers, SUVs and pick-ups.
Cars
Speaking in March, Volkswagen CEO Ralf Brandstätter said the brand would launch a small electric car some time after 2025. He did not explain why it would take so long for what is presumed to be a replacement for Europe's e-up! to arrive.
The platform of the 'ID.1' will be MEB-K, the shorter version of MEB which also swaps a rear-motor and RWD layout for front-motor and FWD.
Volkswagen showed its thinking about possibilities via the debut of the ID.Life concept at the Munich IAA in September. In contrast to larger models which use the MEB architecture, this one is front-wheel drive. The battery pack is said to have a capacity of 57 kWh.
Unusual features of the ID.Life include no touchscreen, as well as a projector which uses all of the windscreen for showing a film or for gaming. When activated, the front bench seat folds flat and those in the rear can recline for better viewing.
The Polo is due to be replaced in 2024. There is a realistic chance that there won't be a seventh generation model but instead, a 4m long electric car which might be called ID.2. However, that badge could instead be reserved for a crossover to succeed the T-Cross.
A new generation of the Lamando, a special low-roof car for the Chinese market, is due to be launched there by year-end. The Chinese name is Ling Du.
According to leaked information, length x width x height are said to be 4,784 x 1,831 x 1,469 mm with a 2,731 mm wheelbase. As was the case with the existing one, the Lamando is part of the SAIC Volkswagen joint venture.
Europe's next Passat Variant and China's next Magotan (sedan) won't arrive until 2023. They will be manufactured in Slovakia at the Group's Bratislava base.
As the preference of the mainly company car buyers in the current model's largest market, Germany, is mainly estates, there won't be a sedan. FAW Volkswagen should have one though, the future Magotan being positioned below SAIC VW's Passat.
The Passat which is built in the USA and sold mainly in the Americas, will not be replaced either. This car goes out of production during 2022.
Volkswagen insiders speak of a concept called Aero. The body style should be a sedan and production will be in Germany. The latter fact was stated in a November 2020 press release:
"At the Volkswagen's brand plant in Emden, the transformation is also progressing rapidly: while the construction work for the switch to electric mobility is fully on track, the second electric model for the site has now been defined. In addition to the ID.4, the four-door all-electric Volkswagen Aero is scheduled to be manufactured there from 2023".
The Aero (it may instead be called ID.6 Aero) and a related wagon ('Aero B') are thought to be the replacements for the Arteon. The Aero B isn't due until 2025.
The 'ID.7' name is speculative but the VW413/1 CN_B project code applies to a large electric sedan which is due to be made in China in 2022. While it could be seen as the replacement for the Phideon, that car is made by SAIC Volkswagen and VW413/1 CN_B is an FAW Volkswagen project. More details should be known later this year.
VW is working on a large sedan as part of its 'Trinity' programme. To be around five metres in length, the car will be positioned above the successors to the Arteon hatchback and estate. Interviewed in January, Ralf Brandstätter stated that pricing in Germany will start at around 35,000 euro in today's terms. Two months later he announced that the market launch wouldn't take place until 2026.
As for self-driving technology, this will be at Level 2+ at the start of production but "technically ready for Level 4". This was also the first time that Volkswagen named the Scalable Systems Platform, which will be the basis of this vehicle. SSP will eventually fully replace PPE and MEB, two other Group electric architectures. That probably won't happen until the 2030s though.
MPVs
The ID.6 Buzz (a speculative name) will come to market in 2022. This electric van and passenger van will be manufactured in Hanover by Volkswagen Commercial Vehicles and some variants will have Level 3 autonomy.
A version with Level 4 would not be launched until 2025, Alex Hitzinger, CEO of Volkswagen Autonomy, stated at a media event coinciding with CES in January 2020. Then in May, Volkswagen Commercial Vehicles told the media that an 'ID. Buzz' would be launched in 2025 with Argo AI Self-Driving Tech. The sketch which accompanied this press release looked very much like the I.D. Buzz concept from back in 2017. A prototype called ID. Buzz AD (Autonomous Driving) premiered at the Munich IAA in September.
While it is unclear whether or not there will be passenger microbus variants, the vehicle is to be available in both short- and long-wheelbase models, with up to three different battery packs.
The soon to be in showrooms T7 is on a fresh platform, an adaptation of the Volkswagen Group's MQB architecture.
Volkswagen Commercial Vehicles revealed a few details and images of the new Multivan – it replaces the Caravelle – in June, stating also that LCV versions of the 6.1 would remain in production, as would the California camper van. Multivan production commenced at Volkswagen Nutzfahrzeuge's Hannover base in late September.
The Multivan is 1,941 mm wide, 4,973 mm long, up to 1,903 mm high, and with a 3,124 mm wheelbase. The second and third rows of seating can be removed, the idea being that bikes can be carried inside the vehicle. And in extended form, up to 4,053 litres of boot space is available, while the base version offers 469 litres.
Available as a PHEV for the first time, the power output of the 'Multivan eHybrid' is 160 kW (218 PS) and comes with a six-speed DSG. The alternatives are 1.5-litre and 2.0-litre petrol engines which produce 100 kW (136 PS) and 150 kW (204 PS). A 110 kW (150 PS) TDI will become available during 2022. The latter three turbocharged petrols and diesel are linked to a standard seven-speed DSG.
The production life of the T7 should be eight years, which means a facelift in 2025.
Reports for many other manufacturers' future models are grouped in the OEM product strategy summaries section of Just Auto.
Future platform intelligence
More detail on past, current and forthcoming models can be found in PLDB, the future vehicles database which is part of GlobalData's Automotive Intelligence Center. That includes Volkswagen cars and MPVs not covered in this report, plus Jetta brand models for China.
This is the first in a multi-report series looking at the brands of Volkswagen AG. Next comes a feature on VW SUVs, followed by others looking at future Audis, Porsches, Škodas, SEATs & Cupras, Bentleys and Lamborghinis.