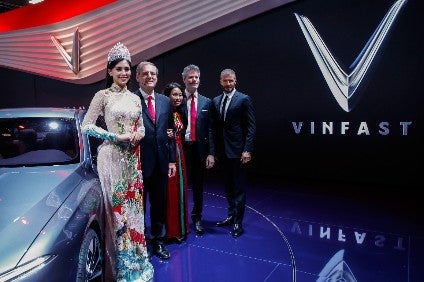 Vietnamese car-making startup VinFast Production and Trading Co Ltd (VinFast) was in the headlines in January with the announcement that it plans to build a vehicle assembly plant in the USA and begin local sales of electric vehicles (EVs) by 2022.
Last month the automaker announced it had been granted a licence by the state of California to test self-driving vehicles on public roads, which it says is central to its plan to launch smart EVs in global markets, including the USA, Canada and Europe, by the end of next year.
VinFast has made extraordinary progress since it was established in 2017 as a subsidiary of Vietnam's largest private conglomerate, VinGroup, which reportedly allocated US$3.5bn of capital to carry out its plan of becoming a global volume vehicle producer. Until four years ago, VinGroup was primarily focused on property development, retail, hospitality and healthcare.
In its first year VinFast broke ground on a new assembly plant in the northern port-city of Haiphong with an initial annual production capacity of 250,000 vehicles, which a plan to expand capacity to 500,000 units/year later according to demand. The company also began producing a range of electric scooters at the plant in 2019.
VinFast also took control of General Motors' plant in Hanoi and gained exclusive rights to produce and distribute a small Chevrolet car in Vietnam as part of the deal. It recruited several former key GM veterans to help it achieve its ambitions, including the former head of GM's global manufacturing operations Jim DeLuca as its deputy CEO, Shaun Calvert as vice-president of manufacturing, Kevin Fisher (VP of engineering), Roy Flecknell (VP of product planning), David Lyon (design director) and Mitch Thomas (VP of quality control).
The new US$1.5bn highly-automated plant relies heavily on German engineering, with the press shop installed by Schuler, the paint shop supplied by Durr, the final assembly lines installed by Eisenmann and EBZ, while engine assembly facilities were supplied by FFG and Grob-Werke. Switzerland's ABB is reported to have installed the 1,200 or so robots to automate the body shop. The plant's various processes are controlled by Siemens systems and software.
VinFast also brought to Vietnam a number of leading automotive suppliers, including Germany's Bosch and ZF and Austria's vehicle engineering firm Magna Steyr, a subsidiary of Canada's Magna International – all keen to establish and grow low-cost production bases in the country. VinFast also acquired a licence to produce BMW's N20 2.0L engine, which has been adapted by Austrian engineering firm AVL and coupled to ZF transmissions.
VinFast first burst onto the global automotive scene in October 2018 when it unveiled three passenger vehicles at the Paris Motor Show, two of which were styled by Italian design house Pininfarina, now owned by India's Mahindra & Mahindra, and based on the previous generation BMW 5-series sedan and X5 SUV.
The company launched pre-production at its new plant in early 2019, with dozens of models sent out to various overseas locations for testing under different conditions, before commercial production was launched later that year. In 2020 the company acquired GM Holden's unused Lang Testing Centre in Australia and has also opened an R&D centre in Melbourne to strengthen its engineering capabilities.
The company has tapped into a growing mood of confidence in Vietnam, with rising incomes and growing confidence in local brands and products.
VinFast is reported to have sold 31,500 vehicles in Vietnam last year and is targeting 45,000 sales in 2021. The company has tapped into a growing mood of confidence in Vietnam, with rising incomes and growing confidence in local brands and products. In its first full year in the market the brand accounted for almost 13% of total passenger vehicle sales.
Overseas sales are scheduled to begin at the tail end of 2022, which will no doubt be a much bigger challenge for the company.
Since the company began production of BMW-powered cars and SUVs at Haiphong, governments around the world – mainly in Europe, Japan, China and in North America – have announced policies that will see sales of new traditional internal combustion engine (ICE) vehicles phased out over the next 10-15 years in favour of zero emission vehicles.
VinFast has responded quickly to these developments and evidently accepts that its long-term future lies in electric vehicles. In early 2021 the company unveiled three new EV models, including the 400hp VF32 fitted with a 90kWh battery pack and designed to compete with Tesla's Model Y, Volkswagen's ID.4 and Hyundai Ioniq 5 in terms of specification. The VF33 is a larger crossover EV model.
Earlier this month the company signed an agreement with Taiwan's ProLogium Technology Company to set up a joint venture in Vietnam to manufacture solid-state batteries EVs. The company is also working with Germany's EDAG Engineering on a new EV model.
The VinFast brand is virtually unknown among western consumers. It remains to be seen how quickly, and ultimately how successfully, the company can establish itself in advanced markets in North America and Europe – where it will face much stronger competition that in its home market. New startups from China and the US are also targeting the global EV market, while incumbent global vehicle manufacturers are stepping up their efforts to switch production to EVs and already have strong distribution and retail networks in place.
The company accepts that it will take some time before it sees a return on its huge investments. The project is no doubt a big gamble and producing both ICE and battery-powered EVs will be a heavy burden for any newly-established automaker. The company is clearly betting on being able to quickly ramp up its sales in key overseas markets.
See also: VinFast plans US factory, R&D, California sales by 2022