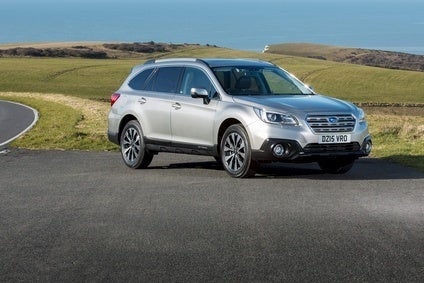 It's a big seller in the USA, but here in Europe, the latest Subaru Outback is a fairly rare sight. That's a shame, as it makes a terrific family car and its rev-happy Boxer diesel engine is a brilliant piece of engineering for enthusiast owners.
The Outback is a derivative of the sixth generation Legacy sedan. That car had its world premiere at the Chicago auto show in February 2014 but for the first time, there is no Legacy wagon. Both sedan and Outback use an evolution of the previous model's platform and in US spec, feature the same basic 2.5- and 3.6-litre engines and Lineartronic CVT.
This crossover estate had its world premiere at the New York auto show in April 2014, going on sale first in North America in June 2014 for that region's 2015 model year. The just announced 2016 model year car is more or less carried over – why change anything when this model is selling so strongly?
How strongly? Well, in July, Subaru USA had its best month yet. Sales rose for the 44th month in succession, with Outback registrations being above 10,000 units for the 17th month in a row. The brand sold an astonishing 50,507 cars last month, breaking the previous record which was set in August 2014. For the year to the end July, US market Outback sales totalled 82,180 units – no wonder Fuji heavy Industries recently announced such strong profits.
Obviously, Subaru's UK and overall European region performance is nowhere near the levels of North American sales volume. But, after some lean years, fresh products such as this one are arriving, the British importer having also just confirmed an on-sale date for the Levorg.
At the end of the first seven months, Subaru registrations have surged by 24%, albeit from a low base. Nonetheless, a total of 1,834 cars keeps the brand ahead of another big improver year on year: SsangYong, which recorded a 114% gain in the same period. Another 74 cars and Subaru would have passed MG, which had a 36% rise.
The Outback at first looks pretty big for a UK market model but to drive, it really does shrink around you. One of the main things holding back sales might well be the lack of a start-stop system for the as-tested 2.0-litre diesel – with this, surely the CO2 average of 145g/km (159 for the Lineartronic CVT) would make the car far more competitive.
Subaru's own diesel is a bit rattly when cold but that just adds to the charm. It is never intrusive; rather, it's distinctive, in the way that something like a BMW straight six used to be, or indeed any Porsche flat six still is, if that comparison is not stretching things too far. The boxer engine loves to rev and will spin to the 4,800rpm redline unusually willingly for a diesel. Power is 150PS, which is a tad weak, but 350Nm of torque means you have lots of oomph for towing or just carting a family's usual chattels about. As for economy, I saw an average of 42.1mpg over a week's use.
Handling and ride quality feel better than the old model, and that could well be thanks to what are claimed to be stiffer front struts. There is certainly less roll, and the system also has revised spring and damper rates, the benefit being better shock absorption. Steering is less ponderous thanks to a quicker ratio and the steering wheel itself is said to be more rigid so the effect is a sportier feel.
Another new feature is Active Torque Vectoring. This will brake the inside wheels under cornering, so as to minimise understeer or oversteer. It does seem to work too. OK, this is a long, wide car with standard four-wheel drive and a high ride height but apart from the obvious amount of lean, it really does go round corners pretty accurately.
As for the interior, this ain't no Audi. There's the bad news out of the way. It's heavy on grey plastic, with this material employed for the door trims (which have huge drinks bottle mouldings) and dashboard but it's at least broken up somewhat by the soft, synthetic seat coverings and some squishable vinyl on the doors. If the colour of these bits were black it would transform everything. A cuddly grey koala with a cute black nose is slightly nicer to look at than, say, concrete.
The dashboard is dominated by a glass screen for infotainment but thankfully unlike FCA or Renault's systems, the HVAC controls are conventional buttons and dials. The on-loan model I tried had a slick six-speed manual transmission and behind the gear lever was a deep box between the seats topped by a soft and wide armrest. Further bonus points should be awarded for the backs of the front seats. Please take note, BMW and so very many other OEMs: if you put nasty, hard plastic here, it will soon look unsightly having been scratched by kids' shoes, not to mention it's not kind on adults' knees. Full marks to Subaru for realising this.
The mono-colour plastics of the test car aside, if I had to find fault with the inside of this model, I would say a little bit more headroom in the back wouldn't go astray, and despite its large-for-Europe dimensions, there is no third row of seating.
On the outside, the silver-painted grille had been damaged by stone chips which made it look very second hand – time to change suppliers for that part, or perhaps to make whichever firm provides it source an anti-chip paint.
The chunky looks seemed appealing as there were some glances in the supermarket carpark but the car itself is long for standard spaces, which is down to the rear overhang. Beneath that lengthy boot floor you will find a big recess so it's a shame to see a puncture repair kit instead of a proper spare tyre.
Boot capacity is 559 litres, a 4.5% improvement compared to the old model but even better, there is an intelligently designed system for dropping the back seats: blip open the tailgate, reach in, tug on either of two levers and the setbacks instantly flop onto the cushions.
A Subaru speciality is the brand's EyeSight system, which has become very successful in Japan. This is a collision avoidance technology which acts as a 'second pair of eyes' for drivers. So how does it work? There's are two cameras, positioned either side of the rear view mirror. These monitor the road and traffic for vehicles, pedestrians, cyclists and other potential hazards. If you want to see it in action plus drivers' hearts racing, here's a link.
EyeSight is bundled with the optional Lineartronic transmission, and it includes six features: Pre-collision Braking, Pre-collision Throttle Management, Adaptive Cruise Control, Lane Departure & Sway Warning, Pre-collision Steering Assist and Lead Vehicle Start Alert.
This is the first time the technology has been made available in the UK and other European markets, with IM Group claiming it's a contributing factor to the Outback's maximum five-star Euro NCAP crash test safety rating.
Another option is a normally aspirated 2.5-litre four-cylinder petrol engine, which produces 175PS and 235Nm. There is no available manual transmission for the 2.5, so you get start-stop and EyeSight as standard whether you choose base SE spec or the higher priced SE Premium model grade. The pricier alternative also includes leather upholstery, keyless entry, an electric tailgate, a sunroof and 18" wheels.
As a more expensive alternative to the default family car choice of a Qashqai, or a Japanese brand rival for the Q5, new Volvo V60 Cross Country or next year's Passat Alltrack or Audi A4 allroad, the Outback makes sense.
A bit more power would be welcome, as would some more luxurious feeling interior trim but remember those US market sales numbers? Buyers there love this car, and Subaru's rugged chic image, plus its no-nonsense reliability are big factors in why the Outback is so popular over there. And in Australia too, where July was another record month – this ad could be one of the reasons why. As brand awareness rises, and the crossover boom continues, we should start to see a few more of these cars about.
Future Models
There's a lot of new product on the way for Subaru, but for the moment, the Outback isn't one of the cars due for any changes: a mid-life facelift is probably still more than a year away. The BRZ should have a mild restyle within the next six to 12 months, as should the XV/XV Crosstrek and the hybrid derivative which is offered in the US and Japan.
A new generation Impreza is expected in 2016 as well as the next Tribeca but the latter won't be coming to the UK, its main markets being the US and Canada and possibly Australia, should there be RHD production. The Levorg is likely to have a mild restyle in about a year to eighteen months' time, and perhaps a few months ahead of then should come the replacement for the Exiga and Exiga Crossover 7. These two will be sold mostly in Asia.
In 2017, we should see the next generation Forester, which will use SGP (Subaru Global Platform), plus facelifted versions of the WRX and WRX STI. Not much happens in 2018, but come 2019 there should be a follow up to the BRZ, replacements for the WRX and STI, facelifts for the Impreza and Forester, and the seventh generation Legacy as well as the next Outback. Then in 2020, the second generation Levorg should appear, as should a facelifted Tribeca, ahead of the launch of a new Impreza in 2021.
One final point. Given how exposed Fuji is to the US market, it would be surprising if there wasn't a plan to have a federalised version of today's Boxer diesel under development. The only thing we really know about the price of gasoline is that historically, it tends to shoot up in price every now and then, causing panic and wrecking economic forecasts. FHI might be under the wing of TMC, but Toyota has always insisted that firms it holds shares in stand on their own two feet. The good news is that we should probably expect to see an expanded line of diesel engines later this decade, attuned to ever converging emissions norms. More power, fewer emissions, better economy and extra torque. Not to mention no bad smells. Just ask these ladies.