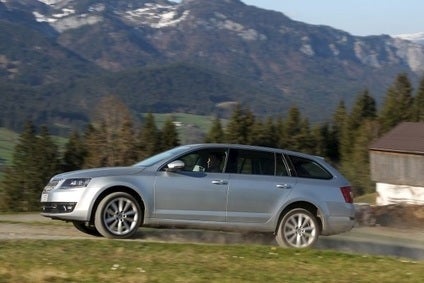 It's well known that the British love estates, one of the reasons why the UK is such an important market for Škoda. Multiple derivatives continue to be added to the Octavia estate range, including several with 4×4 drive.
The Fabia is the Czech brand's best seller in Britain but the Octavia is a close second. More than 205,000 have been sold here since the arrival of the first generation Octavia of modern times in 1998, though there was an older car built between the 1950s to the 1970s.
The brand's sales are on a roll, with 7,588 vehicles sold in July, a year-on-year surge of 54% to 46,774 registrations. That gave Škoda a 3.3% share of the market last month, and 3.2% for the year to date. For January-July 2013, comparative figures were 37,306 and 2.8% of the market. Looking at other brands' performance in the same SMMT data, Kia is now fewer than 100 units ahead of Škoda and will definitely be overtaken in August.
Should Škoda's charge up the sales charts continue at its current pace, the next rivals to be potentially surpassed would be Hyundai (48,034 YtD) and Citroen (49,269) but Toyota seems safe for now (56,855), though it's being outsold month-by-month.
The latest Octavia was first seen at the 2013 Geneva motor show, with both hatchback and Combi/estate body styles revealed at the same time. Production of the Combi commenced at Škoda's main Mlada Boleslav plant in April 2013. It went on sale across Europe from May 2013, with the Combi 4×4 following a month later.
As was the case with the previous model, the Octavia is built or assembled at multiple plants. China is obviously the main other market for this model outside Europe, with production taking place at the SVW joint venture in Ningbo (Zhejiang province). Russian assembly is at GAZ Group's Nizhy Novgorod, while Solomonovo in Ukraine and Ust-Kamemogorsk in Kazakhstan also put cars together from kits. India being another important market for the brand, the Octavia is also made at Shendra in the state of Maharashtra.
Competitive pricing, high quality and a hard-earned reputation for reliability are what continue to attract record numbers of buyers towards Škoda in general and the Octavia model range in particular. More than that, though, the car's size is one of the key factors in its ongoing success.
Both hatchback and estate are 4,659mm long (90mm longer and 45mm wider than the old model), which puts them into the European D class, yet prices are more in keeping with cars in the segment below. The continuing strategy by the Volkswagen Group of not offering a Passat hatchback also helps matters: buyers of course understand that they are getting a cheaper but not too dissimilar model.
The days of hard plastics and little in the way of standard equipment are long gone when it comes to Octavia interiors. Leather trim for the height- and reach-adjustable steering wheel, air conditioning, 16-inch alloy wheels, heated mirrors, hill-hold and a digital radio/CD player are standard fit. There's even an ice scraper stored in the fuel filler flap.
The HVAC controls you will recognise from many other Volkswagen Group vehicles, and that applies to the infotainment system. Everything you touch feels like a high quality component, including things like the glovebox which closes softly and has a flush shutline. The glazing is generous, which again makes this an ideal family car and both legroom and boot space are claimed to be best in class. With the rear seats upright, volume is 610 litres, and when flipped, it's 1,740.
In addition to the TDI engines, other Octavia variants can be ordered with 106PS 1.2 TSI, 140PS 1.4 TSI or 180PS 1.8 TSI turbocharged petrol engines. A 220PS 2.0 TSI is reserved for the vRS, as is a 184PS version of the 2.0 TDI, and the special low emissions Greenline III is the only version of the Octavia to have a 110hp 1.6 TDI.
The central part of the four-wheel drive system is a fifth-generation, electro-hydraulically controlled Haldex multi-disc clutch. This sits in the same housing on the rear axle as the final drive and the rear axle differential. Like the Yeti, this fully automatic system gives the Estate 4×4 more than enough traction to climb muddy inclines – perfect for exiting any of this summer's festivals, for example.
In comparison to the fourth generation, the Haldex 5 has a redesigned clutch actuator. This incorporates a new centrifugal overflow valve which more accurately distributes torque between the front and rear axles. There is another advantage in that this compact assembly does away with the need for the hydraulic fluid pressure reservoir, solenoid valve and filter.
Monitoring any changes to the car's traction is the system's electronic control unit (ECU). This takes into account driving behaviour, steering angle, throttle position and brake inputs and then determines the correct torque level for each axle. In practice, it's seamless in that you're not even aware of the ECU for example prompting the pump to apply pressure to the clutch plates, delivering torque to the rear axle. Each of the rear driveshafts is linked to an electronic differential lock (EDS), allowing drive to be distributed evenly from side to side for maximum grip.
The extra weight of the 4×4 drivetrain's components obviously means slightly poorer CO2 averages. In the case of the (105hp) 1.6 TDI, this rises from 99g/km to 119, with respective VED bands of A and C, or 104g/km and B for the DSG dual clutch auto. Insurance is the same 13E group for all three. These numbers are for SE trim, one up from S and below Elegance. Elegance has the same CO2 and VED but the insurance group is 14E for both FWD, FWD-DSG and 4×4 variants.
The SE (150PS) 2.0 TDI has CO2 levels of 110 (manual), 119 (DSG) or 124g/km (4×4), with insurance groups of B, C and D. All are rated at 19E for insurance. BIK rates for 2014-2015 are 18, 19 and 20% respectively. With the 2.0-litre engine, you also have the additional choice of top-spec Laurin & Klement trim. CO2 numbers are the same 110, 119 and 124g/km (manual, DSG and 4×4), as are the VED bands, but insurance groups are 22E, 22E and 21E. Prices are GBP27,215, GBP28,465 or GBP28,665.
The DSG dual clutch automatic gearbox is not available for 4×4 estates. In relevant cars, either a six- or seven-speed DSG is optional. There is one other possibility, though. The Scout, which has four-wheel drive, a higher ride height and some additional plastic wheelarch extensions, is available with DSG for an additional GBP2,675 on top of the standard Octavia Scout's GBP25,315.00.
Škoda's strategy of constantly adding ever more Octavia derivatives is paying rich dividends, with deliveries in Western Europe up by 30% and global brand sales setting a record for a July, with 82,000 deliveries. Of that total, 29,600 were Octavias.
With production of a new Fabia due to start in a few days' time ahead of its debut at October's Paris motor show, worldwide deliveries seem set to cross the million mark for the first time by year end. Who says you have to have a presence in North America and charge premium prices to succeed as a highly profitable, self-funding global automotive brand?