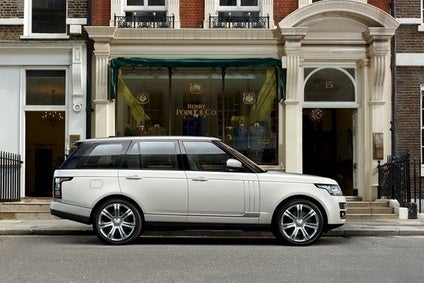 Earlier this year, the long wheelbase Range Rover took the big 4×4 into GBP100,000-plus territory. Now there's an even pricier Autobiography Black trim level, as well as 2015 model year changes.
It's a constant source of amazement to me, and probably to Land Rover too, that no other manufacturer has been able or willing to come up with a true alternative to the Range Rover. You would think Mercedes-Benz might have made the GL-Class better looking, while nine years on since Audi began selling the Q7 there's still no Q8 or Q9. BMW at least seems to have worked out that there's a market for an X7 and perhaps an eventual X8 one distant day, while FCA has delayed the Jeep Grand Wagoneer until 2018. Maybe we'll see an Executive (LWB) version of the next Porsche Cayenne too.
In North America, the Middle East and certain other markets, you can make a case for the Cadillac Escalade, Lincoln Navigator, Lexus LX and Infiniti QX80 being if not direct competitors then at least closely matched in some areas. Underlining that, a new-shape model series is most of the reason why over 15,000 examples of the Escalade have been sold in the US for the year to the end of July.
Ford and GM long ago saw the money that's also to be made from extended wheelbase versions of their premium brands' big SUVs. Ergo it makes a lot of sense for Land Rover to be joining them in offering a stretched Range Rover. The US and China are of course the two main target markets for the L, as it's called, but there's also a fair few sales to be made in the UK as well as in some LHD European countries.
The long wheelbase is offered with Autobiography and the new Autobiography Black model grades. As well as the supercharged 5.0-litre petrol V8 reviewed here, buyers can instead order the L with a 4.4-litre V8 diesel, and there's also a 3.0-litre V6 Hybrid derivative. Unlike the former Escalade hybrid (slow sales meant it wasn't replaced when the new shape model appeared earlier this year) the Range Rover Hybrid L is a diesel but for the moment, it isn't available in North America. That situation will probably change in 2016 after the arrival of a Euro 6b engine and a mid-life facelift – the next round of EU emissions norms will finally see the region's standards move into line with those for the US.
One glance at the well proportioned L and you know straight away that the stretched body wasn't an afterthought. Thanks to a 3,120mm wheelbase (+198mm over the standard RR), there's 186mm of extra legroom for two rear passengers, though you can instead choose to have a bench rear seat. Those longer rear doors have powered sun blinds too – handy for hiding from the paparazzi.
Choose the Executive Class option and each of the two rear occupants is assured their own personal space due to a console which runs through the middle of the vehicle. The test car even had a drinks coolbox and two cupholders, each of which can be set to chill. A deep compartment ahead of them contains the headphones for the seat-back screens, while up front, your passenger can also watch whatever is being viewed on a dash-mounted screen. This has a split view, as by law the driver isn't allowed to watch TV in a moving vehicle. Audio, phone, SatNav and other functions can still be seen, though.
Over and above the Autobiography trim, Autobiography Black, on sale from this month, brings with it seven-spoke 21″, or if you prefer, 22″ wheels with a high gloss polished finish. Those in the back have electrically deployable tables covered in black leather with integrated USB charging sockets and cup holders. The front passenger seat can even be shifted forward via a switch controlled by the person sitting behind it.
Not content with adding a new top-spec model grade, Land Rover has also just announced its model year 2015 Range Rover. The main mechanical news is 40Nm more torque for the 4.4-litre V8, lifting its output to 740Nm. As you'd expect, that also means a revised torque converter for the ZF eight-speed automatic transmission. Emissions and official EC consumption numbers are unchanged. Other revisions are minor and include the availability of the 22″ wheels for LWB variants.
Even just approaching the Range Rover L can be a sense of occasion. If it's dark, downlighters under the mirrors throw a circle of light onto the road in the middle of which you see RANGE ROVER. Climb in and the doors pull themselves closed if any wasn't shut properly. Press the key fob or a dashboard switch to open the boot and the top half swings upwards, followed by the bottom tailgate. Each shuts remotely too. There being two moving panels, somehow this makes it so much cooler than other luxury SUVs' one-piece electric hatchbacks.
The on-test car had an optional GBP 4,000 Meridian system, the sound of which was, obviously, sensational. There are even speakers above your head in front of the sun visors. The headliner, those visors and the A pillars are covered in Alcantara, and just about everywhere else you look – seats, doors, dashboard, tops of the front and rear chiller boxes – there's leather.
Dynamically, this vehicle will amaze you. It isn't as dynamic as the Range Rover Sport but there again, the L weighs in at over 2.4 tonnes so for something this heavy, it really impresses. The suspension will take whatever you can throw at it and still there will no loss of composure. Like all Range Rovers, the long-wheelbase Autobiography tilts into bends a bit more than you might be used to yet it never feels unsafe at high speeds.
Apart from the price, there must be some bad news. Something I got a bit of a shock from was the tax disc. Ever seen one with four figures on it? I hadn't but if your lease payments are for a vehicle that is listed at GBP105,830 plus options, GBP1,065 a year for road tax probably won't seem much.
Other things that might make you think twice before ticking the supercharged V8 box on the configurator are CO2 of 299g/km and a 50E insurance category. The 105 litre tank will need topping up fairly often too, with the Urban average being just 15.4mpg. The Combined number is 22.1mpg and if you're really light on the throttle, you may be able to reach 29.1mpg which is the EC rating for the Extra Urban cycle. Top speed is 140mph and it's safe to assume you'll be returning a single figure average as you approach that.
All versions of the L are 5,199mm long and the turning circle is 13.4 metres, but width is the same as other Range Rovers, at 1,983mm. Height is 1,915mm though you can of course drop that at the touch of a button. Conversely, the pneumatic suspension can also be raised for off-roading. But who would take a vehicle that costs this much anywhere near mud or sand? Snow, maybe. Apart from a 6×6 G-Class I can't think of anything that would look better stepping out of at the ski fields.
It seems safe to assume that the L body style, including the new Autobiography Black and model year 2015 revisions for other Range Rovers are only going to lift sales to even higher levels. For the year to the end of July, worldwide deliveries have reached 30,291 vehicles. By my calculations, somewhere between 50,000 and 55,000 Range Rovers will likely be sold in 2014. Think of the profits from those and it's no wonder other premium brands are readying their own XL-sized luxury SUVs. But can any of them really match the cachet built up by almost four and a half decades of ever larger and ever more expensive Range Rovers?