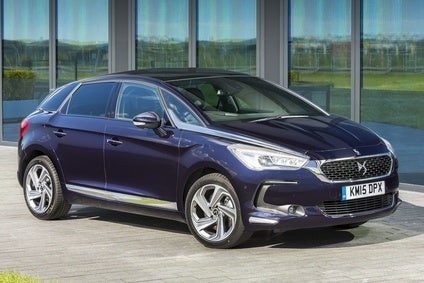 It will soon be 60 years since the Citroën DS was revealed to dropped jaws at the 1955 Paris motor show. Now, PSA has a more subtle desire to create a luxury brand based on this car's name. Will a quiet, slow, relentless, Lexus-style approach work?
Probably the most important thing to ask about DS is why are sales falling across Europe, when the market is up? That's due to a combination of factors, but it's mainly to do with competition and a small model range which has been in need of updating.
The former Citroën DS5, which is now the DS 5, is the first step towards a return to rising registrations across EU and EFTA markets. A marketing person would inevitably term the first half of this year as a "disappointment" but a stronger word is really needed as the drop was 18%. That means DS' share of the market was just 0.5% as at 30 June, compared to 0.7% for the first half of 2014. The sales totals were 40,416 versus 49,279. Ouch. There is hope though. In June, share rose to 0.6% and sales were down by just 1.8% to 8,381.
The brand's best seller is of course the DS 3 but the division is suffering mainly due to its lack of vehicles in hot segments. That means SUVs. The newly renamed DS 4 is theoretically a crossover but people don't seem to see it that way. Expect its eventual replacement to have a bit more of the whole BMW X4 or Lexus NX attitude going on, but it would good if it retained what is one of the French brand's strongest attributes, namely its interiors.
No fan of sitting on dead animals' skin myself, I know I'm in a small minority so my opinion matters not. The 'watchstrap' pattern on the leather seats looks terrific, even I would admit, and PSA is clever enough to charge money for that. You can instead have it as part of a limited edition car, priced at GBP29,600. This has a new Ink Blue exterior, 1955 badging, and special LED Vision headlights.
In Britain, the 5 comes with a choice of two model grades known as Elegance or Prestige, and a new THP 165 petrol engine, three BlueHDi Diesels and a Euro 6 compliant Hybrid 4×4 drivetrain. The rebranding of the last of these is interesting. This is the same system as the previous HYbrid4 but PSA found people didn't realise this meant it had four-wheel drive capability, so now they will.
I always loved the the DS5 and I'm not sure the mid-life restyle and rebranding is entirely successful but these things are subjective. There is still much work to be done to make this a properly premium feeling car, and that includes a few seemingly minor things. Such as telling the stylists that if you're going to have two exhaust finishers, they should be functional: the left one is fake. PSA isn't alone in doing this, but it's as silly a trend as the squashed roof syndrome which we saw started with the old Chrysler 300. When it was picked up by makers of smaller cars, it meant minimal rear headroom and rear windows so tiny you could struggle to see out of them. The DS 5 still has the most ridiculously small rear wiper, but at least it has one, unlike its rival the Audi A5, so there is something.
Something else it has over the A5 is scrolling indicators. It's hard to explain why but these look really cool and even better, they replace the awful rapid flickering that used to happen when you plipped so many PSA cars unlocked. So clearly, the DS people know what impresses and feels upscale, especially when those sequentially illuminating lights used to be the sole preserve of the original Audi R8. Even seen one change lanes on a motorway at night? It's brilliant (pun not intended).
DS says the new 5 has 'Dynamic Hypercomfort' suspension and yes, it does ride very well. The division also knows that with the recently announced end of hydropneumatic systems for Citroën cars – the C5 is the last one – DS needs to adopt the mythical magic carpet ride of the DS, ID, SM, GS, CX, XM and other models in the history of the double chevrons marque. If it can get that right, and also give the cars dynamic handling, it will be onto a winning strategy, especially if the striking design of the DS 5 and DS 4 can be improved upon even further.
Other new features for the facelifted model include a 7" colour screen in the dashboard and on some variants, a linked heads-up display. The cockpit ceiling, an innovative feature of the original Citroën DS5, has been retained and updated for the new car. It has three separate glass areas, so both driver and front passenger may let in as much light as they wish to have overhead. Another element of the cockpit concept is having the main controls grouped on two centrally positioned consoles, one at a low level near the gear selector and one overhead. The buttons, dials and toggle switches are claimed to have been inspired by the aerospace industry.
The central screen can control everything from navigation to music and 12 dashboard buttons have been deleted compared to the former system. Another new feature is Mirror Screen technology, which allows your smartphone's content to be displayed on the 7" screen, the idea being you can safely access apps.
This car will be the introductory model for 'MyDS', an iOS/Android compatible mobile app. When this is launched later in the year, owners can receive a full range of vehicle-related information and special offers.
This isn't a cheap model, and for the moment, it's the brand's range topper so the strong standard equipment list can be assumed. This extends to a blind spot monitoring system, lane departure warning, automatic high beam control, turning headlights that work with the static cornering lighting, hill-start assist, stability control, intelligent traction control, a reversing camera and a head-up display. There are also electric memory and massaging front seats, keyless entry & start, heated mirrors, an electrochrome interior mirror, ambient lighting, dual-zone automatic air conditioning and a Denon Hi-Fi system.
It's still a beautiful car to drive, the 5, and you can notice an improvement in the road holding. CO2 numbers are also better, and the diesel-electric 4×4 now has an average of 103g/km and a Combined number of more than 70mpg, rising to an official 90+mpg in city driving conditions. The versions powered by the BlueHDi 120 engines have similarly good averages of 104g/km and 70.6mpg, with 300Nm of torque. Expect around 50-60mpg in the real world.
The facelift, renaming and softly-softly approach to building up the brand do seem to be logical things for PSA to be doing. UK buyers like the idea of DS cars, as 768 sales in June show. That's more than seven times the volume for Infiniti, and thanks to it being the first month of DS 5 numbers being included, July will likely show a decent rise, another reason being the arrival of the DS 5.
What is called DS Automobiles says it will have a six-car range by 2020 and it would be astonishing if there were no SUVs amongst that future line-up. A DS 8 big sedan or hatchback is under development and will be aimed mainly at the Chinese market but it could sell in reasonable numbers in some European countries too.
What any additional high priced model will need to have, is avant garde styling as well as a properly beautiful and high quality interior. Something like that of the XC90 but with various left-field eccentric French touches. And please, PSA, if you insist on playing the heritage card over and over, give DS cars some stand-out engineering features. The Honda Insight's covered rear wheels didn't look the best but why not revive that idea from the days of the DS? Or the SM's carbon fibre wheels and number plate behind glass? Or the single wiper of the CX, and how about its super-soft seats and super-long wheelbase?
Overall, all future DS cars must be beautiful – something you'd think would be obvious to all car designers but so often they get caught up in buzzwords: you don't have to explain why the Jaguar F-TYPE hatchback looks fantastic (despite way too many badges) or the Range Rover, or the Mazda MX-5 or the Maserati Alfieri or the Lexus RC F or even the rarely sighted Insignia OPC/VXR Sports Tourer.
A lot is said about China whenever PSA mentions DS but if you take a look at the brand's registrations there, it's very much a slow burn situation. How many DS models were in the top 200 best selling cars for the first half of this year? Not one. The DS 6 made it to 215th place, with 8,049 registrations, DS 5LS sales plunged by 53% to only 2,278 units and the DS 5 by 91% to just 431 cars. The data do not show imported cars, so numbers for the 3 and 4 are not listed.
The arrival of an additional crossover, likely to be badged '4CS' is obviously eagerly awaited by dealers, as will be the revised DS 5. Back in Europe, we won't see any genuinely new potential high volume models until 2017, which is when a small crossover is due to enter production at Poissy in France. It is speculatively called DS 3CS and it will use PSA's EMP1 architecture, as will the second generation DS 3. The next DS 5 follows in 2018, as does the successor for the DS 4. That one is likely to be more of an SUV than today's sort-of crossover.
Will there ever be a DS 2? It seems an obvious model. PSA could base it on a forthcoming platform being co-developed with Dongfeng Motor. The partners announced the project for a shared architecture at April's Shanghai motor show but no models were named. The Common Modular Platform (CMP) will become PSA Peugeot Citroën and DFG's new generation architecture for the B and C segments. The project calls for capital expenditure of €200 million, of which 60% will be committed by PSA and 40% by DFG. A liaison team of DFG engineers is being assembled at PSA's Vélizy R&D centre south of Paris, within the main project team. CMP is to be based on PSA's EMP1 modular architecture.
By decade end, the DS model range will have been nicely filled out, though it's oddly difficult to see a place for a car as small as the hypothetical 2, using PSA's stated limit of six vehicles. This is presumed to comprise: DS 3 successor, DS 4CS, DS 4 successor, DS 5LS, DS 5 successor, DS 6, DS 8….but that's already seven, which means Europe's 4 and 5 might not even be directly replaced. Perhaps a crossover to succeed both would work, given where the market has been heading?
Whatever is being planned, DS Automobiles must surely be a pretty exciting place to be working right now. The need to fix China sales and expand the brand in Europe can only mean one thing: boring sedans and wagons will not be in DS' pipeline, but some hopefully futuristic SUVs must surely be.
The new Q7 is the subject of Glenn Brooks' next vehicle analysis. He will also expand upon Audi's plans to add other diesel engines as well as petrol units and not one but two plug-in hybrid powertrains.