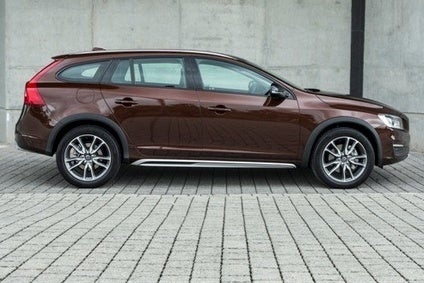 In releasing the new S60 Cross Country, Volvo thinks there might just be a niche for an extended ground clearance D segment sedan. And, the company is hedging its bets, by also launching the V60 Cross Country estate.
The British importer is honest enough to declare that sales here will be small and that these are not new models, but new variants. Just 100 sedans and 850 estates are expected to find owners in the first twelve months of sale.
You would think perhaps that VCUK wouldn't bother offering the saloon but those numbers might well prove to be pessimistic. Volvo thinks the four-door car could do well in markets with lots of rough roads – India, Russia and Brazil come to mind – with the V60 faring better in the European region thanks to the current seemingly insatiable demand for SUVs and crossovers.
The S60 Cross Country might also find itself a nice little niche in the US and Canada, though Subaru has been here before with the Legacy Outback sedan. That model did OK for a fair few years but it wasn't replaced when the latest generation Outback appeared in 2014. Audi doesn't bother with a sedan version of the A4 allroad, nor does VW with a Passat Allroad sedan. Perhaps then, Volvo might have a good opportunity, especially as neither the saloon nor the estate Cross Country variants is cheap.
The first of these two new cars was revealed at the LA auto show in November 2014. It went on sale in North America from early 2015, around the same time as the S60 Cross Country was having its world premiere at the Detroit auto show. All cars for the US and Canada are powered by a 250hp 'T5' five-cylinder petrol engine and equipped with AWD and automatic transmission. Cars for Europe may also be ordered with diesel power, front-wheel drive and/or all-wheel drive. These premiered at the Geneva motor show in March. More on what T5 and other badges mean, shortly.
In Britain, V60 Cross Country pricing ranges from GBP30,195 (on-the-road) for the D3 FWD Cross Country SE, up to GBP38,025 for the D4 AWD Geartronic Cross Country Lux Nav. The S60 Cross Country is available with the choice of two engines but only one specification level, the D4 FWD Cross Country Lux Nav (GBP33,695) and D4 AWD Geartronic Cross Country Lux Nav (GBP36,725).
Both cars have an additional 65mm of ground clearance over the models they are based on. There are also skid plates front and rear, side scuff plates and bumper and wheelarch extenders, plus integrated tailpipes. Other design cues such as the gloss black window trim and mirror covers, a bespoke grille and various unique alloy wheel designs, are part of the changes over other S60s and V60s.
Time to tackle Volvo's exhaustingly complex and illogical engine and transmission names. Here goes:
D3: 1,969cc 110kW (150hp) four-cylinder diesel, engine code D4204T4
D4: 1,969cc 140kW (190hp) four-cylinder diesel, engine code D4204T14
D4: 2,400cc 140kW (190hp) five-cylinder diesel, engine code D5244T21
Yes that's right, there are TWO engines called D4. Each has the same power output, though one has more torque and an extra cylinder plus half a litre more of cubic capacity. Why? Ah, that's because for whatever reason, you can't have all-wheel drive with the Drive-E (1,969cc) engine. So if you want an AWD V60 Cross Country, you must choose the five-cylinder engine. On the D3 and lower power D4, the auto is an Aisin Warner eight-speed gearbox. All of this applies to the S60 Cross Country too, but with one exception: the D3 engine isn't available. Oh, if you want manual transmission with the 140kW/190hp D4 that's possible; it's Volvo's M66F six-speeder.
Shall we dare to confuse ourselves by looking at engines available in other markets? The S60 can also be ordered with the B5254T12 T5 engine mentioned earlier. This 2,497cc five-cylinder petrol-powered unit produces 187kW (254hp) and comes with an AW TF-80FC six-speed automatic transmission. You're not going to believe this but there is another engine called T5. This one, the B4204T11, is a 1,969cc four-cylinder Drive-E. It produces 180kW (245hp) and here is where Volvo's global media website finally defeats me. Try as I may, I can't fathom what gearbox(es?) it comes with. I give up.
If VCC really does intend to become a proper premium manufacturer, this stuff needs sorting out, pronto. The company might retort by saying people no longer think in terms of engine capacities and numbers of cylinders, but by CO2, power and torque numbers, or average consumption ratings. I don't think so. And VCC would say that, given that with fuel prices at super-low levels, its strategy of moving away from engines of more than 2.0-litres and four-cylinders isn't something people see the point of just now, especially in the USA.
On the same topic, will someone who stubbornly refuses to be defeated by the configurator really understand what is meant by 'T8 Twin Engine'? That means a PHEV version of the XC90. But there is also a T6 Twin Engine for the S60L in China. Or how about D5 or D6, which are prefixes for the Twin Engine diesel powertrains in the V60. See what I mean about exhaustingly confusing?
If a customer cannot fathom what an engine is, she or he is likely to turn back to the German or Japanese premium brands, and that's dangerous for Volvo. So please, could we have some simple Audi-style model names (if the next S60 and V60 don't become the S70 and V70 then the gap to the odd-numbered XC90 and future V90 and V90 Cross Country will be strange) and engine classifications (2.0 TDI is pretty clear).
Let's also have something better than Twin Engine. How about e-Hybrid B (Bensin is Swedish for petrol/gasoline) or e-Hybrid D, and forget the T6, T8, D5, D6 and inevitable other prefixes to come. The problem is, baffling badging is detracting from how good the cars are. And despite the ages of the basic S60 and V60, these models are still very competitive.
The S60 doesn't feel anywhere as near as tall as it looks, and by the way, this is one of those cars which looks quite different in the metal. It can look ill-proportioned from some angles in photos yet there's a sort of slightly shrunken BMW X6 look going on when you see one on the road from the rear. No, really.
The basic design of both bodies dates to 2010 but the cars are still looking pretty good. OK, neither is a true competitor for the C-Class, the global leader in this segment since the BMW 3 Series and Audi A4 began to fade. Against tier two models such as the Lexus ES, Acura TLX or Infiniti Q50 and other cars trying to bust into this class such as the Jaguar XE or next year's Alfa Romeo Giulia, the Volvos certainly can compete. There should be another facelift for both in early 2016, with their SPA-based V431 and V432 replacements due in 2018.
Would I recommend the new Cross Country models? I would but stay away from the optional 18″ alloys as the ride becomes choppy. Volvo is trying to do as much as it can with existing resources and the results are very good. Remember too that if you happen to have a collision in any of this brand's models, there's a lot of high-tech features to protect you. Can you put a price on things such as high-strength steel in the entire roof structure, not just above the front occupants' heads as is often the case in most cars? No, you cannot.
Neither S60 nor V60 might be the last word in sporty driving dynamics but they're not that far off the pace, thanks to constant tweaks, as can be seen in the new Cross Country variants. Probably more than any other cars in their segment, these two new Volvos really do need a thorough test drive, as they won't remind you of any rival in their size and price class. That's a big advantage for the brand's future.
If you want to see the V60 XC in action, click here for a rather slickly shot little film. And is that oversteer I see at the 1:30 mark? In a FWD-based Volvo? The world IS changing.