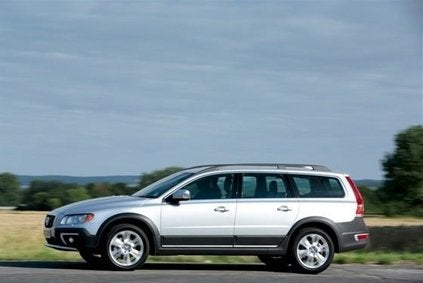 Volvo's year on year sales for July were up by 37% in the UK. Much of the reason is an ongoing freshening of its cars. The updates continue, with a model year 2015 XC70 now on sale.
It has happened with so many Volvos – as a model gets into the latter years of its lifecycle, somehow it ends up looking better. So it is with the XC70. New wheels, bumpers and lights, extra chrome-effect trim, and a makeover and technology update for the interior combined to give the model year 2014 car an altogether more contemporary look. Now for MY2015, there are new seats and a few other tweaks to keep things fresh until the successor, rumoured to be called XC80, arrives in 2015 or 2016.
The XC70 has always been most popular in Sweden, the US and Britain. It doesn't really have any direct rivals, but you could make a case for the Audi A6 allroad, Subaru Outback, Opel/Vauxhall Insignia Country Tourer and VW Passat Alltrack being close-ish in design and marketing philosophies. In the US, the XC70 even managed to easily outsell the V70, which was dropped by the importer a few years back after demand for big estates dwindled.
The current model was revealed at the 2007 Geneva show. Its ride height remains 74mm loftier than the V70, which was also unveiled at that show. Other differences which have remained include plastic body cladding and Hill Descent Control. All-wheel drive is no longer standard, though in Britain, all but the base D4 diesel version have it.
The engine line-up originally consisted of a 185hp (136kW) 2.4-litre five-cylinder diesel and a 238hp (175kW) 3.2-litre six-cylinder petrol. Just under a year ago, and timed to coincide with the car's styling changes, the first of Volvo's Drive-E engines became available. This is the as-tested 1,984cc 181hp (133kW) four-cylinder D4. D5 denotes the older, more powerful 2,400cc inline five, and this produces 215hp (158kW).
Confusingly, there is another D4 engine which has the same power as the 1,984cc one. It has five cylinders and the same 2,400cc as the D5 but it comes with standard all-wheel drive (the newer Drive-E is front-wheel drive only).
If you prefer a petrol engine, there are, in some countries, two choices. Firstly, another from the new Drive-E, which is badged T5. Its output is 245hp and, like the D4, it has a capacity 2.0 litres. Your other alternative is the T6, which sits at the top of the model range. It's a 304hp (224kW) inline six with a capacity of 2,953cc. I should add that every engine is turbocharged.
The 2.0-litre D4's 181hp is certainly a competitive power output but its 400Nm of torque is what really sets it apart from most rivals' comparative units of similar capacity. The output is also only 40Nm less than the torque figure for the 3.0-litre turbo T6. As for transmissions, a six-speed manual is standard, with the optional automatic having the same number of ratios. Zero to 62mph is the same 10.2 seconds with each gearbox. The CO2 numbers are either 139 or 154g/km. There is one other automatic transmission, which is the latest eight-speed unit but this is reserved for the front-wheel drive D4.
Volvo has a world-first for the D4, which it terms i-ART technology. Basically, it helps to cut fuel consumption by using pressure feedback from each fuel injector instead of using a traditional single pressure sensor in the common rail. The system reportedly makes it possible to continuously monitor and adapt fuel injection per combustion in each of the four cylinders.
Off-road, the AWD XC70 obviously hasn't got the ability of a pure 4×4 such as a Discovery but its HDC system works well. On steep downhill gradients, the amount of torque distributed to each wheel is modulated, maintaining a steady six mph. It is fitted to both manual and automatic variants.
Safety is of course a strongpoint with this car. Mindful of the XC70's higher ground clearance compared to the V70, Volvo positions a lower cross-member to supplement the front suspension frame at the height of a conventional car's bumper. In the event of a collision, it will strike the other vehicle's protective structure and activate its crumple zone, the company claims.
Something new for model year 2015 is an optional Inscription package, which in the words of Anders Gustavsson, vice president of VLM Special Products at Volvo Car Group, offers buyers "a complete luxury upgrade of the interior. It is perfectly in line with our aim to move Volvo towards a more premium brand position".
The package, which was fitted to the test car, includes Inscription Soft Leather upholstery with a choice of several unique colours (GBP1,700), leather covering for the instrument panel (GBP1,100), premium deco inlays, soft leather on extended surfaces such as the back of seats, centre armrest and neck rest, which also features an embroidered Inscription logo, and unique floor mats.
Not just the XC70 but all new Volvo models can, for model year 2015, be equipped with an updated on-board infotainment and navigation system. Sensus Connect is a suite of cloud-based services which will help the driver find and pay for parking from the car, suggest new restaurants at the destination, and stream favourite music seamlessly. Another feature, HERE, provides connected navigation with 3D maps.
Sensus also includes an improved Premium Sound system by Harman Kardon with a 5x130W amplifier with the next-generation sound enhancement software Dirac Live and up to 12 loudspeakers.
Connected Service Booking, a new app, tells the driver when it's time to have the car serviced and suggests an appointment at a Volvo dealership.
The XC70 might be into its seventh year of production at Torslanda near Volvo Cars' HQ but sales are still going well. For the year to date, worldwide registrations of 16,182 are up by 21.4% (13,325 for Jan-Jul 2013).
Prices for the MY2015 XC70 range from GBP34,410 (D4 SE Nav) to GBP43,180 (T6 AWD Geartronic SE Lux).