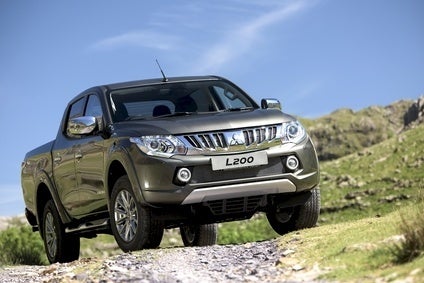 Minnow Mitsubishi Motors UK (MMUK) is only a bit player in the 2.5m unit UK new car and 321,000 commercial vehicle market but has long punched above its weight in one tonne pickup trucks. And it's making some pretty bold claims for its fully redesigned L200 line.
The 'best in class' trumpets are for fuel efficiency, aerodynamics, performance, emissions, manoeuvrability, carrying capacity and 4WD ability, along with SUV level driving refinement, and are made for a model that has had a complete rework with new, stronger, lighter, more rigid chassis and body, a completely new engine and transmissions and new styling that looks more facelift than clean sheet but is, indeed, all new.
Although it has had passenger car smash hits such as sporty, Lancers and is currently riding a plug-in hybrid SUV wave with the Outlander, the brand Mitsubishi in the UK usually is associated first with pickup trucks and solid SUVs like the ageing, but still selling, Shogun.
Legacy
Though they go back to the late 1940s, the UK Mitsubishi pickup legacy extends back through four model generations and 33 years. MMUK also claims the current L200 series four has won more awards than all of its rivals put together and, since UK launch in 2006, has outsold some pretty solid rivals such as the Ford Ranger, Toyota Hilux, Nissan Navara and the more recent Volkswagen Amarok (Mazda has axed the BT-50, which shares underpinnings with the Ranger, in the UK but reportedly is plotting a return).
MMUK claims the third generation L200 was almost entirely responsible for the development of its segment. The latest range, which, as with the previous generation switch over, will see old and new continue alongside each other for a year or so, has form and big shoes to fill. Globally, Mitsubishi has been in in pickup production for six decades and sold over 4.1m.
330 improvements
The latest model is significantly improved in 330 areas and remains the only pickup that can be driven permanently in 2WD and 4WD on tarmac and off-road. Unique 'J' curve body design between cabin and cargo area is a styling highlight and allows for a 25 degree recline in the rear seats, making for a comfortable 'long journey' space for four or five passengers. Interior width has also increased, as have the sizes of the driver and front passenger seats which now incorporate high density, soft touch memory foam. The new, dual zone air conditioning is 30% quicker at cooling down the cabin space from 50 degrees to less than 20 degrees.
MMUK claims ride comfort is now on a par with SUVs through the introduction of a fully revised suspension, including six shock absorbing body mounts, more than double the size of those in the previous model, which absorb noise and vibration.
Torsional rigidity is five to seven percent better, improving handling and stability while body roll has been reduced noticeably. Front springs are stiffer and there is a larger suspension stabiliser bar and optimised damping. At the rear, the leaf spring suspension has been increased in length by 120mm. Ride quality was quite impressive but I'd like to have chucked a half tonne of something into the load area as these trucks traditionally have been optimised for people and stuff and can be a little choppy unladen.
MMUK claims the latest L200 has the largest carrying capacity of any pickup, due largely to the extensive use of high tensile steel in both cabin and cargo bed, allowing strength without increasing overall vehicle weight. The result is a claimed best in class combined load bed capacity and full towing capability of 4.1 tonnes – nearly 300kg more than competitors.
With its combined 42.8mpg, the new model line uses between 11% and 47% less diesel than competitors and has the largest range in its class, 685 miles on a full tank. At 169g/km CO2, it has the lowest emissions in its class by as much as 33%, safeguarding owners against a future emissions based tax regime for commercial vehicles MMUK executives regard as inevitable following the recently announced shake up of passenger car tax here in the UK.
Engine
While other markets have other options, including petrol, the UK gets just one engine, a 2.4-litre MIVEC turbodiesel and here's another claim – the first all-aluminium unit in the pickup world.
It has one of the lowest compression ratios for a diesel, 15.5 to 1, and this lowering improves economy and emissions. Lower compression also allows for the use of lighter materials in the engine's construction, saving 30kg. It also uses a variable geometry turbocharger which reduces the rotational moment of inertia of the compressor and turbine by some 10% to generate strong torque from low engine speeds and give smooth response up to the higher revs band. Another claim: the new L200 is the only pickup in the UK with variable valve timing while power and torque are increased to 178bhp and 430Nm at 2,500rpm, delivered through new six-speed manual or automatic (now with paddle shift and a redesigned shift lever gate) transmissions. At 10.4 seconds, the latest model is claimed to be two seconds quicker to 62mph (100km/h) than its predecessor.
4WD
Japanese pickup trucks began as simple rear wheel drive models but, as the generations have evolved, four wheel drive was introduced with each iteration getting better and better. For example, manual front locking hubs were replaced by automatic and these have improved, no longer do you have to reverse a few feet to unlock them.
Mitsubishi's latest Super Select system – pioneered in the Shogun SUV and claimed unique in pickups – enables on-road driving with either two or four wheels engaged. There are four modes – 2H, 4H, 4HLc and 4LLc – and you can switch between 2WD and 4WD at up to 62mph (100km/h). Occasionally the system will niggle the driver with flashing lights as it needs to be on a straight road to change and sometimes you do have to stop momentarily and maybe even restart the engine to ensure cooperation. The system incorporates a new Torsen design centre differential to prevent transmission wind up while hill start assist detects when the vehicle is on an incline and keeps brake pressure applied for two seconds.
The vehicle I tried was impressive in all sort of evil, soupy gloup on a course MMUK had prepared at the MIRA (Motor Industry Research Association) proving grounds in central England, coping well with steep hill ascents and descents and terrain which deeply articulated the wheels on which driving torque can be lost unless you have enough diff locks. The only omission, I discovered with a stomach churning, fairground roller coaster-like trip down one hill, is hill descent control which you get with the Ford Ranger and VW Amarok. Next time, on the brakes, all was well.
Stability and traction control
MMUK is particularly proud of its latest trucks' safety features which includes a full roster of seven airbags and various other features. But, to avoid the accident in the first place, it has added active stability and traction control (ASTC) which prevents wheel slip by controlling unstable vehicle movements. It individually brakes spinning wheels and controls power distribution from the engine, if traction is lost on slippery surfaces or when negotiating steep slopes. The system operates to switch off traction control to bring in the brake control function faster and optimise changes in brake pressure to improve performance on all surfaces.
I had great fun on a special MIRA test bed which uses water (assisted by rain during our time) and specially grooved concrete to simulate rain-soaked and snow covered roads. With all the safety gizmos switched off, the L200 is a handful, albeit entertaining, but, switch it all back on, and any tail or nose slide is soon arrested as various components buzz and click underneath to rein in the appropriate errant wheel. You can, of couse, reach a point of no return – some degree of driver sanity as to speed, rapidity of steering wheel moment and so on is required to drive appropriately for the conditions. But the technology certainly works as advertised and is very impressive.
Interior and goodies
Vehicle interiors these days, at least in picky western markets, are generally made and equipped to a very high standard and the L200 re-do is as expected. The cabin has been fully restyled with improved noise insulation. It's claimed to be the longest interior in the class and seat slide travel length has been boosted to accommodate taller drivers. Seats have been reshaped with thicker side bolster and thigh support to improve grip.
The cabin is bigger overall, with more head and shoulder space in the front and more leg room in the rear. Depending on model, there are piano black trim panels and chromed trim for the floor console, centre panel and power window switch surrounds. Seat trim is nice looking fabric or (heated) leather according to trim level. Details MMUK highlights include a manual gearshift that is much lighter, more precise and more car-like in feel, revised automatic gate layout with manual mode and paddle shifters, front seat head restraint convenience hook for small shopping bags, phone or wallet tray in the centre console, hidden stowage space behind the rear seats and a damped glovebox lid.
Trim levels
For the UK, the L200 line, again built in Thailand, will come in four trim levels when sales start in September. All models are double cab and entry level is called 4Life with six-speed manual transmission, a simpler 4WD system called Easy Select (no centre diff lock so no 4WD use on tarmac roads), keyless entry,and side steps. Next comes Titan with the Super Select 4WD, chrome grille, door handles and bumper bling, better audio, automatic headlights and wipers, keyless start, interior trim upgrades, dual zone a/c and digital radio.
Then there's Warrior with the automatic transmission option, heated seats, satnav, rear view camera and rear bumper step. The top Barbarian has leather upholstery, illuminated sill trim, LED mood lighting puddle lamps, a unique grilled tailgate damper and various bright trim inserts.
Not all of the vehicle is done in Thailand, either. MMUK has a well established import preparation centre at the British port of Bristol and actually trims up the Barbarian models itself using the Warrior as a base. All versions receive a certain amount of British fettling on arrival from Thailand. MD Lance Bradley says this makes sense for two key reasons as it allows easy in-country adjustment of trim level stock and also avoids 10% duty on added equipment which would be levied if the lot went in at the Thai factory.
Sales
MMUK's fortunes have been up and down in recent years as the economic recession and the high value of the yen took its toll. But it's been on the up lately with the series four L200s seeing 2014 sales up 32% in a segment up 22%.
So far this year, its 13,190 passenger car sales were up 120% year on year in a UK market up almost 7% to 1.38m. In commercial vehicles, its 4,146 units were a 33% rise in a market up almost 20% to 186,000.
The new L200 is impressive and it's hard to see why sales won't continue to rise. Prices range from GBP19,749 to GBP25,199. MMUK is expecting to sell about 5,000 in total this year and get up to 9,000 in the first full year. Ever realistic, it acknowledges the increased competition about – redesigned Nissan Navara and Toyota Hilux rivals arrive in 2016 – mean a return to the heady days of 10,000-12,000 a year is unlikely.