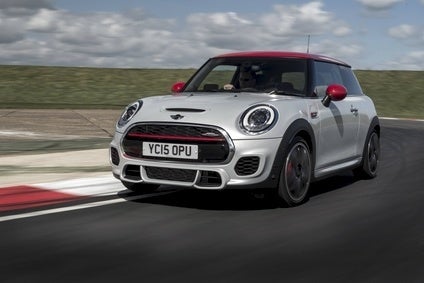 The Mini John Cooper Works is fast (of course), handles brilliantly (ditto) and is being launched as a three-door only (but a convertible and/or a five-door might follow). This latest model for BMW Group's UKL1 architecture will also soon be joined by yet more new Minis.
BMW's third generation Hatch (Hardtop in North America) has been in production for 18 months. So it's taken a while for this new JCW to have joined it. This is an especially important car in the British market, as historically, around 25% of all John Cooper Works variants have been sold here.
The UK is a great place to build cars, what with workers' remuneration expectations at relatively low levels, no cripplingly-costly health insurance payments for employers, and compulsory pension funding only a recently added and fairly affordable cost. Mini engines are built in England too, so currency exposure is limited and of course, the cars are not cheap. All of that points towards some pretty juicy margins for BMW Group's junior brand.
Profits from the JCW are surely the sweetest of all Mini models. The six-speed manual costs from GBP23,050, though the car made available to me for this review is priced from GBP24,380 as it was a Steptronic six-speed automatic. But, you know what's coming don't you? Yes. In press-review form, the price shot up to GBP31,260.01. BMW is a rich firm. Seeing that penny on the spec sheet does provide amusement, and betrays the company's Toyota-strength grip on a million ways to maximise income.
If you doubt what I am suggesting, take a look at this: an extra GBP750 for Rebel Green paint, an astonishing GBP1,400 for Navi and Bluetooth when SatNav is now standard on all UK market BMWs, GBP2,470 for the Chili Pack (18" rims, velour mats, auto A/C, 'basic' interior lights and a few other bits and pieces. Other things you must pay for include run-flats, LED headlights, darkened glass, heated seats, parking sensors, heads-up display, a terrific Harman Kardon hi-fi system, and so on.
Is any Mini worth more than thirty grand? That's not for me to say. Why? Because it's irrelevant. If people can afford the lease or loan payment then why shouldn't they? And you don't have to add any of the options, as the standard JCW's pricing is competitive. As with any car such as this, it's a vanity purchase and what really matters is that here is a Mini that looks and sounds and feels quite different to the cheaper variants.
The Cooper S was one of my favourite cars of 2014 so would the Works be even more addictive? Yes it is. Looks are personal so no point in declaring my own preference. I do love the lack of front fogs on the JCW, however, and this is due to the need for additional air intakes.
The engine is a 231hp version of BMW Group's turbocharged 2.0-litre unit, and torque is quoted as being 320Nm. Don't think this is just a change the ECU job, as there are bespoke pistons, a different turbocharger which produces more boost than the engine in the Cooper S and overall weight is 1,205kg. That's for the manual version, with the automatic adding a claimed 15kg.
Zero to 62mph is said to take 6.1 seconds but it feels faster than that, and I'm talking about the automatic car here. If you'd rather the manual, the official number is 6.3 seconds, which just shows how quickly the self-shifter works. It's a beautiful thing this transmission and I can't see any reason not to pay up for it – who wants to have to change gear themselves when the alternative is almost impossible to find fault with. Top speed for both is 153mph.
Here's how fast this little car is. Accelerating from 50-75mph takes only 5.6 seconds. In a 911 Carrera it takes 6.4 seconds. That number shows what a stinkingly rapid car the Mini is. It's shame that it's just as squishy in the back seats as any 911 but that's pretty much all I would say could be a deal-breaker for some. The overall interior is unlike that of any other car – in a good way – and it builds on all the great stuff inside a Cooper S.
Deliciously, DSC (Dynamic Stability Control) can be fully disabled. Just for track days of course. On the narrow, deserted roads around this week's BMW Group media drive event, this was a car that was easy to fall for. There was by contrast another model which shocked me and sadly not in a good way – the facelifted M6 has the 600hp engine that we first saw in the M5 30 Jahr Edition. I didn't ever try that one, and with just 30 cars imported, it's now too late to compare it. The problem with the M6 is that it sounds anything but special. And yet the way it looks is near-perfect. Which only makes it all the more heart breaking. It's like discovering that Sofia Vergara's fantastic accent isn't authentic.
The JCW is in fact not dissimilar to Modern Family's Gloria. Glamour puss, live wire, and expensive. But, on balance, worth the cost for the constant smiling and intense moments of happiness it inspires. For some of us though, a Cooper S feels like a better bet but that's mostly down to a preference for its looks. Perhaps the JCW's in-yer-face attitude will grow on me, in which case a potential future Cabriolet might have superior appeal. Don't be surprised if such a car appears, perhaps in 2017, timed to coincide with the inevitable mid-cycle sales dip for Mini gen 3. And a five-door too? I don't see why not.
As noted here, we won't be waiting too long for the next new Minis. We also know that there will not be direct replacements for the R58 Coupé and R59 Roadster as these didn't sell too well – the demand for convertibles is falling worldwide and crossovers are stealing sales from small, sporty hatchbacks.
The current range looks like this:
F56 Hatch (known as Hardtop 2 door in North America) – facelift due in 2017
F55 5-door Hatch (Hardtop 4 door) – facelift also due in 2017
R61 Paceman – production ends in 2016
R60 Countryman – production ends in 2016
The future range will see these models added or succeeding existing cars:
F57 Cabriolet (2015)
F54 Clubman (2015)
F60 Countryman (2016)
F59 Superleggera (2018)
The Countryman and Paceman should be replaced by one model, a five-door crossover that would be more or less the twin of the next BMW X1. Both will use the UKL1 platform. A PHEV version of the F60 Countryman should be available in California, Nordic countries, and certain other markets.
In January 2014, Magna International issued a media release stating that it would continue its relationship with BMW Group once production of the Paceman and Countryman ends: a new vehicle will be built at Magna Steyr's Graz plant. This may turn out to be the so-called 'Traveller', the brand's attempt at a sort of premium priced Ford B-MAX.
F59, on the other hand, is a proposed rival for the Mazda MX-5. It should share some of the styling of the Superleggera Vision and use the same BMW Group UKL1 architecture as F54, F55, F56 and F57. This concept was revealed at the Villa D'Este Concorso d'Elegazanza in May 2014. There was a central spine on the bootlid and the tail lights were styled to look like part of Britain's union flag. The Superleggera would serve more or less as a replacement for the Mini roadster.
Discussions over a potential A-segment hatchback ('Mini Minor' or 'Mini Rocketman') continue. BMW Group knows it needs to agree a joint venture for the spending on such a car to be justified. Talks are said to be underway with Toyota to create this potential rival for the next Fiat/Abarth 500. If approved, it would not be released until 2018 or 2019.