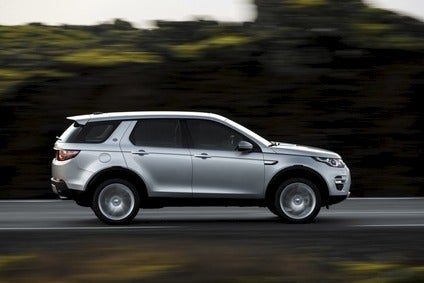 Ease of use was the single thing that impressed me most about Land Rover's new, seven seat, Discovery Sport.
There was the usual rush to get a delivery driver to our local station and two kids home on school holidays to load in back to accompany the poor chap. No time for a leisurely look around a new vehicle model I'd not seen before, to poke and prod, check the handbook, etc. Nope jump in, all seat belts on, go. Electric seat adjustment switches just where a dropped right hand would expect to find them. Steering column adjust and mirrors easily located and logical in operation. Start-stop button, transmission, auto park brake, climate control, wipers, audio system for the traffic, all easy-peasy.
Prices in the UK start a little north of GBP30,000 which targets the Disco Sport straight at BMW and Audi targets and pitches it about GBP5,000 above the growing number of South Korean contenders. Being a fully loaded HSE Luxury Spec costing GBP42,995 with another GBP3,000 of extras shovelled in on top, it wasn't surprising the review car was full of 'surprise and delight' features. Full length glass sunroof, power tailgate, heated seats, digital radio, self parking, mood lighting etc and so on are pretty common these days but a two-way centre display screen, which gives the front passenger a DVD player or digital TV while the driver makes do with mundane vehicle functions or the navigator, is still pretty clever (sent down from bigger Range Rover brothers) and the transmission selector knob which pops up at ignition-on is always a first-ride talking point even if it's been in some Jaguars for a few years. And it is so logical to click clockwise P to R or P to D counting the notches so you don't need to look at a display.
Said knob is hooked to a new nine-speed automatic transmission that is so smooth I never could count up the full eight upshifts but the time-served, 2.2-litre, 190PS, SD4 diesel – the only launch motor in the UK – proved a bit grumbly at low speeds. The powerplant is a hangover from Ford's ownership of Jaguar Land Rover and a product of the joint venture between Blue Oval and PSA. It will gradually be replaced in EU6 emissions-compliant markets from this autumn with 150PS and 180PS variants of Tata Motors -owned JLR's new family of in-house made Ingenium engines tagged TD4 – and two wheel drive and five seat models will also become available. Fuel economy of up to 57.7mpg and CO2 emissions from 129g/km will make fleet buyers and company car user choosers purr (lower tax).
Performance with the 'old' motor proved more than adequate for the tootling about we do for a mile or two around town but I also had the chance to take a longer trip for a press event and, having arrived fresh after two motorway hours, took the twisty route home because the handling was so good and the ride much more comfortable than I'd expected on 19-inch alloy wheels.
The British like their Land Rover products and we reported earlier this year JLR was sitting on 3,400 advance UK orders for the Discovery Sport ahead of its start of sales at the end of January. JLR reportedly said at launch time it expected 80% of customers to be conquests from other brands like BMW and Audi and even Hyundai and Kia while admitting the more practically shaped newcomer might pinch sales from the more stylish five seat Range Rover Evoque.
I had wondered about why the well liked Freelander name was not being used again (or LR2 in North America) but the nameplate change is part of Land Rover's new 'three-family' strategy – henceforth it's Range Rover, Discovery and Defender.
In any case, Disco Sport is not quite a direct replacement because, though it uses an evolution of the Freelander/Evoque platform, it has new rear suspension (now strut towers, y'see) to accommodate the aforementioned seven seats or, as Land Rover wisely bills it, '5+2'. These two rear chairs I eventually discovered after wondering why there were USB ports, air vents and a fan speed control knob for the very generous load space – one hoik on each opening loop and up they come, ready for use. Assuming you can get in. I'm pretty sure I used the middle row fold-and-shove-forward system correctly but getting right in back is a squeeze for adults of, er, generous dimensions and getting me out stopped only just short of crane hire. But the kids fit just fine – in booster seats so there was some ungrateful niggle about legroom – and that is probably going to be how most people use the car – rear seats for occasional, you're-little-so-you-can-go-right-in-the-back use with the bribery of cooling that works properly and power for the phones and tablets. Provided you ordered and paid GBP400 for the air 'n' phone. And another GBP100 for middle row USB ports seems a bit steep, too. The seating is 'stadium' style with the middle row 50mm higher than the front and the additional pair in the rear 20mm higher still. The kids loved the high view out from either row and a huge glass roof always goes down a treat. As does taking turns, when parked, to push the button to open or close the giant sunshade.
JLR now has considerable expertise with aluminium so the Discovery Sport is made from a mix of that (roof, tailgate, bonnet and front wings) and light steel and, if you are brave enough, is said to be very capable off road with 600mm wade depth and four settings on its terrain response system: general, grass/gravel/snow, mud plus ruts and sand. Other standard off road aids include hill descent control, roll stability control, dynamic stability control, traction control and engine drag torque control. If it gets me off my uncleared, snowy estate in winter, it'll do. Bonus points, too, for the full-size spare wheel slung under the tail rather than the goo-and-pump horror many automakers inflict on buyers these days. The power tailgate reveals a really good sized load area – all the shopping fits – and, handily at the time, was able to swallow a new mower whole.
Following its UK launch, the Discovery Sport has been gradually launched worldwide. It's built primarily at Halewood alongside the Evoque, where its predecessor Freelander was made, and we also expect manufacture or assembly in China (where Evoque is now also made), India and the new factory JLR is building in Brazil. Not every market is all-diesel – US buyers and others get a 240hp, turbocharged, petrol I4 – from the Evoque. China was actually the top market for the Freelander followed by the UK and the US.
Overall, this latest Land Rover impresses for its ease of use, interior materials quality practicality, comfort and driveability. It just looks and feels right. One of those rare review cars you really regret seeing The Man take away at the end of a test week. Little wonder then I'm seeing more and more on local roads. If some buyers were holding back waiting for the new engine, there should be even more out there from the autumn.